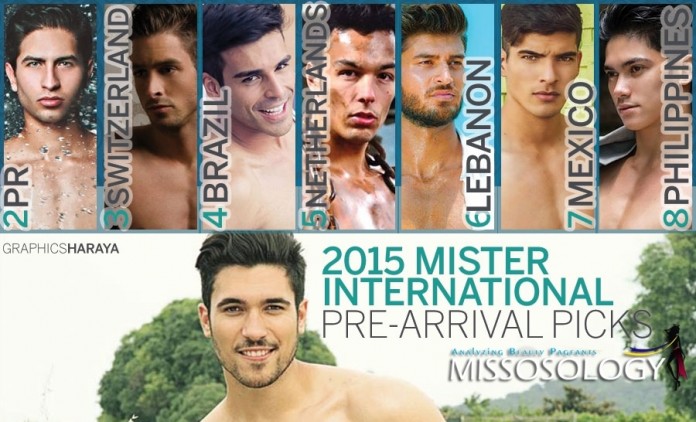 Just a couple of days to go before the 10th edition of the most anticipated male pageant this year kicks off. More than 40 hunks from all around the world will converge in Manila, Philippines for the 2015 Mister International pageant, where reigning king Neil Perez will turnover his title.
Amid the excitement that goes along with the preparation and anticipation of this event, let us present our pre-arrival picks.
Leading our first list is 22-year-old architecture student Daniel Barreres from Spain. He was a top favorite during his national finals but settled for first runner-up. But due to unexpected circumstances, he was chosen to represent the country in Mister International.
In close second is Puerto Rico's Fernando Alvarez. The Caribbean island has been doing well in male pageants having won three titles recently. This 21-year-old model seems determined to bring hme the fourth male pageant title.
Major favorite in the Missosology forum is Switzerland's Pedro Mendes, who comes in third place. This 27-year-old aspiring international model definitely has the face, body and aura fit for a king.
Rounding up our Top 5 for now are Brazil's Anderson Tomazini and Netherlands' Cas Winters.
Check out the rest of the list here:
1. Spain, Daniel Barreres
2. Puerto Rico, Fernando Alvarez
3. Switzerland, Pedro Mendes
4. Brazil, Anderson Tomazini
5. Netherlands, Cas Winters
6. Lebanon, Farid Matar
7. Mexico, Alejandro Ruiz
8. Philippines, Reniel Villareal
9. Australia, Chris Nayna
10 Sweden, Ivan Djelevic
11. India, Halley Laithangbam
12. Venezuela, Rafael Angelucci
13. Korea, Ryan Lee
14. Czech Republic, Jakub Kraus
15. Indonesia, Kenny Austin