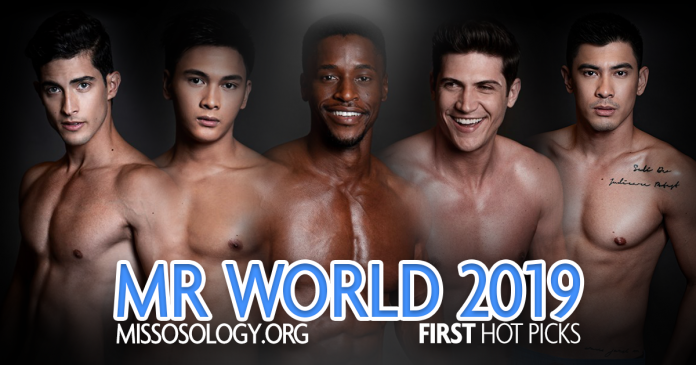 More than 60 of the world's most desirable men have gathered in the Philippines for the 2019 edition of the Mr World pageant.
After more than three years, Rohit Khandelwal will be finally crowning his successor on August 23 at the Smart Araneta Coliseum in Quezon City. The 2019 staging promises to be the biggest and the best in the history of the competition, and this year's batch is proving to be one of best as well.
With a little over a week before the much-awaited finale, our panel of experts and correspondents sat down to discuss who among the contestants are most likely to emerge on top come the finale. After days of covering the competition and observing the contestants, we present our First Hot Picks.
Leading our first list is the man who waited three long years to finally participate in Mr World. Brazil's Carlos Franco is proving to be the force to reckon with in the competition. The 27-year-old actor and model doesn't only boasts of a handsome face and great body, but a big heart, too. In fact, he is an ambassador for the fight against leprosy in his country. Aside from that, he is insanely charismatic.
The spot for the Americas is definitely a neck-and-neck battle between Brazil and the number 2 in our list: Mexico's Brian Faugier. This 25-year-old student and model is one of the good speakers in this batch. He is also one of the most consistent contestants in this year's edition and he never fails to look polished every single day.
Not far behind is the man from South Africa, Fezile Mkhize. This 28-year-old medical doctor just secured himself a spot in the Top 12 after topping the Sports Challenge. But more than just the physical strength, he is also a charismatic speaker as he is also a TV presenter back home. He will be a perfect first Mr World winner from the African continent.
Check out the complete list below:
1 Brazil, Carlos Franco
2 Mexico, Brian Faugier
3 South Africa, Fezile Mkhize
4 Thailand, Anakin Nontiprasit
5 Dominican Republic, Alejandro Martínez
6 England, Jack Heslewood
7 Philippines, JB Saliba
8 Canada, Alessandro Coward
9 Spain, Daniel Torres Moreno
10 Puerto Rico, José Cotto
11 Kenya, Robert Cula Budi
12 Colombia, Daniel Castrillón
13 Austria, Alberto Nodale
14 Lebanon, Jean-Paul Bitar
15 India, Vishnu Raj Menon
Follow Missosology's social media accounts for updates on Mr World 2019! Missosology.Org