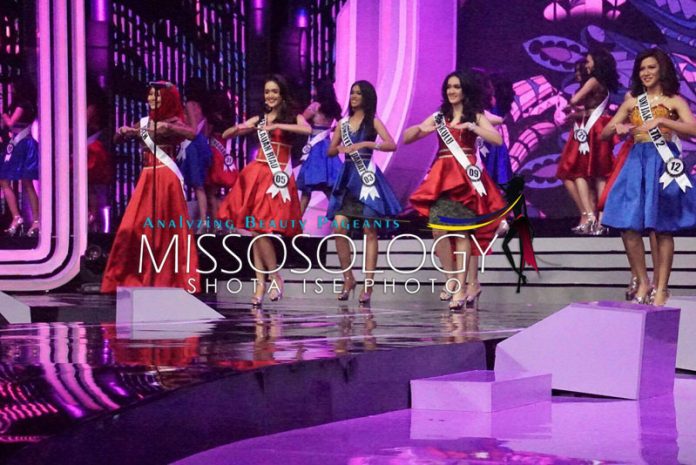 Who will be crowned Puteri Indonesia 2017? Refresh this page for updates from our correspondent Shota Ise from Jakarta!
Final results
Puteri Indonesia 2017 (Miss Universe Indonesia): DKI Jakarta 5 – Bunga Jelitha Ibrani
Puteri Indonesia Lingkungan (Miss International Indonesia): Jawa Barat – Kevin Liliana
Puteri Indonesia Pariwisata (Miss Supranational Indonesia): Nusa Tenggara Timur – Karina Nadila
Final Q&A with the Top 3
The final three takes another round of interviews.
Miss Universe takes centerstage
Miss Universe 2016 Iris Mittenaere wearing kebaya.
Special Awards
* Best Traditional Costume: JAWA BARAT
Top 3 are Jawa Barat, Sumatera Barat, DKI Jakarta 2
* Puteri Indonesia Berbakat ( Best in Talents): MALUKU UTARA
Top 3 are Jawa Barat, Jawa Timur, Maluku Utara
* Puteri Indonesia Intelegensia I: DKI JAKARTA 4
* Puteri Indonesia Intelegensia II: RIAU
* Puteri Indonesia Intelegensia III: DKI JAKARTA 1
* Puteri Indonesia Persahabatan (Miss Congeniality): DKI JAKARTA 4
* Puteri Indonesia Favorite Social Media (Miss Multimedia)
Sumatera: ACEH
Jawa: JAWA TIMUR
Kalimantan: KALIMANTAN SELATAN
Sulawesi: SULAWESI SELATAN
Bali & Nusa Tenggara: NTT
Indonesia Timur: PAPUA BARAT
Top 3
JAWA BARAT
DKI JAKARTA 5
NTT
Top 6
DKI JAKARTA 5
NTT
JAMBI
SUMATERA UTARA
JAWA BARAT
JAWA TENGAH

Top 11
DKI JAKARTA 2
PAPUA
JAWA TENGAH
JAMBI
JAWA BARAT
KALIMANTAN TIMUR
NUSA TENGGARA TIMUR
SUMATERA SELATAN
SUMATERA BARAT
DKI JAKARTA 5
SUMATERA UTARA
Opening number
Opening Dance and Introduction of Puteri Indonesia contestants. Missosology is in Jakarta right now to cover the Puteri Indonesia 2017 contest!