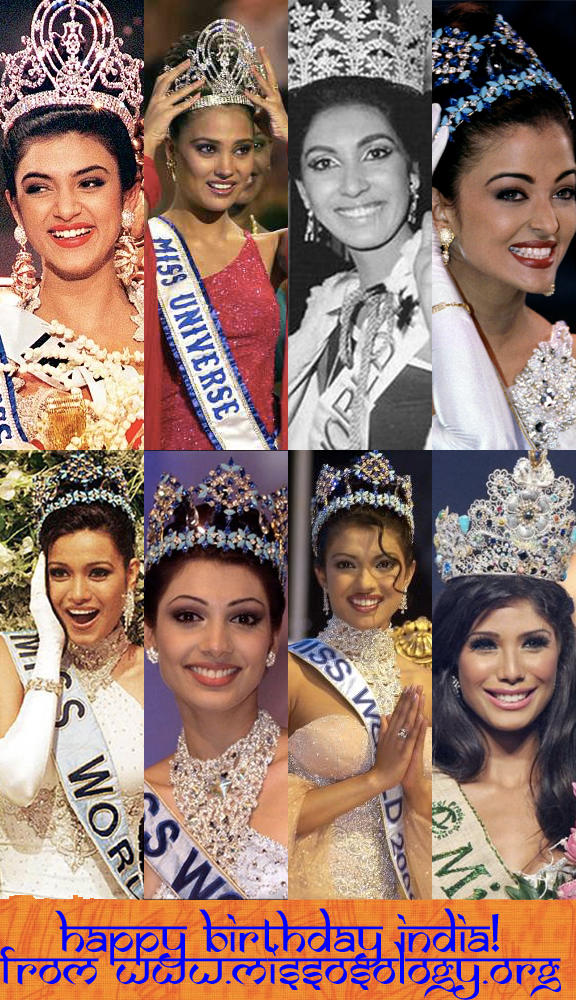 Article written by Titan
Titan is a Moderator at the Missosology's official forum
India now in it's 68th year of Independence has come a long way after it's freedom from the British empire, and so has our Miss India's. So, what better way to celebrate Independence day than by giving a little tribute to the Miss India winners. Indian women on International arena has always displayed charm and dignity that maintains its exclusiveness.Indian women are widely known as beauty with brains. All the winners and contestants of Miss India contest has in totality has equated their representation with attributes of being independent, warmth and a subtleness of what is being an Indian women. And the same attributes are showcased when they represent India in beauty pageants.
INDIA AT MISS WORLD
India sent it's delegate to Miss world pageant in the year 1959 for the first time. Fleur Ezekiel who is of Jewish ancestry represented India in the competition. India, though went unplaced that year, did not had to wait long to first get a semifinal position and later in 1966, it's first crown at the pageant. Reita Faria is the first Indian to win any beauty pageant. She gave confidence to Indian women to participate in these contests and proudly feature Indian morales.
In the following years, India did not get much success at the pageant, but a few slots of semi-finalist positions. And then, in the year 1994, India did what only successful pageant countries could have done. Aishwarya Rai, Miss India favorite, entered Miss World and took by storm. She was an instant favorite and contested in incredibly graceful manner. South Africa cheered for her, as she won Miss Photogenic and Miss Swimsuit awards at the finale. Her final answer made it evident that India is getting it's 2nd crown. Aishwarya, indeed won the contest and is still considered as the most beautiful winner in the history of Miss World and for that matter even any beauty pageant.
India enjoyed numerous placements and winners for the next few years. Diana Hayden won India's it's third crown in 1997. India, then achieved what no other country has ever done in Miss World, of getting a back to back winners at the contest. Yukta Mookhey and Priyanka Chopra acclaimed these titles and inscribed India's name eternally.
In the 2000's, though India ceased it's winning streak, it still continued to get semi-finalist and finalist positions. Ami Vashi in 2003, Parvathy Omanakuttan in 2008 and recently Vanya Mishra in 2012 entered the Top 5/7 and got runner-ups positions. In 2013, Navneet Kaur Dhillon made it to the Top 20 while it is expected that Koyal Rana will fare strongly this 2014.
INDIA AT MISS UNIVERSE
India entered Miss Universe competition in the year 1952 when Indrani Rehman represented Indian at the contest. India gathered many runner-ups , semi-finalists and winning national costume awards before it started it's much awaited glory that continued for almost 2 decades. These years, 1990-2007, India gained momentum at the Miss Universe pageant. India produced it's 1st winner in 1994, when Sushmita Sen just 18 years old became Miss Universe in Manila, Philippines. Sushmita, like Aishwarya, answered her final question so confidently that pageant followers considers it to be one of the best answers ever given in a beauty contest.
At the start of new millennium, Lara Dutta gave India it's 2nd victory at the Miss Universe pageant. Lara, again a crowd favorite, won national costume award and herbal essence best in swimsuit to her name. She even superseded Sushmita's feat and got the maximum points given to any contestant for her winning answer at the contest.
Till 2007, India managed to place in the contest under names of Celina Jaitley (4th runner-up), Neha Dhupia, Tanushree Dutta, Neha Kapur and Puja Gupta. These girls are also appreciated for their beauty and charisma at the contest by pageant fans. India, then saw a decline in it's popularity and failed to place till 2012, when Shilpa Singh got a top 15 placement at the contest.
INDIA AT MISS INTERNATIONAL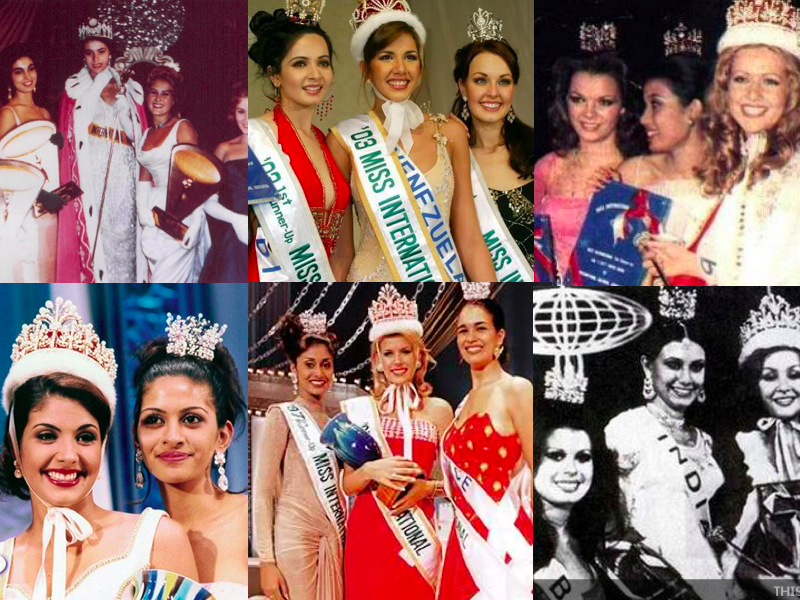 India has enjoyed a decent success at the Miss international contest. India nearly won Miss International in it's debut year when Iona Pinto won 1st runner-up position at the contest. And though, India is still to get it's 1st crown, it has managed to get a total of 6 runner-up titles at the pageant.
India is eagerly awaiting to complete it's winning placement in the Big4 by winning it's first Miss International title. Nafisa Joseph, Indira Bredemeyer, Diya Abraham, Shwetha Jaishankar and Shonali Nagrani are the runner-up holders at these contest.
INDIA AT MISS EARTH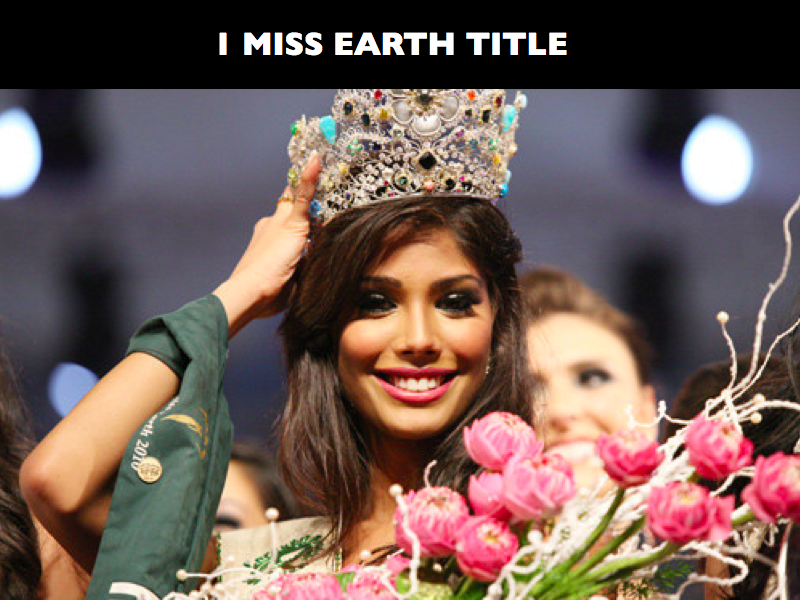 Miss Earth, a fairly new pageant that started in year 2001, now considered among BIG 4 has been a successful venture for Indian beauties. Within 12 years, India has got it's 1st crown and also managed to get 2 runner-up position. Nicole Faria, in 2010, won the pageant in an incredible way that she is hailed as the Best Miss Earth winner by many critics and fans. Amruta Patki and Pooja Chitgopekar won Miss Earth air titles in the year 2006 and 2007 respectively. Contestants Shamita Singha, Amruta Patki, Nicole Faria and Prachi Mishra also won different sub contests at the competition.
*****
On this Independence day, a little ode from me to all the Miss India winners and hope more feats to be achieved and more success to be enjoyed in the coming years.