Yes, the 13th annual Miss Supranational pageant is officially on the roll and it is certainly a stiff competition as we do not see who exactly are the real front runners during the first days of the competition. But some girls are showing immense potential to win the crown as the pageant progesses.
Toppping our list this week is the Criminal Justice degree-holder Miss Jamaica, Carisa Peart who stoodout so effortlessy & manages to survive everyday despite losing all her 4 luggages. An impressive orator and speaker, she can easily pull everyone's rug ones she holds the microphone. One is literally drawn to her when she talks.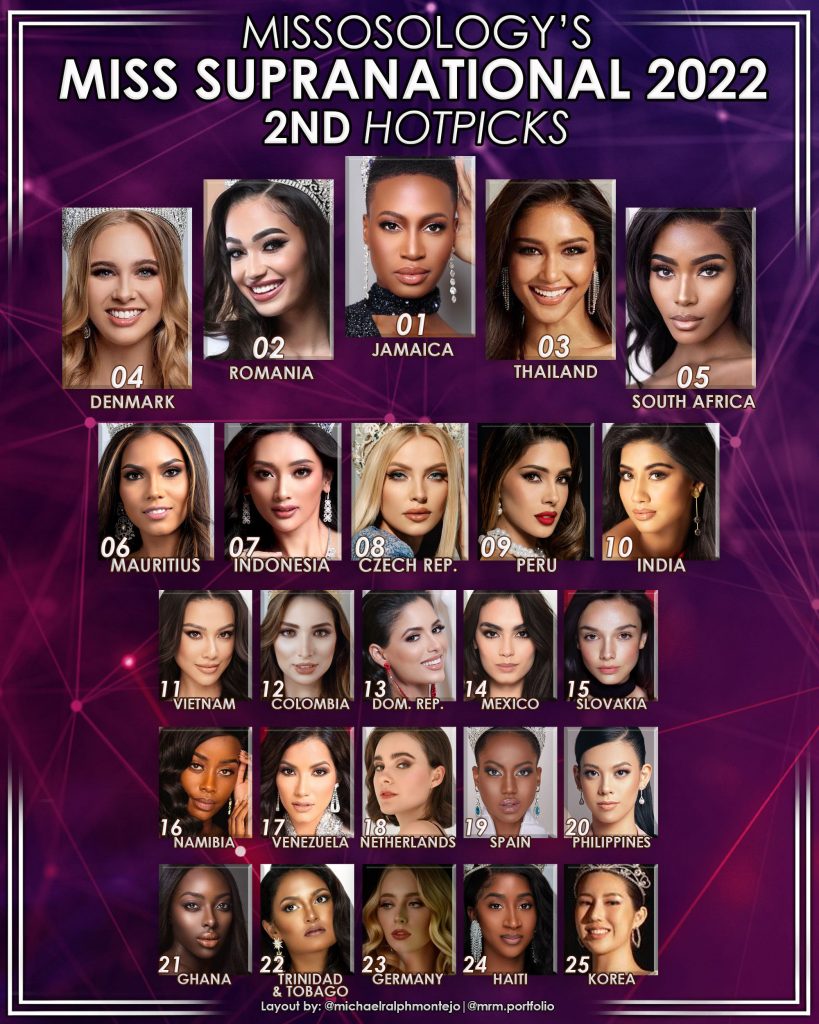 Now catching up into the top spot, and in close second, is Andra Tache – the extremely photogenic Miss Romania – who has never been captured with a bad angle. Her gorgeous face & pleasant personality make her globally appealing. Coming in third place is none other than the unstoppable Miss Thailand, Praewwanich Ruangthong who is perfectly genuine, approachable & extremely gorgeous! Is it too soon to crown another Thai beauty, considering that Praew is too strong to snatch a sandwich victory for her nation?
In fourth place is the classic beauty from Denmark, Johanne Hansen. Armed with a black belt in Karate, but make no mistake as she is meant to win everyone's hearts. Watch out for her! To complete our Top 5 is law degree grad Miss South Africa, Lalela Mswane. Transformed by a team that has been very supportive and determined to bring the 1st Miss Supranational crown for the rainbow nation, Lalela has been doing well since her arrival in Poland.
Check out the complete list here:
1. Jamaica – Carisa Peart
2. Romania – Andra Tache
3. Thailand – Praewwanich Ruangthong
4. Denmark – Johanne Hansen
5. South Africa – Lalela Mswane
6. Mauritius – Alexandrine Belle-Etoile
7. Indonesia – Adinda Cresheilla
8. Czech Republic – Kristyna Malirova
9. Peru – Almendra Castillo
10. India – Ritika Khatnani
11. Vietnam – Nguyen Huynh Kim Duyen
12. Colombia – Valentina Espinosa
13. Dominican Republic – Emely Ruiz
14. Mexico – Regina Gonzalez
15. Slovakia – Jana Vozarova
16. Namibia – Julita Kitwe
17. Venezuela – Ismelys Velasquez
18. Netherlands – Serena Darder
19. Spain – Ana Karla Ramirez
20. Philippines – Alison Black
21. Ghana – Gifty Boakye
22. Trinidad & Tobago – Christin Coeppicus
23. Germany – Jasmin Selberg
24. Haiti – Lynn Rubaine St-Germain
25. Korea- Cheryun Song