Escrito por Ric G. Gálvez (@the4ofustraveling)
Traducción por Santi Berzunza (@bs___em)
Andrea Meza comenzó su travesía en Miss Universo como una candidata considerada con pocas oportunidades. Pude contar con los dedos de la mano la cantidad de sitios web de concursos y videntes por el estilo que tuviesen como ganadora a Andrea. Le pregunté a varios analistas de concursos por qué Andrea se convirtió en una ganadora sorpresa, y la mayoría dijo que no veían en ella ese factor que pudiese dejar una impresión memorable. De alguna manera, estaba de acuerdo.
Andrea Meza started her Miss Universe journey as an underdog. You can count with your fingers the number of pageant websites and self-styled seers that predicted Andrea's victory. I've asked several pageant analysts why Andrea became a surprise winner, and most of them said that she does not have that "it" factor that can leave lasting impression. Somehow, I agree.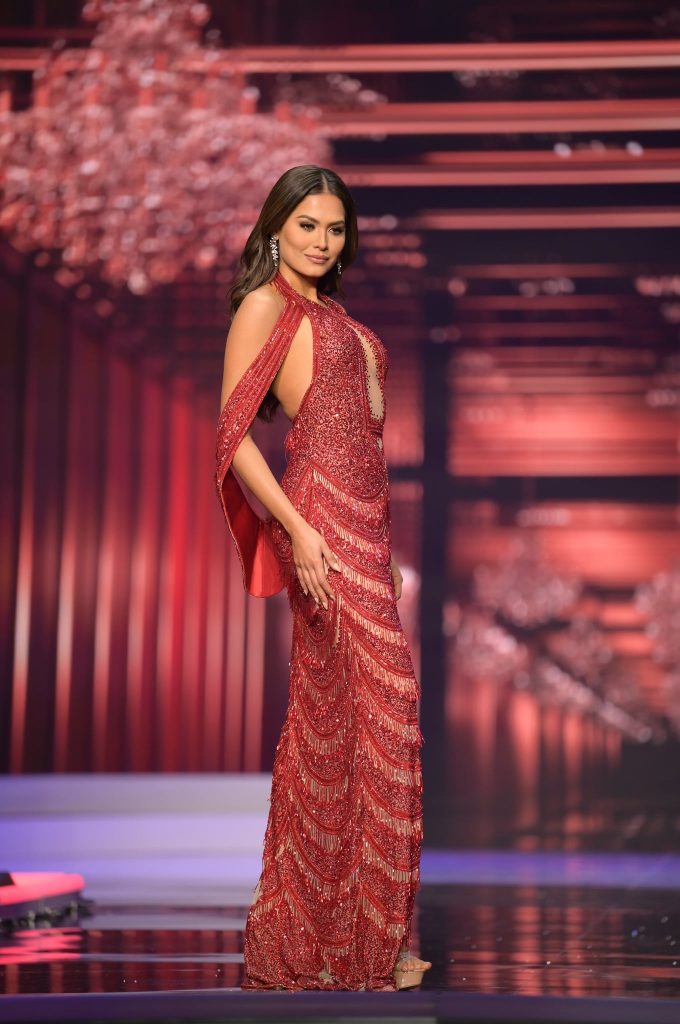 Para entender por qué Andrea no registraba del todo bien en cámara, puedo comenzar con el error cometido durante la preliminar. Ese vestido espantoso fue la razón por la que su clasificación en muchas predicciones se desplomó. Tampoco ayudó su pasarela demasiado tranquila y serena, la cual no atrajo la atención de los conocedores en certámenes. En cierto modo, era una concursante aburrida cualquiera en Miss Universo.
In order to understand why Andrea didn't register quite well, I can start with the mistake made during the preliminaries. The ghastly gown that Andrea used was the reason why her ranking in many predictions plummeted. It doesn't help that her calm and composed deportment didn't tickle the fancy of pageant connoisseurs. In a way, she was a boring Miss Universe contestant.
Pero en un concurso donde la atención se centró en reinas de belleza llamativas y destacadas, la mano firme de Andrea la impulsó a la cima. Ella no estaba interesada en anunciar su atuendo para cada día pero estaba concentrada en el de la Gran Noche. No le gustaba revelar la cantidad de equipaje que llevaba, pero seguía enfocada en deshacerse de cualquier bagaje emocional que pudiese llevar.
But in a contest where attention was focused on flashy and stand-out beauty queens, the steady hand of Andrea could have actually propelled her to the top. She's not into publicizing her outfit of the day, but rather she's focused on her outfit for the Big Day. She's not into revealing the number of luggage she had, but she's more focused on shedding whatever emotional baggage she may carry.
Ayudó que Andrea eligiera ese espectacular vestido rojo de Ivis Lenin para la competencia final. El diseño único entre los demás la hizo el centro de atención, especialmente que con casi 6 pies de altura, es una de las candidatas más altas en el certamen número 69 de Miss Universo. Esa mujer aburrida que la mayoría de los analistas de concursos erraron en notar, en realidad había tenido un gran repunte en el momento en el que realmente importaba.
It did help that Andrea chose the spectacular Ivis Lenin red gown for the final competition. The distinctive design made her visible especially that – at almost 6 feet in height – she's one of the tallest candidates at the 69th Miss Universe pageant. That boring lady that most pageant analysts failed to notice had actually made a big rebound at the time when it truly matters.
También pregunté a varios expertos en concursos sobre la actuación de Andrea durante la pregunta y el discurso final. Muchos sostienen que algunas finalistas parecen sonar correctas y seguras, pero no satisfacen realmente las necesidades de la pregunta. Por el contrario, Andrea puede no haber respondido elocuentemente, pero su respuesta de que el aislamiento debería de haberse impuesto en las primeras etapas de la pandemia fue totalmente acertada.
I've also queried several pageant experts about the performance of Andrea during the final question and the final speech. Many contend that some finalists appear to sound correct and confident but didn't really satisfy the needs of the question. In contrast, Andrea may not have delivered eloquently during the final question, but her answer that lockdowns should have been placed in the early stages of the pandemic was spot on.
De igual manera me impresionó esta poderosa declaración de Andrea: "A medida que avanzamos como sociedad, también hemos avanzado con los estereotipos". Creo que esto le valió el derecho a llevar la nueva corona de Miss Universo. La declaración destacó la ironía alucinante de que cualquiera pensaría que a medida que avanza la sociedad, las personas se vuelven más educadas, con mente más abierta y menos estereotipadas, pero en realidad, está sucediendo lo contrario. Los acontecimientos de los últimos años muestran muchos estereotipos que alguna vez estuvieron al margen, pero que ahora están en primera plana.
I was also impressed by this powerful statement of Andrea: "As we advance as a society, we've also advanced with stereotypes". I think that this earned her the right to wear the new Miss Universe crown. The statement highlighted the mind-boggling irony that as society advances, people become more educated, open-minded and less stereotypical of others but in reality, the reverse is happening. The events in the last few years show many stereotypes that were once on the fringes but are now on the mainstream.
El triunfo de Andrea Maza en Miss Universo ha reivindicado de alguna manera a su país, México. El cual tiene un atractivo global considerable que va desde las telenovelas hasta la cocina, pero su tamaño e influencia son desproporcionados con respecto a su presentación en concursos de belleza. Esta tercera corona de Miss Universo, junto con otras victorias como Miss Mundo 2018, pondrá a México en el camino correcto para reclamar más conquistas importantes en el futuro.
The Miss Universe triumph of Andrea Maza has somehow vindicated her country Mexico. Her country has a considerable global appeal ranging from telenovelas to cuisine, yet its size and influence are disproportionate with its beauty pageant performance. This third Miss Universe crown along with other victories like in Miss World 2018 will put Mexico in the right track in claiming more major pageant conquests in the future.
¿Qué se puede aprender de la historia de la candidata con pocas oportunidades como Andrea Meza? Bueno, ella demostró que el Miss Universo no es una carrera sino un maratón, que una mente enfocada y tranquila será recompensada al final. En momentos como este, especialmente en la era de las redes sociales, los fanáticos de Miss Universo pueden no estar impresionados con ella, pero eso realmente no importa. Andrea puede haber entendido a estas alturas que eventualmente se ganará sus corazones. Es solo cuestión de tiempo.
What can be learned from the underdog story of Andrea Meza? Well, she has shown that the Miss Universe pageant is not a dash but a marathon. She showed that a focused and calm mindset will be rewarded in the end. Right now, especially in the era of social media, Miss Universe fans may not be impressed with her but that doesn't matter really. Andrea may have understood by now that she will eventually win their hearts. It is just a matter of time.