Details for the 12th edition of the Miss Supranational have yet to be released, but despite that, more and more delegates have been named over the past weeks. From the delegates who have already been selected so far, we have compiled the ones who are potential "front-runners" in the competition.
Given the current pandemic, there's is no fitting way than to lead our Second Hot Picks with two beautties from the medical field.
Occupying the top spot for now is Romania's Michela Ciornea who is a resident doctor and a model who previously represented her country in Miss Intercontinental. Her previous pageant experience plus her unassuming beauty and great stage presence will surely work to her advantage in Miss Supranational.
Not far behind is South Africa's Thato Thelma Mosehle who recently completed her medical internship. Thato is one of the most talked about delegates since her appointment as Miss Supranational South Africa. We expect her to bring the same fire and presence that ladies from the Miss South Africa organization bring in their respective pageants.
A new entry in the Top 5 is Karla Inelisse Guilfú of Puerto Rico. This psychology graduate and certified yoga instructor has made quite an impact in her recent appearances, sparking hopes of a second Miss Supranational crown for the Island of Enchantment. Beautiful, modelesque and intelligent, we see no reasons why that won't be possible.
Completing our Top 5 for now are Angelika Kostyshynová of the Czech Republic and Indonesia's Jihane Almira Chedid – two ladies we should also be keeping an eye out in the competiton.
Check out the complete list below:
1 Romania, Michela Ciornea
2 South Africa, Thato Thelma Mosehle
3 Puerto Rico, Karla Inelisse Guilfú
4 Czech Republic, Angelika Kostyshynová
5 Indonesia, Jihane Almira Chedid
6 Dominican Republic, Eoanna Constanza
7 Netherlands, Swelia da Silva Antonio
8 Namibia, Chanique Rabe
9 Peru, Camila Escribens
10 India, Aavriti Choudhary
11 Bolivia, Luz Claros
12 Ghana, Verónica Sarfo Adu Nti
13 Iceland, Dísa Dungal
14 Panama, Darelys Santos
15 Japan, Emiri Yanna Shimizu
16 Ecuador, Justeen Cruz
17 China, Alice Li
18 Brazil, Deise Benício
19 Slovakia, Kristina Viglaska
20 Suriname, Farisha Tjin Asjoe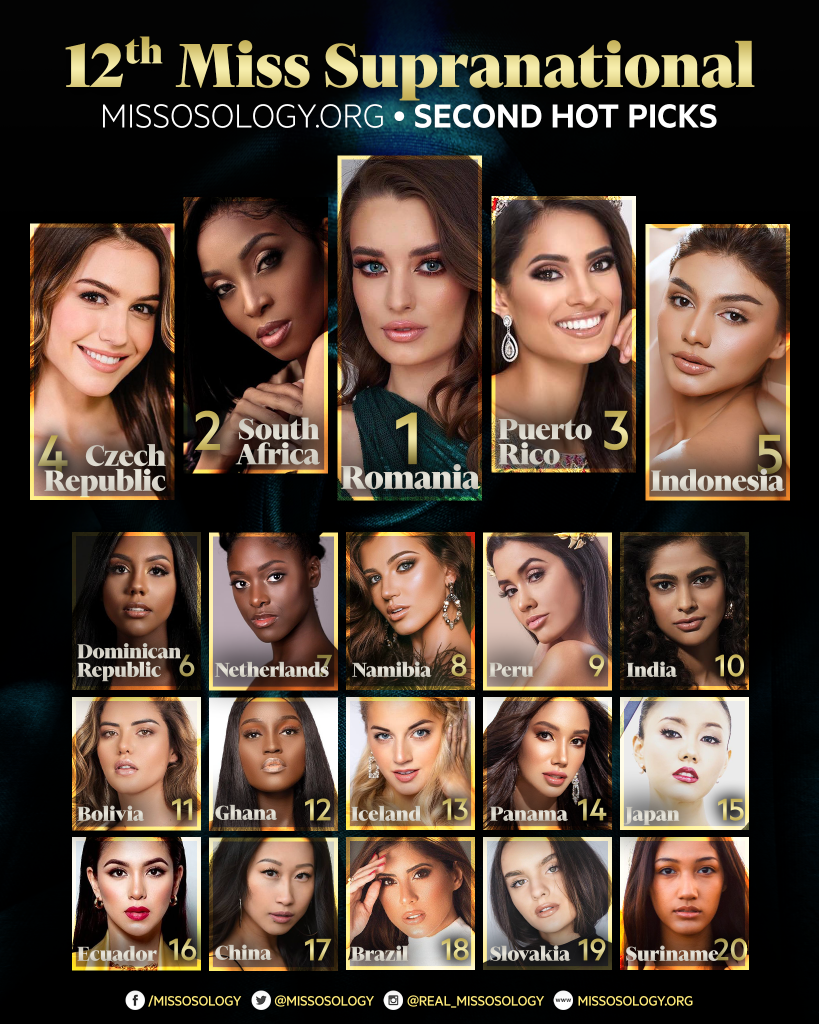 Follow Missosology's social media pages for more updates. Missosology.Org