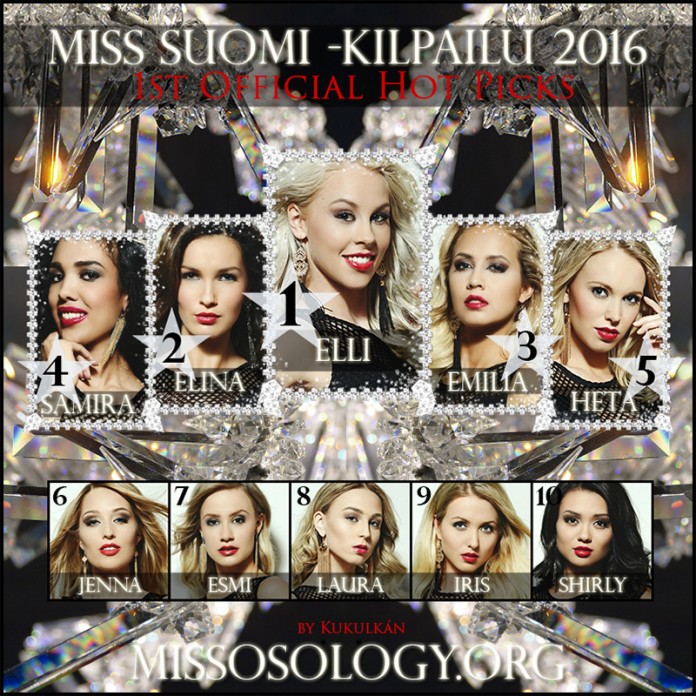 The 2016 Miss Suomi (Miss Finland) competition will be held at Hotel Vanajanlinna in the southern city of Hämeenlinna on May 13, 2016.
The winners of Miss Finland 2016 (Miss Suomi Kilpailu) will represent the country at Miss Universe 2016, Miss World 2016 and Miss International 2016. Here are our 1st Hot Picks:
Elli-Noora Koskela, Height: 5' 11'' (180 cm), weight 136 lbs (62 kilos), She is very confident, tall and undeniably sexy. She loves sport.
Elina Hoiska, Height: 5' 8'' (175 cm), weight 130 lbs (60 kilos), she has experience in beauty pageants which makes her by far one of those to beat. She has this super model vibe.
Emilia Seppänen, Height: 5'    9'' (176 cm), weight 125 lbs (57 kilos). She works as a model and cosmetic advisor. She has this Hollywood star look.
Samira Omer, Height: 5' 10'' (178 cm), weight 125 lbs (57 kilos). Her childhood dream was to win Miss Finland´s crown. She is tall and beautifully exotic.
Heta Sallinen, Height: 5' 7'' (171 cm), weight 125 (57 kilos). She is so photogenic and possesses a great body. She is currently studying.
Jenna Ruohola, Height: 5'   6'' (168), weight 114 lbs (52 kilos). She loves fashion and one of her interest is to work with children and youth in her country. One of the best faces of the pageant.
Esmi Valén, Height: 5'   7'' (171 cm), weight 123 lbs (56 kilos). She has this charming personality and confidence that everyone loves. She wants to be a role model of health.
Laura Mononen, Height: 5' 8'' (174 cm), weight 125 lbs (57 kilos). She is young, fresh and bubbly. She is a cosmetology student.
Iris Ojalammi, Height: 5'   7'' (172 cm), weight 119 lbs (54 kilos), originally from Canada but now with residence in Helsinki, this blond beauty is currently studying and works as beauty advisor.
Shirly Karvinen, Height: 5'   6'' (170 cm), weight 121 lbs (55 kilos). We love her well trained body and charisma. She is also a student.
Photo credit: Nadi Hammouda.