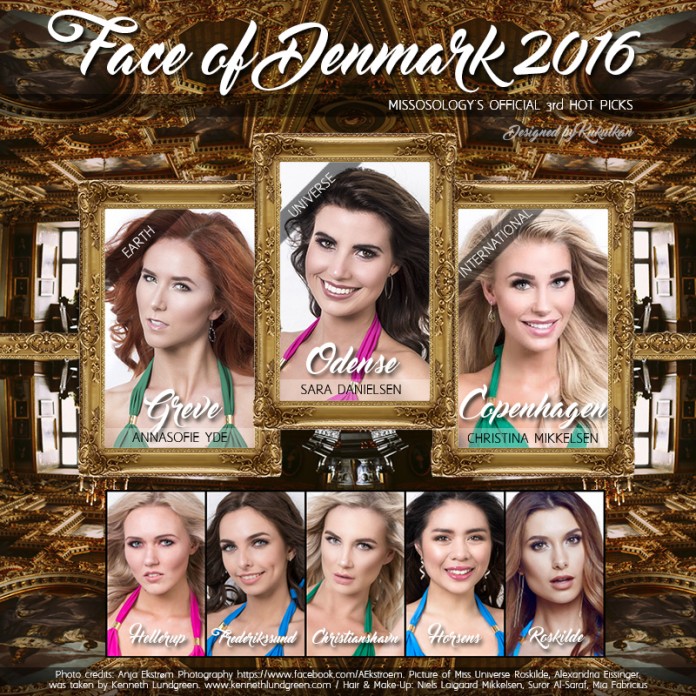 The final competition to meet the new beauty queens of Denmark gets closer as the coronation night will be held on May 14th, 2016 in Copenhagen.
The 2016 Face of Denmark Preliminary Presentation was held last April 17th. During the preliminary competition, all contestants were able to showcase their glamorous bodies, poise and personalities. Candidates introduced themselves to the judges, international press and observers and exhibited spectacular performances that amazed all those present. This has also influenced this Hot Picks edition, which is based from the official photos and the performances during the recent preliminary presentation, the following ladies that are selected from Missosology are believed to have strong chances to go through the final during the coronation night.  Check them out!
MISS UNIVERSE DENMARK- Leading at this stage is Miss Universe Odense, Sara Danielsen. She rocked the presentation show with her polished walk and glamorous body. She was stunning throughout the presentation and her inclusion in the top 3 is a great surprise.
MISS EARTH DENMARK- Now we have Miss Universe Greve, Annasofie Yde. She was the most pleasant surprise during the preliminary show. As she has an incredible body and she is winning many fans by her sincere point of view towards the betterment of environment. No doubt she could be a marvelous Miss Earth Denmark.
 
MISS INTERNATIONAL DENMARK – Miss Universe Copenhagen, Christina Mikkelsen. As one of the most seasoned candidates, this girl was a show stopper! With her catwalk diva and sophisticated look, it seems difficult to keep her out of the crowns.
 
4.) Miss Universe Hellerup, Malene Sørensen has what it takes to have one spot in this 3rd Hot Picks edition.  She is pretty, is in such good shape, great catwalk and good speech skills.
 
5.) Miss Universe Frederikssund, Ines Stojkovic, we are confident that with her gorgeous countenance and world-class grooming will help her in clinching one of the top spots. She was so natural, elegant and vivacious.
 
6.) Miss Universe Christianshavn, Sofie Klejnstrup Nielsen is a new entry in the Hot Picks. Her gorgeous face and stunning body will definitely make her a standout. She is very polished in terms of beauty and presentation on the stage.
 
7.) Miss Universe Horsens, Lady Panaguiton, possess a spark which cannot be ignored and a soft and delicate personality which makes her likeable. She has an attractive confidence and a calm aura surrounds her.
 
8.) Completing our top 8 for now is the always impressive Miss Universe Roskilde, Alexandria Eissinger. She is gorgeous and very attractive; she is considered a big favourite by many and one of the best faces of the pageant. 
 
We will get a clearer idea about the front-runners once the Grand Finale comes closer.  For now, the above 8 ladies are definitely in our radar for the biggest compliments!
 
Photo credits: Anja Ekstrøm Photography https://www.facebook.com/AEkstroem
Picture of Miss Universe Roskilde, Alexandria Eissinger,
was taken by Kenneth Lundgreen. www.kennethlundgreen.com
 
Hair & Make-Up: Niels Laigaard Mikkelsen, Suror Al-Saraf, Mia Fabricius