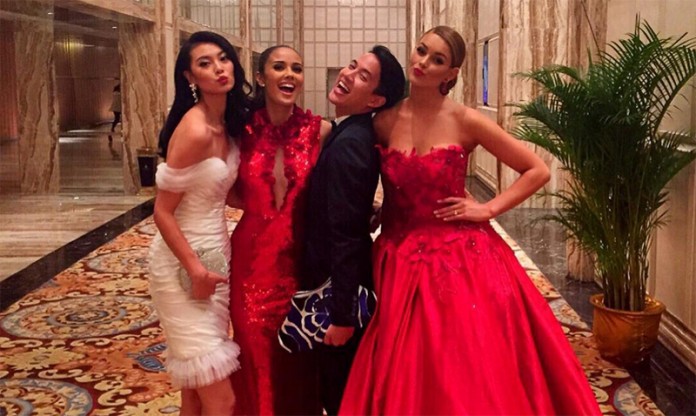 Pageant analysts labelled him different titles, from the Perez Hilton of Miss World to a breath of fresh air, but TV personality and PR guru Neil Krisralam is more than just the Miss World Behind the Scenes reporter. His month long stint at Miss World 2015 allowed him to delve deeply into the various charity projects of the contestants. His witty phrases and insights gave the Miss World 2015 pageant a much needed jolt of excitement – some color really and a lot of fun. Here, he shares to Missosology his experiences, his opinions and what he thinks about Miss World in general.
Missosology: You are the very first person to interview Miss World 2015 Miriea Lalaguna. What is your first impression of her?
Neil: Mireia is one of those rare beauties whose sincerity and personality won me over before her beauty. She is stunningly, awe-inspiringly beautiful but she is also gentle, down to earth, and kind-hearted. Whenever I got the chance to speak with her, I felt no pretense or act; she never came across as something she wasn't. She always spoke and acted from her heart and I think because of that she epitomizes a true Miss World.
Missosology: You've talked with the Miss World candidates and their charity projects. Which Beauty with a Purpose project truly moved you and why?
Neil: I spent an entire month with each of the contestants getting to know their projects so well so singling out one Beauty with a Purpose project as being above the rest, is impossible! They were all absolutely incredible and so moving. I will say though that the judges did a fabulous job choosing the top 10 and Indonesia was a deserving winner. I remember El Salvador's quite well too because she opened up to me on the first few days of the competition about the dangers of gang-related violence in her country. Her Beauty with a Purpose project aimed to redirect vulnerable children away from gangs through song and dance, and that was very inspiring.
Missosology: Miss World no longer conducts a swimsuit contest a.k.a. beach beauty challenge. Do you think it is a way to go forward in the world of pageantry? Why or why not?
Neil: What I have always admired about the Miss World Organization is its constant striving to be inclusive and innovative. When a contestant is being judged on her confidence, talents, and philanthropic tenacity, etc., why should it matter what she looks like in a swimsuit? In this day and age where we are a more accepting and forward-thinking society than ever, I think Miss World has done the right thing by adapting to the times. Also, without the pressure of having to achieve 'physical perfection', the contestants bond so much more and are able to focus on the more important aspects of the competition such as Talent and Beauty with a Purpose, which I believe creates a more fair and multifaceted competition, and contributes more to society, which is what Miss World is all about.
Missosology: What is your most unforgettable moment at Miss World 2015?
Neil: There were so many unforgettable moments at Miss World 2015. I will never forget visiting the orphanage in Sanya founded by Julia Morley. Seeing the children smile as we all walked in and seeing that they were well cared for was a great reminder of the message of Beauty with a Purpose and why it's so important to give back to the community. The Sanya City Parade was also something I will never forget. Tens of thousands of people got up in the early hours of the morning and lined the streets to welcome the contestants to their city. It was the most the heartwarming and magical thing I have ever seen! I would also note the first time seeing Miss Guyana's talent performance as being very memorable. It was during the talent auditions and before she performed she explained that her original song was composed in honour of her deceased cousin who was the first person to encourage her singing career. During her performance, the entire room was in tears. I think I cried for about an hour! Her performance was so moving and it was at that moment, I knew not only would she do very well in talent but also that she was destined for superstardom.
Missosology: What is the most difficult part of doing the behind the scenes report at Miss World?
Neil: My goal for doing the Behind the Scenes videos was to showcase the fun side of Miss World from a fan's perspective and all of the wonderful aspects of the competition that people typically don't get to see, which comes naturally to me because I am such a big fan of the competition, so I didn't find my job difficult at all. Perhaps the biggest challenge though had to be being always as prepared as the contestants to be on camera, which meant a lot of really early mornings. But I honestly loved every minute of it! I am blessed that all of the feedback has been very positive and I think people were very excited to see something different and more spirited, so I'm glad I was able to make people laugh and smile and generate excitement for all pageant fans around the world. I also worked with a very talented producer, Steve Douglas, and an amazing crew who I could not have done this without, and received constant support and pointers from Megan Young who is of course the most amazing host and one of the most stunning women in the world. They all made my job so fun and helped me to overcome any obstacles.
Missosology: Finally, what is your overall impression of the Miss World 2015 pageant?
Neil: Sanya is the home of Miss World and the entire city was so gracious in welcoming all of the contestants. All of the activities and trips organized during Miss World 2015 were simply amazing and once-in-a-lifetime, that I felt like personally, I learnt and grew so much. I also really loved the finale and I think it truly represented the culmination of an exhilarating and emotional month-long journey. Thanks to Miss World 2015, I have the most amazing life-long memories that I will cherish for a lifetime.