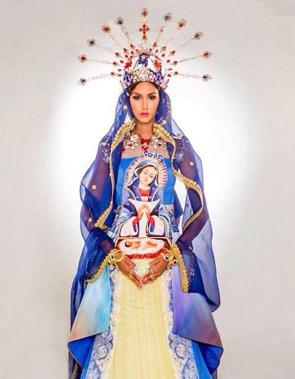 READ The Miss Universe 2014 National Costumes CLICK HERE!
Well, it looks like some controversies are brewing at the Miss Universe National Costume contest even before the real contest begins. Two of the controversial national costumes came from the Latin American region with one, that of Miss Costa Rica Karina Ramos, may actually be illegal! Ley No. 08 (Ley que regula uso símbolos nacionales) or Law No. 08 (The law regulating the use of national symbols) of Costa Rica clearly prohibits the use of the national coat-of-arms other than for official purposes. The national costume of Karina, designed by Daniel Moreira, blatantly used the Costa Rican coat-of-arms clearly emblazoned on the center chest area. The Costa Rican national organization conceded that they have indeed crossed the line. A backup national costume was immediately shipped to Doral to replace the "illegal" costume.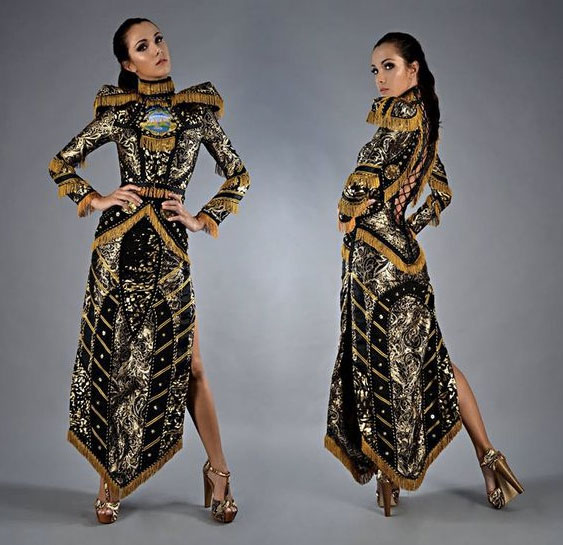 The more recent controversy meanwhile involves a much more sensitive topic – religion. Miss Dominican Republic Kimberly Castillo chose a wardrobe that represents the Virgen de Altagracia. Magali Febles, the national director of Dominican Republic and Haiti, was baffled by all the uproar caused by the national costume. She said that a lot of national costumes before shows things that are of evil like horns and skulls and that the  costume of a Virgin Mary is actually a positive thing. However, some critics said that religious symbols with great significance – the Virgin is the patron saint of the Dominican Republic – should be respected and not be lowered down to the level of such things such as pageantry.