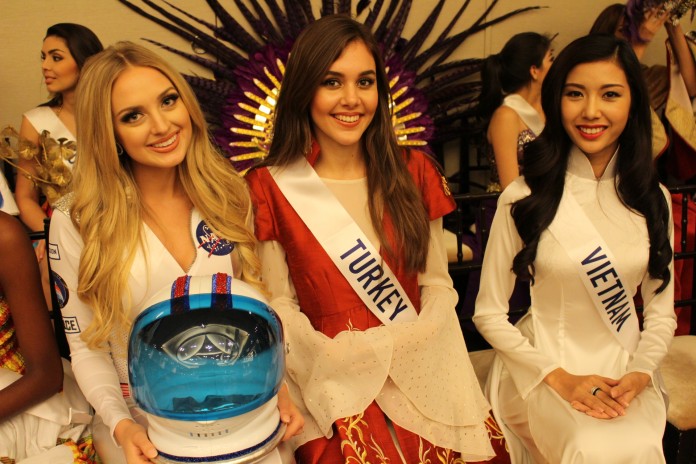 Happoen, Tokyo. Japanese guests were treated with a big surprise at the charity concert and gala of world-famous Japanese musician, YOSHIKI, as 70 of the world's most beautiful women paraded their respective national and festival costumes before the start of the actual musical performances. While most of the girls were very eager to show everything about their costumes to the crowd, some were a bit secretive and apprehensive to show them all. There were others, though, whose costumes would not fit the entrance gate of the concert hall, so they decided to wear simple traditional dresses from their country.
Aside from the host delegate, Arisa Nakagawa who was obviously the most applauded of all, it was Miss Honduras, Jennifer Valle who really stole the show! The moment she appeared with her green tribal costume representing the Mayan goddess of fertility, everyone was simply awed. Aside from the spectacular headdress and the eye-catching combination of emerald green and orange colors all over her, Jennifer's angelic face complimented well into the overall appeal of the costume. We are pretty sure that Jennifer has caught the attention of many VIP guests, some of which will most likely sit as a judge on November 5th.
Speaking of a pre-Columbian costume from Central America, Miss Panama Jhasmeiry Herrera Evans wore an almost identical costume that Panama's delegates wore during Miss Universe and Miss International. It may be really extravagant for Japanese eyes, but for many pageant fans, there's nothing quite surprising about it at all. What was rather impressive about Panama was how Jhasmeiry presented it. She was impeccable.
Another delegate who caught the attention of the live audience was the bridal-gown inspired Filipiniana attire of Janicel Lubina, Miss Philippines. Japanese people love bridal ball gowns, and the Leo Almodal creation drew silent praises among the crowd. It was indeed a surreal view to have the real life Cinderella being dressed up like the fairy tale character that she is normally being compared to by Japanese and international media.
USA's Lindsay Becker was also well-applauded when she appeared with her space suit! She looked sexy, sassy and spunky while holding her helmet. Would you be surprised to know if this costume was actually her idea? Well, Lindsay loves flying, considering that she is a flight attendant by profession, so why not wear something that brings her up in the air? And don't be deceived. This is not yet the complete set of her costume! Watch out for the rest of it on November 5th!
Mette Riis Sørensen's white swan was also another darling of the crowd! In real life, it looked really spectacular. She was like an angel covered with white feathers. Whoever conceptualized her costume is a genius! We have noticed how amiable and sociable Mette has become in the past few days, and she is slowly stepping up her game! Go go Denmark!
Nepal's Medha Koirala wore a simple Himalayan costume, with intricate design and colorful hues that were pleasant to the eyes. Macau's Ana Choi wore a white dress which reminded us of the goddesses in old Chinese folk movies, and she was also captivating. The Netherlands wore a windmill-inspired costume, and that was awesome! Kenya's Eunice Onyango may have worn a very simple yellow traditional dress, but her modelesque figure and overall charm was hard to ignore!
Aruba's Laura Ruiz was also amazing in her purple-colored costume. While Sri Lanka and India did amazing in their respective presentation.  Both were looking great!

It is too early to tell who will be the top contender for the Best in National Costume award because some of the girls were not allowed to wear their competition costume due to size. Venezuela's costume is reserved for the final night, and we heard that it's quite huge, defying the memo from MIO who asked for smaller costumes. If not following of instructions meant deductions in points, then we wonder how many girls would have reconsidered bringing humongous costumes.
For more photos of the event, visit our Facebook Gallery: National Costume Photos