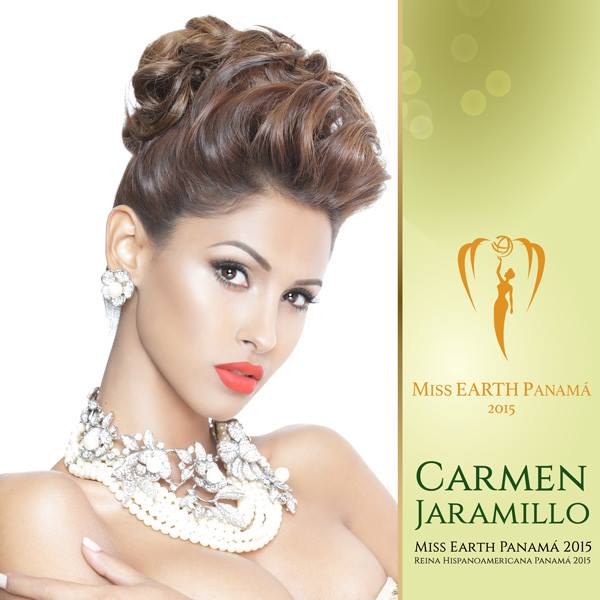 The Miss Earth Panama organization has officially confirmed that Carmen Jaramillo is the new Miss Earth Panama.
She was a runner-up to Miss Universe Panama 2014 Yomatzy Hazlewood last year. She will be officially crowned at Trump Ocean Club International Hotel this coming September 29.
Lo que se rumoraba fue confirmado, este lunes mediante Nota de Prensa, la Organización Miss Earth Panamá 2015 anunció formalmente la designación de la espigada y esbelta Carmen Isabel Jaramillo Velarde de 20 años, como Miss Earth Panamá 2015.
La hermosa chorrerana, competirá ante más de 100 mujeres de distintas partes del mundo, la noche del 5 de diciembre en un espectáculo televisado para todos los continentes en la Gran Final de Miss Earth 2015, evento que completa 15 años de celebrarse en distintos escenarios del continente asiático y por primera vez en Europa.
El Miss Earth es considerado uno de los concursos de belleza de mayor renombre en el mundo y único en su promesa social, las candidatas de cada país son designadas con el compromiso de que se conviertan en activistas de distintas causas en beneficio del medio ambiente. En el caso de la representante panameña tendrá la tarea de concientizar a la población a través de distintas acciones creativas, sobre el impacto del Cambio Climático.
Este año una nueva organización es la encargada del concurso, se trata de la Grupo PRODUCER, Agencia de Comunicaciones Integradas, quienes preparan la primera versión de la GALA NACIONAL DE LA BELLEZA, el próximo 29 de septiembre en el Trump Ocean Club International Hotel, y en la que además de coronar oficialmente a Carmen Jaramillo, más de un centenar de artistas incluyendo bailarines, Margarita Henríquez, Mario Spinali y desde Venezuela, el Ex Salserín René, presentarán un show único y de primer nivel. Además de que se contará con reinas de belleza nacionales e internacionales como invitadas especiales. Los organizadores prometen que este sea el evento de belleza del año.