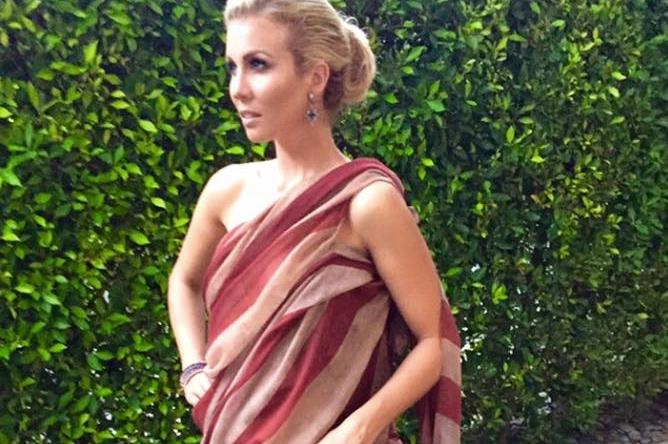 It isn't just a small flag that adorns in the national costume of Miss Earth USA Britanny Ann Payne. Neither it is a stylized version nor an image of American flag. By the looks of it, she will actually be wearing the American flag. While many countries from around the world have this kind of style in their national costumes at Big4 pageants – from Belgian tri-colors on skirts to Colombiam yellow, red and blue on feathers – Britanny Ann Payne may actually run afoul with the law.
Paragraph D of 4 U.S. Code § 8 – Respect for flag states that "the [American] flag should never be used as wearing apparel, bedding, or drapery." Further to that, Paragraph J of the same code states that "no part of the flag should ever be used as a costume or athletic uniform."
Britanny Ann will also have the costume with a bodice where the stars of the flag are found at the lower part. That is against to the Paragraph A which explicitly states that "the flag should never be displayed with the union down, except as a signal of dire distress in instances of extreme danger to life or property."
The application of the law however seems to be lax. No one got to prison for desecrating the American flag – at least at this time and age – and the Federal Code is silent about what will be the penalties for the offending parties. The American flag has been found to be splashed in various items including draperies, beddings, cars and even on jackets.
The designer of the costume, Joey Galon of Atelier, apologized if his designs have offended anyone. In his facebook post he said:
"My apologies to anyone if I've offended them with my costume design for Miss Earth USA. I've had a couple of comments stating the "flag" shouldn't be worn this way nor drug on the floor of which I respect whole heartedly.
Certainly it was not my intention to disrespect my country nor our flag. These were originally patriotic ladies scarves I found after the 4th of July holiday, about 8 of them, then had the vision to not waste them yet create a gown out of them. The inspiration is "Lady Liberty" and was hoping my gown and the way I styled Miss Earth USA was such that she would best represent our amazing country when she competes against over 92 global countries at this years Miss Earth pageant taking place now in Vienna, Austria.
Thank you everyone for all of your kind comments. I am passionate at what I do and am very conscious of my design process and the last thing I would want to do is hurt and/or disrespect anyone or even more…our country. Again, my apologies."
The gist of the Federal Code however is that the American flag should be accorded with respect. Do you think that the national costume of Britanny Ann Payne desecrates the American flag? Comment on the comment box below to share your thoughts!