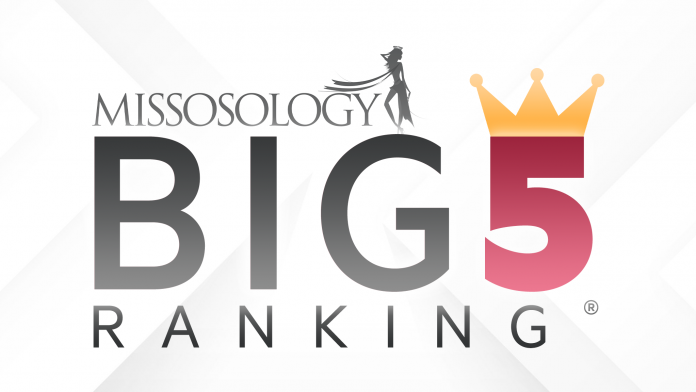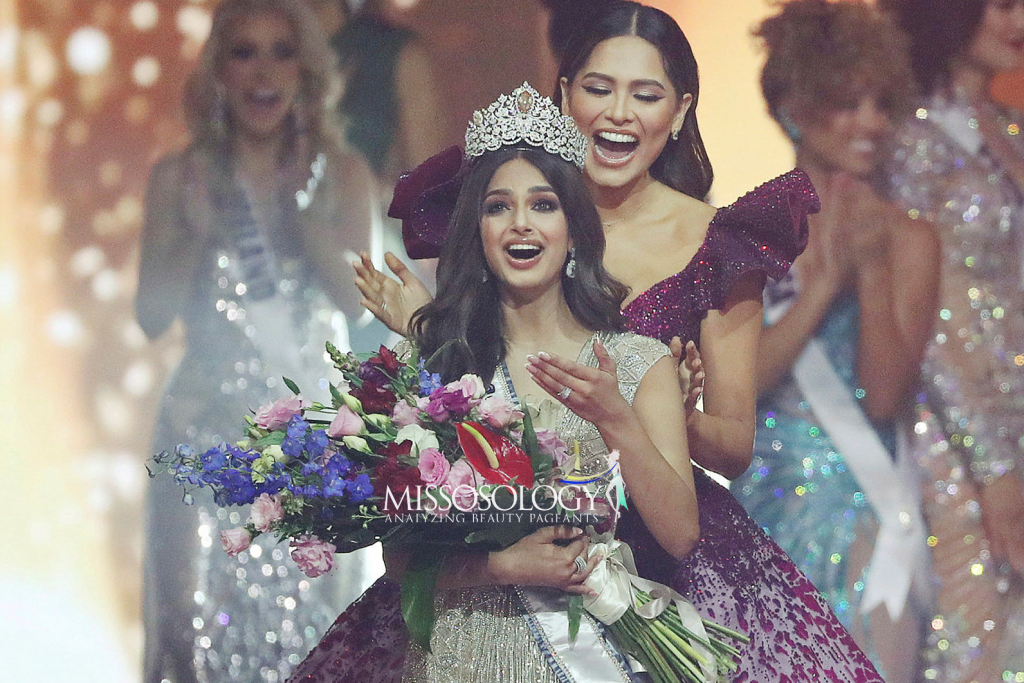 INDIA is back on track!
After more than two decades of waiting, India can finally bring the Miss Universe crown back to the sub-continent after 21-year-old Harnaaz Kaur Sandhu bested 79 other delegates in the 70th Miss Universe held Sunday night in Eilat, Israel. The win gave India an additional 200 points to dethrone Australia from the 6th place, and is now getting closer to enter the elite circle of five! Meanwhile, the Philippines (3rd) has further widened its lead from Brazil (4th), and Colombia (5th) is also not far behind.
South Africa's impressive stride this year is sufficient enough to displace Mexico from the 12th position. This year, Mexico has never placed in all of the Big5 Pageants held so far. The upcoming Miss World 2021 results will determine its fate.
Meanwhile, Sint Maarten's (178th) points was revised when the accumulated score from Saint-Martin was added to the former. All of Saint-Martin's 20 points from Miss Universe are now credited to Sint Maarten. Sint Maarten currently participates at Miss World 2021 with Lara Mateo.
| 2019 | 2020 | 2021 | COUNTRY or REGION | TOTAL | Universe | World | International | Earth | Supranational |
| --- | --- | --- | --- | --- | --- | --- | --- | --- | --- |
| 1 | 1 | 1 | U.S.A. | 21860 | 8550 | 5990 | 4730 | 1980 | 610 |
| 2 | 2 | 2 | VENEZUELA | 19761 | 6450 | 4715 | 5310 | 2526 | 760 |
| 4 | 4 | 3 | PHILIPPINES | 14522 | 3880 | 2710 | 4340 | 2732 | 860 |
| 3 | 3 | 4 | BRAZIL | 14258 | 4780 | 3435 | 3610 | 1788 | 645 |
| 5 | 5 | 5 | COLOMBIA | 13824 | 4990 | 2225 | 4530 | 1354 | 725 |
| 7 | 7 | 6 | INDIA | 11522 | 3230 | 3755 | 2570 | 1052 | 915 |
| 6 | 6 | 7 | AUSTRALIA | 11333 | 3010 | 3865 | 3270 | 778 | 410 |
| 8 | 8 | 8 | SPAIN | 10697 | 2800 | 2350 | 4250 | 1062 | 235 |
| 9 | 9 | 9 | JAPAN | 10605 | 2910 | 1725 | 4990 | 740 | 240 |
| 10 | 10 | 10 | FINLAND | 10210 | 3090 | 2670 | 4090 | 230 | 130 |
| 11 | 11 | 11 | FRANCE | 10032 | 2750 | 4020 | 2440 | 532 | 290 |
| 14 | 14 | 12 | SOUTH AFRICA | 9740 | 3220 | 4560 | 510 | 1090 | 360 |
| 12 | 12 | 13 | MEXICO | 9725 | 3050 | 2670 | 2500 | 900 | 605 |
| 13 | 13 | 14 | SWEDEN | 9520 | 3900 | 3150 | 1860 | 460 | 150 |
| 15 | 15 | 15 | PUERTO RICO | 9510 | 3720 | 2090 | 1970 | 730 | 1000 |
| 16 | 16 | 16 | ISRAEL | 8805 | 2810 | 3495 | 2120 | 350 | 30 |
| 17 | 17 | 17 | GERMANY | 8705 | 2940 | 2815 | 2530 | 330 | 90 |
| 18 | 18 | 18 | THAILAND | 8562 | 2080 | 1410 | 2550 | 1602 | 920 |
| 19 | 19 | 19 | KOREA | 7848 | 1580 | 1760 | 3300 | 868 | 340 |
| 20 | 20 | 20 | UNITED KINGDOM | 7795 | 510 | 4885 | 2360 | 40 | 0 |
| 21 | 21 | 21 | NETHERLANDS | 7273 | 2030 | 2240 | 1880 | 808 | 315 |
| 22 | 22 | 22 | POLAND | 6862 | 940 | 1340 | 1940 | 1402 | 1240 |
| 23 | 23 | 23 | CANADA | 6659 | 2790 | 2030 | 1010 | 414 | 415 |
| 24 | 24 | 24 | ARGENTINA | 6501 | 2150 | 2050 | 1820 | 306 | 175 |
| 25 | 25 | 25 | GREECE | 6290 | 2470 | 1910 | 1520 | 200 | 190 |
| 26 | 26 | 26 | NORWAY | 6155 | 2300 | 1655 | 1830 | 310 | 60 |
| 27 | 27 | 27 | NEW ZEALAND | 5926 | 1170 | 2360 | 1910 | 376 | 110 |
| 29 | 28 | 28 | PERU | 5892 | 2520 | 1500 | 850 | 502 | 520 |
| 31 | 31 | 29 | DOMINICAN REPUBLIC | 5725 | 1890 | 1700 | 1270 | 470 | 395 |
| 28 | 29 | 30 | ITALY | 5697 | 2270 | 1805 | 1080 | 442 | 100 |
| 30 | 30 | 31 | JAMAICA | 5680 | 1440 | 3795 | 240 | 50 | 155 |
| 34 | 32 | 32 | DENMARK | 5540 | 1190 | 2285 | 1220 | 610 | 235 |
| 32 | 33 | 33 | ENGLAND | 5418 | 2540 | 830 | 1430 | 348 | 270 |
| 35 | 35 | 34 | RUSSIA | 5413 | 1070 | 1550 | 1340 | 1178 | 275 |
| 33 | 34 | 35 | IRELAND | 5390 | 1520 | 2490 | 1220 | 70 | 90 |
| 36 | 36 | 36 | AUSTRIA | 5171 | 1210 | 2225 | 1170 | 566 | 0 |
| 38 | 39 | 37 | BELGIUM | 4960 | 1530 | 1310 | 1530 | 300 | 290 |
| 39 | 38 | 38 | PANAMA | 4924 | 1480 | 830 | 1470 | 424 | 720 |
| 37 | 37 | 39 | ICELAND | 4920 | 1050 | 1590 | 1880 | 20 | 380 |
| 42 | 42 | 40 | CHILE | 4354 | 1840 | 800 | 490 | 1124 | 100 |
| 43 | 43 | 41 | CZECH REPUBLIC | 4278 | 670 | 670 | 890 | 1298 | 750 |
| 40 | 40 | 42 | TURKEY | 4271 | 840 | 1435 | 1570 | 176 | 250 |
| 41 | 41 | 43 | SWITZERLAND | 4242 | 1650 | 1320 | 690 | 482 | 100 |
| 44 | 44 | 44 | ECUADOR | 4013 | 980 | 885 | 1040 | 818 | 290 |
| 45 | 45 | 45 | CHINA PR | 3741 | 580 | 1470 | 1220 | 376 | 95 |
| 47 | 48 | 46 | INDONESIA | 3738 | 630 | 1010 | 1090 | 278 | 730 |
| 46 | 46 | 47 | TRINIDAD & TOBAGO | 3645 | 1460 | 1745 | 110 | 160 | 170 |
| 48 | 47 | 48 | COSTA RICA | 3576 | 1080 | 760 | 1040 | 486 | 210 |
| 51 | 51 | 49 | PARAGUAY | 3402 | 1160 | 700 | 630 | 612 | 300 |
| 49 | 49 | 50 | UKRAINE | 3374 | 890 | 750 | 830 | 454 | 450 |
| 50 | 50 | 51 | BOLIVIA | 3278 | 900 | 870 | 1050 | 308 | 150 |
| 52 | 52 | 52 | VIETNAM | 3053 | 420 | 800 | 590 | 668 | 575 |
| 54 | 54 | 53 | MALAYSIA | 2977 | 660 | 1220 | 610 | 302 | 185 |
| 53 | 53 | 54 | HONGKONG | 2885 | 1040 | 800 | 960 | 50 | 35 |
| 55 | 55 | 55 | LEBANON | 2852 | 780 | 1120 | 590 | 292 | 70 |
| 58 | 56 | 56 | PORTUGAL | 2728 | 530 | 690 | 740 | 518 | 250 |
| 57 | 57 | 57 | HONDURAS | 2662 | 590 | 410 | 930 | 462 | 270 |
| 56 | 58 | 58 | GUAM | 2640 | 730 | 1080 | 540 | 290 | 0 |
| 59 | 59 | 59 | SRI LANKA | 2590 | 640 | 900 | 790 | 100 | 160 |
| 61 | 60 | 60 | SINGAPORE | 2576 | 810 | 610 | 640 | 396 | 120 |
| 66 | 64 | 61 | NIGERIA | 2528 | 490 | 1190 | 70 | 658 | 120 |
| 60 | 61 | 62 | SCOTLAND | 2505 | 940 | 815 | 310 | 350 | 90 |
| 63 | 62 | 63 | NICARAGUA | 2440 | 660 | 475 | 1100 | 190 | 15 |
| 62 | 63 | 64 | YUGOSLAVIA | 2400 | 430 | 1240 | 570 | 160 | 0 |
| 64 | 65 | 65 | URUGUAY | 2370 | 1220 | 810 | 290 | 40 | 10 |
| 65 | 66 | 66 | GUATEMALA | 2358 | 790 | 530 | 570 | 378 | 90 |
| 70 | 68 | 67 | KENYA | 2142 | 230 | 1130 | 190 | 452 | 140 |
| 67 | 67 | 68 | CURACAO | 2130 | 1240 | 430 | 380 | 60 | 20 |
| 69 | 69 | 69 | ARUBA | 2080 | 620 | 900 | 530 | 20 | 10 |
| 73 | 73 | 70 | BELARUS | 1980 | 0 | 280 | 440 | 360 | 900 |
| 72 | 72 | 70 | EL SALVADOR | 1980 | 950 | 430 | 270 | 210 | 120 |
| 68 | 70 | 72 | WALES | 1976 | 980 | 530 | 220 | 116 | 130 |
| 71 | 71 | 73 | SLOVAKIA | 1970 | 410 | 350 | 460 | 340 | 410 |
| 76 | 76 | 74 | GHANA | 1799 | 370 | 830 | 130 | 434 | 35 |
| 77 | 77 | 75 | BAHAMAS | 1777 | 690 | 690 | 60 | 182 | 155 |
| 78 | 78 | 76 | ROMANIA | 1765 | 180 | 400 | 210 | 350 | 625 |
| 74 | 74 | 77 | CHINESE TAIPEI | 1746 | 510 | 500 | 380 | 236 | 120 |
| 75 | 75 | 78 | HUNGARY | 1710 | 480 | 550 | 220 | 220 | 240 |
| 80 | 79 | 79 | CROATIA | 1620 | 410 | 930 | 30 | 80 | 170 |
| 83 | 83 | 80 | NAMIBIA | 1620 | 560 | 510 | 100 | 20 | 430 |
| 79 | 80 | 81 | POLYNESIE FRANCAISE | 1597 | 250 | 410 | 490 | 432 | 15 |
| 81 | 81 | 82 | GUYANA | 1596 | 220 | 1200 | 10 | 146 | 20 |
| 82 | 82 | 83 | MAURITIUS | 1475 | 340 | 620 | 90 | 290 | 135 |
| 84 | 84 | 84 | MALTA | 1410 | 400 | 660 | 200 | 90 | 60 |
| 85 | 85 | 85 | MONGOLIA | 1366 | 20 | 480 | 500 | 346 | 20 |
| 86 | 86 | 86 | ANGOLA | 1300 | 580 | 580 | 0 | 110 | 30 |
| 87 | 87 | 87 | CYPRUS | 1286 | 380 | 560 | 190 | 146 | 10 |
| 88 | 88 | 88 | ZIMBABWE | 1271 | 150 | 855 | 30 | 206 | 30 |
| 89 | 89 | 89 | EGYPT | 1240 | 270 | 490 | 70 | 380 | 30 |
| 89 | 89 | 89 | HAWAII | 1240 | 370 | 10 | 860 | 0 | 0 |
| 91 | 91 | 91 | GIBRALTAR | 1221 | 90 | 900 | 150 | 36 | 45 |
| 93 | 93 | 92 | NEPAL | 1210 | 140 | 590 | 110 | 330 | 40 |
| 92 | 92 | 93 | KAZAKHSTAN | 1192 | 130 | 730 | 10 | 212 | 110 |
| 94 | 94 | 94 | LUXEMBOURG | 1150 | 270 | 290 | 480 | 40 | 70 |
| 95 | 95 | 95 | US VIRGIN ISLANDS | 1132 | 320 | 570 | 10 | 92 | 140 |
| 99 | 98 | 96 | HAITI | 1120 | 610 | 170 | 170 | 70 | 100 |
| 96 | 96 | 97 | BOSNIA & HERZEGOVINA | 1112 | 0 | 290 | 0 | 772 | 50 |
| 98 | 97 | 98 | SLOVENIA | 1074 | 190 | 260 | 0 | 364 | 260 |
| 97 | 99 | 99 | TANZANIA | 1056 | 210 | 390 | 60 | 396 | 0 |
| 99 | 100 | 100 | TUNISIA | 1050 | 80 | 370 | 600 | 0 | 0 |
| 101 | 101 | 101 | BERMUDA | 1010 | 450 | 550 | 10 | 0 | 0 |
| 106 | 107 | 102 | BOTSWANA | 980 | 270 | 530 | 0 | 180 | 0 |
| 102 | 102 | 103 | LATVIA | 976 | 110 | 270 | 280 | 186 | 130 |
| 112 | 104 | 104 | MYANMAR | 966 | 180 | 70 | 90 | 196 | 430 |
| 103 | 103 | 105 | NORTHERN IRELAND | 960 | 0 | 570 | 0 | 310 | 80 |
| 105 | 106 | 106 | ALBANIA | 920 | 450 | 170 | 0 | 80 | 220 |
| 104 | 105 | 107 | CZECHOSLOVAKIA | 920 | 220 | 250 | 450 | 0 | 0 |
| 118 | 117 | 108 | BELIZE | 890 | 390 | 190 | 30 | 270 | 10 |
| 107 | 108 | 109 | ESTONIA | 886 | 370 | 240 | 40 | 176 | 60 |
| 109 | 110 | 110 | CUBA | 855 | 360 | 280 | 150 | 50 | 15 |
| 108 | 109 | 111 | MARTINIQUE | 850 | 50 | 290 | 30 | 470 | 10 |
| 110 | 111 | 112 | SURINAME | 845 | 310 | 100 | 50 | 40 | 345 |
| 111 | 112 | 113 | CAYMAN ISLANDS | 810 | 340 | 450 | 0 | 20 | 0 |
| 113 | 113 | 114 | GEORGIA | 760 | 150 | 270 | 40 | 250 | 50 |
| 115 | 114 | 115 | BULGARIA | 720 | 280 | 380 | 10 | 20 | 30 |
| 115 | 114 | 115 | GUADELOUPE | 720 | 60 | 210 | 230 | 150 | 70 |
| 118 | 117 | 117 | NORTHERN MARIANAS | 700 | 270 | 10 | 310 | 110 | 0 |
| 114 | 116 | 118 | ETHIOPIA | 696 | 120 | 240 | 90 | 76 | 170 |
| 117 | 120 | 119 | UGANDA | 692 | 0 | 430 | 180 | 82 | 0 |
| 118 | 117 | 120 | BARBADOS | 690 | 180 | 490 | 0 | 10 | 10 |
| 121 | 121 | 121 | SERBIA | 676 | 90 | 170 | 110 | 216 | 90 |
| 122 | 121 | 122 | LIBERIA | 666 | 40 | 500 | 60 | 66 | 0 |
| 123 | 123 | 123 | CONGO, D.R. | 640 | 330 | 150 | 140 | 20 | 0 |
| 124 | 124 | 124 | BRITISH VIRGIN ISLANDS | 630 | 370 | 250 | 0 | 10 | 0 |
| 125 | 125 | 125 | KOSOVO | 620 | 450 | 20 | 0 | 90 | 60 |
| 126 | 126 | 126 | MACAU | 590 | 0 | 250 | 130 | 170 | 40 |
| 127 | 126 | 126 | SERBIA & MONTENEGRO | 590 | 170 | 30 | 130 | 260 | 0 |
| 128 | 128 | 128 | TURKS & CAICOS | 530 | 400 | 80 | 0 | 50 | 0 |
| 129 | 129 | 129 | MOLDOVA | 515 | 0 | 250 | 70 | 50 | 145 |
| 130 | 130 | 130 | ZAMBIA | 500 | 90 | 180 | 50 | 170 | 10 |
| 131 | 131 | 131 | LITHUANIA | 496 | 40 | 180 | 130 | 46 | 100 |
| 132 | 132 | 132 | SAINT LUCIA | 480 | 90 | 260 | 0 | 130 | 0 |
| 133 | 133 | 133 | SOUTH SUDAN | 470 | 0 | 310 | 40 | 60 | 60 |
| 134 | 134 | 134 | GABON | 436 | 40 | 40 | 40 | 36 | 280 |
| 135 | 135 | 135 | SEYCHELLES | 420 | 10 | 400 | 10 | 0 | 0 |
| 136 | 136 | 136 | COOK ISLANDS | 406 | 100 | 250 | 20 | 36 | 0 |
| 138 | 138 | 137 | NORTH MACEDONIA | 370 | 0 | 140 | 160 | 40 | 30 |
| 137 | 137 | 138 | SWAZILAND | 370 | 20 | 350 | 0 | 0 | 0 |
| 139 | 139 | 139 | ANTIGUA & BARBUDA | 340 | 110 | 230 | 0 | 0 | 0 |
| 140 | 140 | 139 | MOROCCO | 340 | 180 | 80 | 60 | 0 | 20 |
| 143 | 142 | 141 | CAMEROON | 330 | 20 | 40 | 20 | 180 | 70 |
| 141 | 141 | 142 | GRENADA | 320 | 10 | 310 | 0 | 0 | 0 |
| 142 | 143 | 143 | USSR | 300 | 170 | 30 | 100 | 0 | 0 |
| 145 | 145 | 144 | MONTENEGRO | 290 | 60 | 140 | 0 | 70 | 20 |
| 143 | 144 | 145 | SENEGAL | 290 | 30 | 30 | 230 | 0 | 0 |
| 162 | 146 | 146 | COTE D'IVOIRE | 276 | 10 | 100 | 40 | 116 | 10 |
| 149 | 147 | 147 | SIERRA LEONE | 266 | 20 | 120 | 20 | 76 | 30 |
| 150 | 151 | 148 | RWANDA | 265 | 0 | 40 | 0 | 40 | 185 |
| 146 | 148 | 149 | FIJI | 250 | 20 | 70 | 120 | 40 | 0 |
| 152 | 152 | 149 | LAOS | 250 | 60 | 30 | 130 | 10 | 20 |
| 146 | 149 | 149 | MADAGASCAR | 250 | 10 | 80 | 120 | 40 | 0 |
| 146 | 149 | 149 | VIRGIN ISLANDS | 250 | 210 | 40 | 0 | 0 | 0 |
| 151 | 153 | 153 | SAMOA | 226 | 100 | 50 | 0 | 76 | 0 |
| 152 | 154 | 154 | RHODESIA & NYASALAND | 220 | 10 | 210 | 0 | 0 | 0 |
| 154 | 155 | 155 | CRIMEA | 216 | 0 | 0 | 0 | 216 | 0 |
| 155 | 156 | 156 | REUNION | 210 | 100 | 0 | 0 | 100 | 10 |
| 158 | 157 | 157 | BANGLADESH | 200 | 10 | 170 | 0 | 20 | 0 |
| 155 | 157 | 157 | EQUATORIAL GUINEA | 200 | 20 | 70 | 10 | 0 | 100 |
| 155 | 157 | 157 | GAMBIA | 200 | 50 | 90 | 0 | 10 | 50 |
| 158 | 160 | 160 | NEW CALENDONIA | 180 | 10 | 0 | 160 | 10 | 0 |
| 158 | 160 | 160 | PAPUA NEW GUINEA | 180 | 100 | 70 | 0 | 10 | 0 |
| 161 | 162 | 162 | TONGA | 176 | 0 | 20 | 0 | 156 | 0 |
| 164 | 163 | 163 | PAKISTAN | 168 | 0 | 0 | 0 | 118 | 50 |
| 163 | 164 | 164 | ALASKA | 160 | 160 | 0 | 0 | 0 | 0 |
| 169 | 165 | 164 | ARMENIA | 160 | 40 | 30 | 30 | 50 | 10 |
| 172 | 170 | 166 | CAMBODIA | 146 | 40 | 20 | 20 | 66 | 0 |
| 165 | 165 | 167 | ST. VINVENT & THE GR. | 140 | 80 | 60 | 0 | 0 | 0 |
| 166 | 167 | 168 | BONAIRE | 130 | 90 | 30 | 0 | 10 | 0 |
| 166 | 167 | 168 | ISLE OF MAN | 130 | 0 | 130 | 0 | 0 | 0 |
| 166 | 167 | 168 | MONTE CARLO | 130 | 0 | 130 | 0 | 0 | 0 |
| 169 | 171 | 168 | KYRGYZSTAN | 130 | 10 | 60 | 30 | 30 | 0 |
| 171 | 171 | 172 | LESOTHO | 120 | 10 | 110 | 0 | 0 | 0 |
| 172 | 173 | 173 | SAN MARINO | 110 | 0 | 0 | 110 | 0 | 0 |
| 172 | 173 | 173 | ST. KITTS & NEVIS | 110 | 30 | 80 | 0 | 0 | 0 |
| 175 | 175 | 175 | JORDAN | 100 | 10 | 60 | 30 | 0 | 0 |
| 175 | 175 | 175 | MONTSERRAT | 100 | 0 | 100 | 0 | 0 | 0 |
| 175 | 175 | 175 | WESTERN SAMOA | 100 | 0 | 100 | 0 | 0 | 0 |
| 180 | 180 | 178 | SINT MAARTEN | 90 | 60 | 30 | 0 | 0 | 0 |
| 178 | 178 | 179 | JERSEY | 80 | 0 | 80 | 0 | 0 | 0 |
| 178 | 178 | 179 | TOGO | 80 | 0 | 0 | 50 | 0 | 30 |
| 181 | 181 | 181 | GREENLAND | 60 | 40 | 20 | 0 | 0 | 0 |
| 181 | 181 | 181 | GUINEA | 60 | 0 | 50 | 0 | 0 | 10 |
| 181 | 181 | 181 | OKINAWA | 60 | 60 | 0 | 0 | 0 | 0 |
| 184 | 184 | 184 | IRAQ | 50 | 20 | 0 | 0 | 10 | 20 |
| 184 | 184 | 184 | CAPE VERDE | 50 | 0 | 30 | 0 | 0 | 20 |
| 184 | 184 | 184 | CONGO, REP. OF THE | 50 | 0 | 0 | 30 | 20 | 0 |
| 184 | 184 | 184 | ST. BARTHELEMY | 50 | 0 | 50 | 0 | 0 | 0 |
| 188 | 188 | 188 | BRITISH GUIANA | 40 | 0 | 0 | 40 | 0 | 0 |
| 188 | 188 | 188 | MALAWI | 40 | 0 | 40 | 0 | 0 | 0 |
| 188 | 188 | 188 | GUINEA-BISSAU | 40 | 0 | 40 | 0 | 0 | 0 |
| 196 | 191 | 188 | SYRIA | 40 | 0 | 20 | 0 | 20 | 0 |
| 191 | 191 | 192 | AZERBAIJAN | 30 | 10 | 0 | 0 | 0 | 20 |
| 191 | 191 | 192 | DOMINICA | 30 | 10 | 20 | 0 | 0 | 0 |
| 191 | 191 | 192 | FRENCH GUIANA | 30 | 30 | 0 | 0 | 0 | 0 |
| 191 | 191 | 192 | PALAU | 30 | 0 | 0 | 30 | 0 | 0 |
| 191 | 191 | 192 | SAO TOME & PRINCIPE | 30 | 0 | 10 | 0 | 0 | 20 |
| 196 | 197 | 197 | AFGHANISTAN | 20 | 0 | 0 | 0 | 20 | 0 |
| 196 | 197 | 197 | CHAD | 20 | 0 | 10 | 0 | 10 | 0 |
| 196 | 197 | 197 | GUERNSEY | 20 | 0 | 20 | 0 | 0 | 0 |
| 196 | 197 | 197 | NIUE ISLAND | 20 | 0 | 0 | 0 | 20 | 0 |
| 196 | 197 | 197 | TIBET | 20 | 0 | 0 | 0 | 20 | 0 |
| 196 | 197 | 197 | TRINIDAD | 20 | 20 | 0 | 0 | 0 | 0 |
| 204 | 204 | 203 | ALGERIA | 10 | 0 | 10 | 0 | 0 | 0 |
| 204 | 204 | 203 | ANDORRA | 10 | 0 | 10 | 0 | 0 | 0 |
| * | * | 203 | BAHRAIN | 10 | 10 | 0 | 0 | 0 | 0 |
| 204 | 204 | 203 | BHUTAN | 10 | 0 | 0 | 0 | 10 | 0 |
| 204 | 204 | 203 | BURKINA FASO | 10 | 0 | 0 | 10 | 0 | 0 |
| * | * | 203 | IRAN | 10 | 0 | 0 | 0 | 10 | 0 |
| 204 | 204 | 203 | NEW HEBRIDES | 10 | 10 | 0 | 0 | 0 | 0 |
| 204 | 204 | 203 | PALESTINE | 10 | 0 | 0 | 0 | 10 | 0 |
| 204 | 204 | 203 | TANGANYIKA | 10 | 0 | 10 | 0 | 0 | 0 |
| 204 | 204 | 203 | TOKELAO | 10 | 0 | 0 | 0 | 10 | 0 |
| 204 | 204 | 203 | UZBEKISTAN | 10 | 0 | 10 | 0 | 0 | 0 |
| 204 | 204 | 203 | ZANZIBAR | 10 | 0 | 0 | 0 | 10 | 0 |