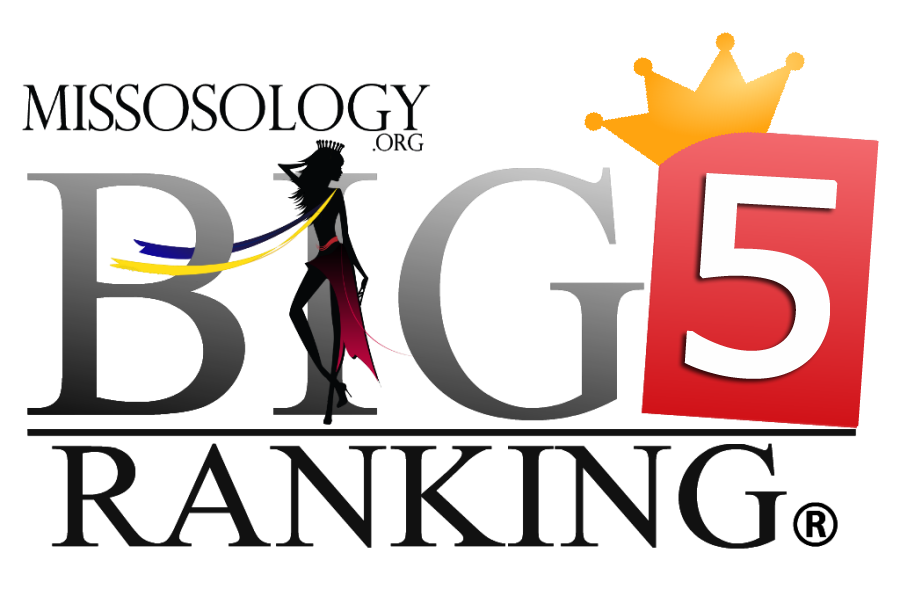 by Stephen I. Diaz
All of this year's Big5 Pageants happened within a month's time.  Miss Earth 2017 held its finals on November 4th, followed by Miss International 2017 on November 14th.  Interestingly, the winner of Miss Earth and Miss International, respectively, were last year's Big5 Performer of the Year (Philippines) and the Runner-up (Indonesia). But, just when we thought we were through with these two pageants which crowned two of Southeast Asia's biggest pageant fans, we witnessed a major comeback victory for India at Miss World on November 18th.  More than a week passed since then, we witnessed the Miss Universe crown going back to South Africa during a glittering event held last November 26th.  And finally, the year concluded with Miss Supranational, giving Korea their first ever major crown on December 1st.  If there is one thing that we are very thankful for, despite the suicidal marathon coverage of the Big5 pageants, that would be the fact that we did not witness one of them being held, technically, on the succeeding year.  In 2017, though, we got two Miss Universe winners being crowned, just like in 2015.
The Fall of Finland
Although nothing much was changed in the Top 10 of our yearend ranking, what is relatively noticeable is the gradual fall of the once mighty Nordic country of Finland (10th).  The birthplace of our firs Miss Universe winner, Finland was 5th when we originally conceptualized this ranking back in 2010.  This year, it further fell down to a double-digit rank.  Since 2013, Finland has been overthrown by one country every year, to fall one rank down.  This year, it was Japan who moved up to reclaim the ninth position, which Finland held on as of last year.  Finland's 21-year consecutive non-placement at Miss Universe is actually an alarming sign that this country is already losing its grip in the world of pageantry.  Their only salvation, if you may call it, is Miss International.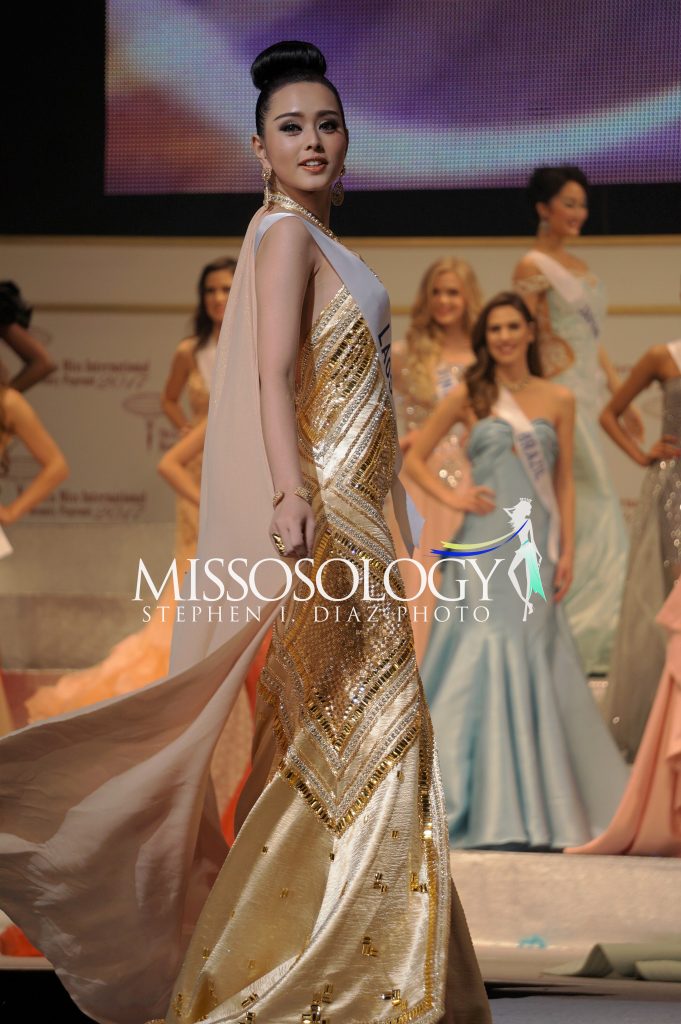 Welcome Laos!
For the very first time in history, the one-party socialist republic of Laos joined the Big5 Pageants this year!  And, what an impressive year it was for the pageant neophyte!  Laos showed the world the beauty of their women, first, through Miss International.  In Tokyo, we first saw the ethereal beauty of Phounesup Phonnyotha (right photo), who went on to enter the Top 8 in such a highly competitive MI year.  That automatically gave them 110 points, and with their participation at Miss World and Miss Universe, Laos amassed a total of 130 points, to finish at 161st position.  Not bad for Southeast Asia's hidden gem!
Tonga, Ethiopia, Bangladesh and Romania
Miss Supranational has shown once again how the pageant can actually overhaul the overall ranking, thanks to the inclusion of Ethiopia and Romania in the Top 5!  With a total strength of 656 points, Ethiopia went up to 113th position, which is an improvement from last year's 126th.  Among those in the Top 100, it was Romania who gained the most rank. From 89th rank in 2016, it is now in 81st position.  The Top 40 placement of Bangladesh at Miss World 2017 also moved the country nine-rank up to 166th, from last year's 175th.  But, the biggest gainer of all is the Pacific kingdom of Tonga, which gained 20 ranks up, from last year's 178th, to this year's 158th.  Thanks to Miss Earth!
What to expect next year?
At the current rate, we are expecting the Philippines to overthrow Brazil in the overall 3rd place, but we are certain that the latter will not just easily give it away.  Colombia will also give Brazil and the Philippines the run for their money!  Indonesia will continue to rise!
Here is the complete ranking.
| 2016 | 2017 | COUNTRY | BIG5-TOTAL | Universe | World | Intl | Earth | Supra |
| --- | --- | --- | --- | --- | --- | --- | --- | --- |
| 1 | 1 | U.S.A. | 20622 | 8290 | 5880 | 4710 | 1392 | 350 |
| 2 | 2 | VENEZUELA | 18294 | 6220 | 4615 | 5000 | 2064 | 395 |
| 3 | 3 | BRAZIL | 13568 | 4490 | 3295 | 3590 | 1708 | 485 |
| 4 | 4 | PHILIPPINES | 12918 | 3440 | 2600 | 4050 | 2218 | 610 |
| 5 | 5 | COLOMBIA | 12694 | 4670 | 2205 | 4270 | 984 | 565 |
| 6 | 6 | AUSTRALIA | 10887 | 2840 | 3805 | 3160 | 732 | 350 |
| 7 | 7 | INDIA | 10646 | 2830 | 3545 | 2550 | 1006 | 715 |
| 8 | 8 | SPAIN | 10281 | 2760 | 2290 | 4130 | 896 | 205 |
| 10 | 9 | JAPAN | 9999 | 2830 | 1655 | 4870 | 474 | 170 |
| 9 | 10 | FINLAND | 9995 | 3050 | 2650 | 3980 | 220 | 95 |
| 11 | 11 | SWEDEN | 9410 | 3870 | 3140 | 1840 | 430 | 130 |
| 12 | 12 | FRANCE | 9362 | 2490 | 3730 | 2420 | 502 | 220 |
| 13 | 13 | ISRAEL | 8625 | 2770 | 3495 | 2120 | 210 | 30 |
| 15 | 14 | MEXICO | 8522 | 2670 | 2370 | 2210 | 852 | 420 |
| 14 | 15 | GERMANY | 8515 | 2910 | 2805 | 2520 | 210 | 70 |
| 16 | 16 | SOUTH AFRICA | 8414 | 2670 | 4460 | 330 | 774 | 180 |
| 17 | 17 | PUERTO RICO | 8059 | 3210 | 2030 | 1860 | 394 | 565 |
| 18 | 18 | KOREA | 7738 | 1540 | 1740 | 3290 | 848 | 320 |
| 19 | 19 | UNITED KINGDOM | 7495 | 350 | 4885 | 2230 | 30 | 0 |
| 20 | 20 | THAILAND | 7060 | 1740 | 1180 | 2240 | 1240 | 660 |
| 22 | 21 | NETHERLANDS | 6426 | 1990 | 2220 | 1750 | 356 | 110 |
| 21 | 22 | CANADA | 6423 | 2660 | 2010 | 990 | 378 | 385 |
| 23 | 23 | ARGENTINA | 6271 | 2070 | 2030 | 1790 | 266 | 115 |
| 24 | 24 | GREECE | 6200 | 2450 | 1890 | 1520 | 170 | 170 |
| 26 | 25 | POLAND | 6130 | 850 | 1280 | 1920 | 1150 | 930 |
| 25 | 26 | NORWAY | 6065 | 2260 | 1645 | 1820 | 290 | 50 |
| 27 | 27 | ITALY | 5587 | 2230 | 1785 | 1070 | 412 | 90 |
| 28 | 28 | NEW ZEALAND | 5440 | 1150 | 2210 | 1890 | 140 | 50 |
| 29 | 29 | PERU | 5332 | 2240 | 1480 | 820 | 462 | 330 |
| 30 | 30 | DOMINICAN REPUBLIC | 5265 | 1690 | 1680 | 1250 | 430 | 215 |
| 33 | 31 | ENGLAND | 5208 | 2540 | 770 | 1430 | 228 | 240 |
| 31 | 32 | IRELAND | 5160 | 1440 | 2430 | 1220 | 40 | 30 |
| 35 | 33 | JAMAICA | 5120 | 1270 | 3445 | 240 | 40 | 125 |
| 32 | 34 | DENMARK | 5110 | 1150 | 2225 | 1200 | 350 | 185 |
| 34 | 35 | AUSTRIA | 4945 | 1210 | 2215 | 1170 | 350 | 0 |
| 37 | 36 | RUSSIA | 4891 | 1040 | 1400 | 1320 | 926 | 205 |
| 36 | 37 | ICELAND | 4700 | 920 | 1570 | 1880 | 10 | 320 |
| 38 | 38 | BELGIUM | 4530 | 1450 | 1250 | 1510 | 160 | 160 |
| 39 | 39 | PANAMA | 4519 | 1400 | 820 | 1450 | 294 | 555 |
| 41 | 40 | SWITZERLAND | 4232 | 1640 | 1320 | 690 | 492 | 90 |
| 40 | 41 | TURKEY | 4201 | 810 | 1415 | 1570 | 176 | 230 |
| 42 | 42 | CHILE | 3822 | 1800 | 740 | 470 | 732 | 80 |
| 43 | 43 | CZECH REPUBLIC | 3762 | 630 | 650 | 870 | 1022 | 590 |
| 44 | 44 | ECUADOR | 3743 | 940 | 865 | 920 | 798 | 220 |
| 45 | 45 | TRINIDAD & TOBAGO | 3475 | 1460 | 1685 | 110 | 150 | 70 |
| 46 | 46 | COSTA RICA | 3186 | 860 | 750 | 1020 | 366 | 190 |
| 47 | 47 | BOLIVIA | 3112 | 850 | 850 | 1030 | 262 | 120 |
| 48 | 48 | UKRAINE | 3068 | 850 | 690 | 720 | 418 | 390 |
| 50 | 49 | PARAGUAY | 2946 | 950 | 640 | 520 | 566 | 270 |
| 51 | 50 | LEBANON | 2792 | 770 | 1110 | 580 | 272 | 60 |
| 52 | 51 | HONGKONG | 2715 | 1040 | 740 | 850 | 50 | 35 |
| 59 | 52 | INDONESIA | 2693 | 430 | 910 | 880 | 148 | 325 |
| 53 | 53 | MALAYSIA | 2657 | 630 | 1120 | 590 | 182 | 135 |
| 55 | 54 | HONDURAS | 2536 | 550 | 390 | 910 | 426 | 260 |
| 54 | 55 | GUAM | 2476 | 710 | 1070 | 510 | 186 | 0 |
| 49 | 56 | CHINA PR | 2471 | 540 | 1370 | 150 | 336 | 75 |
| 57 | 57 | SRI LANKA | 2410 | 630 | 880 | 680 | 70 | 150 |
| 56 | 58 | YUGOSLAVIA | 2400 | 430 | 1240 | 570 | 160 | 0 |
| 58 | 59 | SCOTLAND | 2340 | 940 | 665 | 310 | 350 | 75 |
| 60 | 60 | URUGUAY | 2330 | 1190 | 810 | 290 | 30 | 10 |
| 61 | 61 | NICARAGUA | 2320 | 580 | 455 | 1080 | 190 | 15 |
| 64 | 62 | GUATEMALA | 2198 | 770 | 510 | 550 | 338 | 30 |
| 63 | 63 | PORTUGAL | 2196 | 450 | 630 | 720 | 176 | 220 |
| 62 | 63 | SINGAPORE | 2196 | 730 | 550 | 610 | 266 | 40 |
| 67 | 65 | VIETNAM | 2034 | 140 | 650 | 460 | 414 | 370 |
| 65 | 66 | ARUBA | 1910 | 490 | 880 | 510 | 20 | 10 |
| 69 | 66 | CURACAO | 1910 | 1070 | 410 | 360 | 50 | 20 |
| 66 | 68 | WALES | 1906 | 980 | 470 | 220 | 116 | 120 |
| 68 | 69 | NIGERIA | 1850 | 410 | 1000 | 60 | 320 | 60 |
| 69 | 70 | EL SALVADOR | 1840 | 910 | 410 | 250 | 210 | 60 |
| 72 | 71 | SLOVAK REPUBLIC | 1810 | 370 | 330 | 440 | 330 | 340 |
| 73 | 72 | KENYA | 1790 | 200 | 1020 | 180 | 320 | 70 |
| 71 | 73 | CHINESE TAIPEI | 1726 | 510 | 500 | 360 | 236 | 120 |
| 75 | 74 | BAHAMAS | 1602 | 560 | 670 | 60 | 172 | 140 |
| 74 | 75 | POLYNESIE FRANCAISE | 1587 | 250 | 410 | 480 | 432 | 15 |
| 76 | 76 | HUNGARY | 1580 | 420 | 530 | 210 | 200 | 220 |
| 78 | 77 | CROATIA | 1480 | 330 | 920 | 30 | 50 | 150 |
| 80 | 78 | GHANA | 1436 | 340 | 810 | 110 | 156 | 20 |
| 77 | 79 | GUYANA | 1400 | 220 | 1140 | 10 | 20 | 10 |
| 79 | 80 | BELARUS | 1320 | 0 | 130 | 340 | 10 | 840 |
| 89 | 81 | ROMANIA | 1315 | 150 | 400 | 60 | 290 | 415 |
| 82 | 82 | MALTA | 1300 | 360 | 640 | 200 | 70 | 30 |
| 81 | 83 | CYPRUS | 1266 | 380 | 550 | 190 | 136 | 10 |
| 91 | 84 | ANGOLA | 1250 | 560 | 560 | 0 | 100 | 30 |
| 92 | 85 | MONGOLIA | 1228 | 0 | 420 | 480 | 308 | 20 |
| 84 | 86 | ZIMBABWE | 1211 | 150 | 845 | 10 | 176 | 30 |
| 83 | 87 | HAWAII | 1210 | 370 | 10 | 830 | 0 | 0 |
| 88 | 88 | MAURITIUS | 1205 | 300 | 510 | 70 | 250 | 75 |
| 86 | 89 | GIBRALTAR | 1201 | 90 | 880 | 150 | 36 | 45 |
| 85 | 90 | NAMIBIA | 1200 | 530 | 510 | 100 | 20 | 40 |
| 87 | 91 | EGYPT | 1190 | 250 | 480 | 60 | 370 | 30 |
| 90 | 92 | LUXEMBOURG | 1130 | 270 | 270 | 480 | 40 | 70 |
| 93 | 93 | KAZAKHSTAN | 1122 | 90 | 710 | 10 | 202 | 110 |
| 93 | 94 | US VIRGIN ISLANDS | 1072 | 300 | 560 | 10 | 72 | 130 |
| 99 | 95 | BOSNIA & HERZEGOVINA | 1062 | 0 | 270 | 0 | 742 | 50 |
| 96 | 96 | TANZANIA | 1026 | 200 | 370 | 60 | 396 | 0 |
| 95 | 97 | BERMUDA | 1010 | 450 | 550 | 10 | 0 | 0 |
| 97 | 98 | TUNISIA | 990 | 80 | 320 | 590 | 0 | 0 |
| 98 | 99 | LATVIA | 956 | 110 | 260 | 280 | 176 | 130 |
| 100 | 100 | HAITI | 950 | 570 | 150 | 150 | 50 | 30 |
| 101 | 101 | CZECHOSLOVAKIA | 920 | 220 | 250 | 450 | 0 | 0 |
| 103 | 102 | SLOVENIA | 902 | 190 | 240 | 0 | 222 | 250 |
| 102 | 103 | NORTHERN IRELAND | 900 | 0 | 550 | 0 | 290 | 60 |
| 104 | 104 | ESTONIA | 860 | 370 | 240 | 40 | 150 | 60 |
| 107 | 105 | BOTSWANA | 850 | 270 | 510 | 0 | 70 | 0 |
| 105 | 106 | CUBA | 825 | 360 | 280 | 140 | 30 | 15 |
| 106 | 107 | SURINAME | 815 | 310 | 100 | 50 | 40 | 315 |
| 110 | 108 | ALBANIA | 790 | 370 | 150 | 0 | 80 | 190 |
| 109 | 109 | CAYMAN ISLANDS | 760 | 300 | 440 | 0 | 20 | 0 |
| 108 | 110 | MARTINIQUE | 750 | 50 | 190 | 30 | 470 | 10 |
| 111 | 111 | GEORGIA | 720 | 130 | 250 | 40 | 250 | 50 |
| 113 | 111 | NEPAL | 720 | 10 | 350 | 90 | 260 | 10 |
| 126 | 113 | ETHIOPIA | 656 | 120 | 220 | 80 | 76 | 160 |
| 115 | 114 | BULGARIA | 650 | 240 | 360 | 10 | 10 | 30 |
| 112 | 114 | NORTHERN MARIANAS | 650 | 270 | 10 | 290 | 80 | 0 |
| 113 | 116 | CONGO, D.R. | 640 | 330 | 150 | 140 | 20 | 0 |
| 116 | 117 | BELIZE | 630 | 360 | 180 | 20 | 60 | 10 |
| 120 | 117 | MYANMAR | 630 | 100 | 50 | 70 | 40 | 370 |
| 122 | 117 | SERBIA | 630 | 90 | 160 | 110 | 180 | 90 |
| 121 | 120 | GUADELOUPE | 610 | 60 | 190 | 200 | 110 | 50 |
| 122 | 120 | LIBERIA | 610 | 40 | 500 | 40 | 30 | 0 |
| 118 | 122 | BARBADOS | 590 | 150 | 430 | 0 | 10 | 0 |
| 117 | 122 | SERBIA & MONTENEGRO | 590 | 170 | 30 | 130 | 260 | 0 |
| 118 | 124 | KOSOVO | 580 | 410 | 20 | 0 | 90 | 60 |
| 129 | 125 | MACAU | 550 | 0 | 240 | 110 | 170 | 30 |
| 124 | 126 | TURKS & CAICOS | 530 | 400 | 80 | 0 | 50 | 0 |
| 125 | 127 | BRITISH VIRGIN ISLANDS | 520 | 330 | 180 | 0 | 10 | 0 |
| 127 | 128 | LITHUANIA | 476 | 30 | 180 | 130 | 46 | 90 |
| 128 | 129 | SAINT LUCIA | 460 | 70 | 260 | 0 | 130 | 0 |
| 131 | 130 | ZAMBIA | 440 | 80 | 170 | 40 | 150 | 0 |
| 130 | 131 | GABON | 436 | 40 | 40 | 40 | 36 | 280 |
| 131 | 132 | SEYCHELLES | 420 | 10 | 400 | 10 | 0 | 0 |
| 136 | 133 | MOLDOVA | 415 | 0 | 190 | 60 | 30 | 135 |
| 135 | 134 | SOUTH SUDAN | 410 | 0 | 280 | 30 | 50 | 50 |
| 133 | 135 | SWAZILAND | 370 | 20 | 350 | 0 | 0 | 0 |
| 134 | 136 | MACEDONIA FYR | 360 | 0 | 140 | 160 | 30 | 30 |
| 139 | 137 | UGANDA | 322 | 0 | 240 | 10 | 72 | 0 |
| 137 | 138 | GRENADA | 320 | 10 | 310 | 0 | 0 | 0 |
| 137 | 138 | MOROCCO | 320 | 170 | 80 | 50 | 0 | 20 |
| 140 | 140 | USSR | 300 | 170 | 30 | 100 | 0 | 0 |
| 141 | 141 | ANTIGUA & BARBUDA | 290 | 110 | 180 | 0 | 0 | 0 |
| 142 | 142 | SIERRA LEONE | 280 | 10 | 200 | 20 | 40 | 10 |
| 143 | 143 | SENEGAL | 270 | 30 | 10 | 230 | 0 | 0 |
| 143 | 144 | VIRGIN ISLANDS | 250 | 210 | 40 | 0 | 0 | 0 |
| 146 | 145 | COOK ISLANDS | 246 | 100 | 100 | 10 | 36 | 0 |
| 144 | 146 | FIJI | 240 | 20 | 70 | 120 | 30 | 0 |
| 145 | 147 | RHODESIA & NYASALAND | 220 | 10 | 210 | 0 | 0 | 0 |
| 147 | 148 | SAMOA | 206 | 100 | 40 | 0 | 66 | 0 |
| 169 | 149 | CAMEROON | 200 | 0 | 30 | 10 | 140 | 20 |
| 148 | 150 | GAMBIA | 190 | 50 | 90 | 0 | 0 | 50 |
| 149 | 150 | MONTENEGRO | 190 | 60 | 120 | 0 | 0 | 10 |
| 151 | 152 | CRIMEA | 186 | 0 | 0 | 0 | 186 | 0 |
| 155 | 153 | RWANDA | 185 | 0 | 20 | 0 | 10 | 155 |
| 149 | 154 | NEW CALENDONIA | 180 | 10 | 0 | 160 | 10 | 0 |
| 153 | 155 | REUNION | 176 | 100 | 0 | 0 | 66 | 10 |
| 151 | 156 | PAPUA NEW GUINEA | 170 | 100 | 70 | 0 | 0 | 0 |
| 154 | 157 | ALASKA | 160 | 160 | 0 | 0 | 0 | 0 |
| 178 | 158 | TONGA | 156 | 0 | 20 | 0 | 136 | 0 |
| 157 | 159 | COTE D'IVOIRE | 140 | 10 | 100 | 20 | 10 | 0 |
| 156 | 159 | ST. VINVENT & THE GR. | 140 | 80 | 60 | 0 | 0 | 0 |
| 157 | 161 | BONAIRE | 130 | 90 | 30 | 0 | 10 | 0 |
| 157 | 161 | ISLE OF MAN | 130 | 0 | 130 | 0 | 0 | 0 |
| * | 161 | LAOS | 130 | 10 | 10 | 110 | 0 | 0 |
| 161 | 161 | MADAGASCAR | 130 | 10 | 70 | 10 | 40 | 0 |
| 157 | 161 | MONTE CARLO | 130 | 0 | 130 | 0 | 0 | 0 |
| 175 | 166 | BANGLADESH | 110 | 0 | 110 | 0 | 0 | 0 |
| 164 | 166 | LESOTHO | 110 | 10 | 100 | 0 | 0 | 0 |
| 162 | 166 | SAN MARINO | 110 | 0 | 0 | 110 | 0 | 0 |
| 162 | 166 | ST. KITTS & NEVIS | 110 | 30 | 80 | 0 | 0 | 0 |
| 168 | 170 | PAKISTAN | 108 | 0 | 0 | 0 | 108 | 0 |
| 164 | 171 | JORDAN | 100 | 10 | 60 | 30 | 0 | 0 |
| 169 | 171 | KYRGYZSTAN | 100 | 0 | 50 | 30 | 20 | 0 |
| 164 | 171 | MONTSERRAT | 100 | 0 | 100 | 0 | 0 | 0 |
| 164 | 171 | WESTERN SAMOA | 100 | 0 | 100 | 0 | 0 | 0 |
| 171 | 175 | EQUATORIAL GUINEA | 90 | 0 | 50 | 0 | 0 | 40 |
| 171 | 176 | JERSEY | 80 | 0 | 80 | 0 | 0 | 0 |
| 173 | 177 | SINT MAARTEN | 70 | 40 | 30 | 0 | 0 | 0 |
| 173 | 177 | TOGO | 70 | 0 | 0 | 50 | 0 | 20 |
| 175 | 179 | GREENLAND | 60 | 40 | 20 | 0 | 0 | 0 |
| 178 | 179 | GUINEA | 60 | 0 | 50 | 0 | 0 | 10 |
| 175 | 179 | OKINAWA | 60 | 60 | 0 | 0 | 0 | 0 |
| 182 | 182 | ARMENIA | 50 | 0 | 10 | 20 | 10 | 10 |
| 191 | 182 | CAMBODIA | 50 | 10 | 10 | 10 | 20 | 0 |
| 186 | 182 | CAPE VERDE | 50 | 0 | 30 | 0 | 0 | 20 |
| 178 | 182 | CONGO, REP. OF THE | 50 | 0 | 0 | 30 | 20 | 0 |
| 182 | 182 | IRAQ | 50 | 20 | 0 | 0 | 10 | 20 |
| 178 | 182 | ST. BARTHELEMY | 50 | 0 | 50 | 0 | 0 | 0 |
| 182 | 188 | BRITISH GUIANA | 40 | 0 | 0 | 40 | 0 | 0 |
| 182 | 188 | MALAWI | 40 | 0 | 40 | 0 | 0 | 0 |
| 186 | 190 | AZERBAIJAN | 30 | 10 | 0 | 0 | 0 | 20 |
| 186 | 190 | DOMINICA | 30 | 10 | 20 | 0 | 0 | 0 |
| 186 | 190 | FRENCH GUIANA | 30 | 30 | 0 | 0 | 0 | 0 |
| 186 | 190 | PALAU | 30 | 0 | 0 | 30 | 0 | 0 |
| 191 | 190 | SAO TOME & PRINCIPE | 30 | 0 | 10 | 0 | 0 | 20 |
| 191 | 195 | AFGHANISTAN | 20 | 0 | 0 | 0 | 20 | 0 |
| 191 | 195 | CHAD | 20 | 0 | 10 | 0 | 10 | 0 |
| 191 | 195 | GUERNSEY | 20 | 0 | 20 | 0 | 0 | 0 |
| 191 | 195 | GUINEA-BISSAU | 20 | 0 | 20 | 0 | 0 | 0 |
| 191 | 195 | NIUE ISLAND | 20 | 0 | 0 | 0 | 20 | 0 |
| 191 | 195 | SAINT-MARTIN | 20 | 20 | 0 | 0 | 0 | 0 |
| 191 | 195 | SYRIA | 20 | 0 | 20 | 0 | 0 | 0 |
| 191 | 195 | TIBET | 20 | 0 | 0 | 0 | 20 | 0 |
| 191 | 195 | TRINIDAD | 20 | 20 | 0 | 0 | 0 | 0 |
| 202 | 204 | ALGERIA | 10 | 0 | 10 | 0 | 0 | 0 |
| 202 | 204 | ANDORRA | 10 | 0 | 10 | 0 | 0 | 0 |
| 202 | 204 | BHUTAN | 10 | 0 | 0 | 0 | 10 | 0 |
| 202 | 204 | NEW HEBRIDES | 10 | 10 | 0 | 0 | 0 | 0 |
| 202 | 204 | PALESTINE | 10 | 0 | 0 | 0 | 10 | 0 |
| 202 | 204 | TANGANYIKA | 10 | 0 | 10 | 0 | 0 | 0 |
| 202 | 204 | TOKELAO | 10 | 0 | 0 | 0 | 10 | 0 |
| 202 | 204 | UZBEKISTAN | 10 | 0 | 10 | 0 | 0 | 0 |
| 202 | 204 | ZANZIBAR | 10 | 0 | 0 | 0 | 10 | 0 |