Graphics by Michael Ralph Montejo
While it is true that Colombia didn't win a Big5 crown in 2022, the country had a solid year. Colombia made it to the semifinals of all the 5 major international pageants and in two instances, Missosology predicted a Colombian to win a crown. In the Miss Earth 2022 final Hot Picks, Andrea Aguilera topped the list and at Miss Supranational 2022, Valentina Espinosa was tagged as the possible winner. Our beauty experts may have overestimated their placements, but this tells us a lot about the strengths of Colombian representatives in 2022.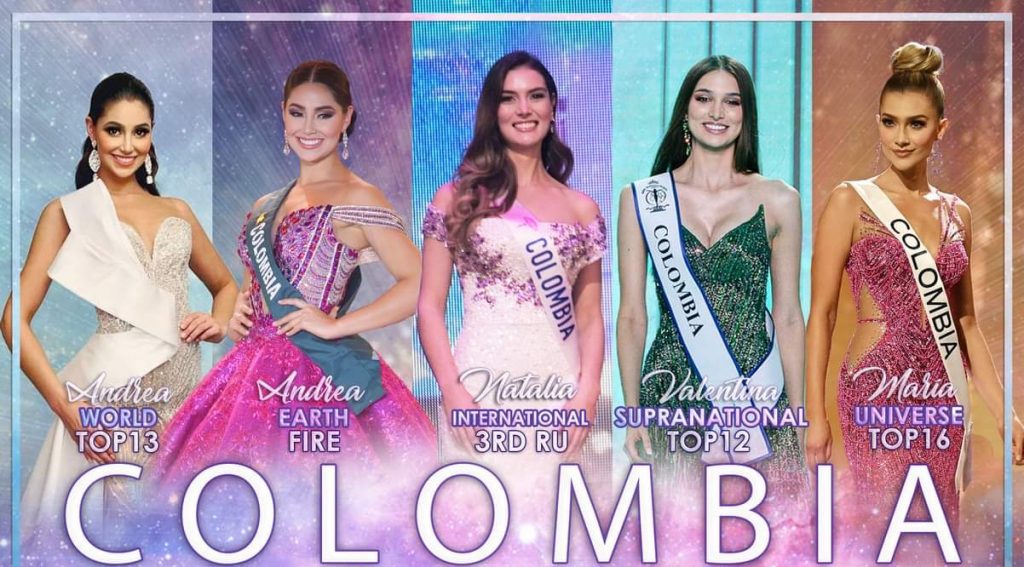 Andrea Aguilera had the honor of wearing the Colombian sash in two of the Big5 pageants – at Miss World 2022 (Top 13) and at Miss Earth 2022 (Miss Earth Fire). Natalia López exceeded expectations at Miss International 2022 where she finished as 3rd runner-up while María Fernanda Aristizábal was one of the frontrunners at Miss Universe 2022.
The status of Colombia echoes the one South Africa had in 2021 which then translated into a Miss Supranational 2022 title. If a similar trend will play, it is very possible that Colombia could win one of the Big5 crowns this 2023! By the looks of it, the Big5 Performer of the Year title is the precursor of a Big5 victory.
| Year | PERFORMER OF THE YEAR | RUNNER-UP |
| --- | --- | --- |
| 2022 | Colombia | USA |
| 2021 | South Africa | Philippines |
| 2020 | USA | Philippines |
| 2019 | Thailand | Puerto Rico |
| 2018 | Venezuela | Philippines |
| 2017 | Colombia | Venezuela |
| 2016 | Philippines | Indonesia |
| 2015 | Philippines | USA |
| 2014 | USA | Colombia |
| 2013 | Philippines | Spain |
| 2012 | Philippines | USA |
| 2011 | Venezuela | Philippines |
| 2010 | Venezuela | Puerto Rico |
| 2009 | Venezuela | Brazil |
| 2008 | Spain | Venezuela |
| 2007 | Venezuela | Mexico |
| 2006 | Venezuela | India |
| 2005 | Puerto Rico | Venezuela |
| 2004 | USA | Australia |
| 2003 | Venezuela | India |
| 2002 | Turkey | Colombia |
| 2001 | Russia | Venezuela |
| 2000 | India | Venezuela |
| 1999 | Spain | Venezuela |
| 1998 | Venezuela | France |
| 1997 | India | Venezuela |
| 1996 | Venezuela | Colombia |
| 1995 | Venezuela | Trinidad and Tobago |
| 1994 | Venezuela | India |
| 1993 | Venezuela | Colombia |
| 1992 | Venezuela | Australia |
| 1991 | France | Venezuela |
| 1990 | USA | Venezuela |
| 1989 | Poland | USA |
| 1988 | Korea | Norway |
| 1987 | Venezuela | Puerto Rico |
| 1986 | Venezuela | USA |
| 1985 | Venezuela | USA |
| 1984 | Venezuela | Sweden |
| 1983 | USA | Ireland |
| 1982 | USA | Finland |
| 1981 | Venezuela | Brazil |
| 1980 | USA | New Zealand |
| 1979 | Bermuda | USA |
| 1978 | USA | Spain |
| 1977 | Germany | Spain |
| 1976 | Venezuela | Israel |
| 1975 | Finland | Yugoslavia |
| 1974 | USA | United Kingdom |
| 1973 | Philippines | USA |
| 1972 | Australia | Brazil |
| 1971 | Brazil | USA |
| 1970 | Australia | USA |
| 1969 | Finland | USA |
| 1968 | Brazil | Israel |
| 1967 | USA | Israel |
| 1966 | India | Norway |
| 1965 | USA | Finland |
| 1964 | Argentina | Brazil |
| 1963 | Brazil | Korea |
| 1962 | Argentina | Finland |
| 1961 | Germany | Republic of China |
| 1960 | USA  | Italy |
| 1959 | Israel | Holland |
| 1958 | Denmark | Sweden |
| 1957 | Japan | Peru |
| 1956 | Germany | USA |
| 1955 | Sweden | Venezuela |
| 1954 | USA  | Germany |
| 1953 | France | USA |
| 1952 | Finland | Sweden |
| 1951 | Sweden | United Kingdom |