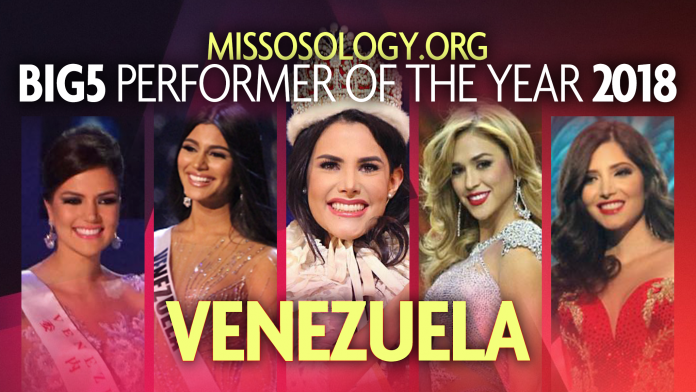 They were technically tied with the same points last year.  However for the year 2018, Venezuela has reaassured their powerhouse status – edging the Philippines by a few points – as they topped the overall ranking and is officially declared as the Performer of the Year for 2018.  This is the 18th time that Venezuela has earned this title, and their first time to be back in the Hall of Fame since 2011.
With a total of 647 points, mighty Venezuela outranked the Philippines courtesy of Miss World 2018, where the latter had totally missed the first cut, while the former managed to enter the quarterfinals.  It was the Philippines' first miss at Miss World since 2010, and Venezuela's first placement since 2011.  Venezuela won their eighth Miss International crown and placed 2nd Runner-up at Miss Universe.  They also did a decent placement at Miss Earth and Miss Supranational, respectively.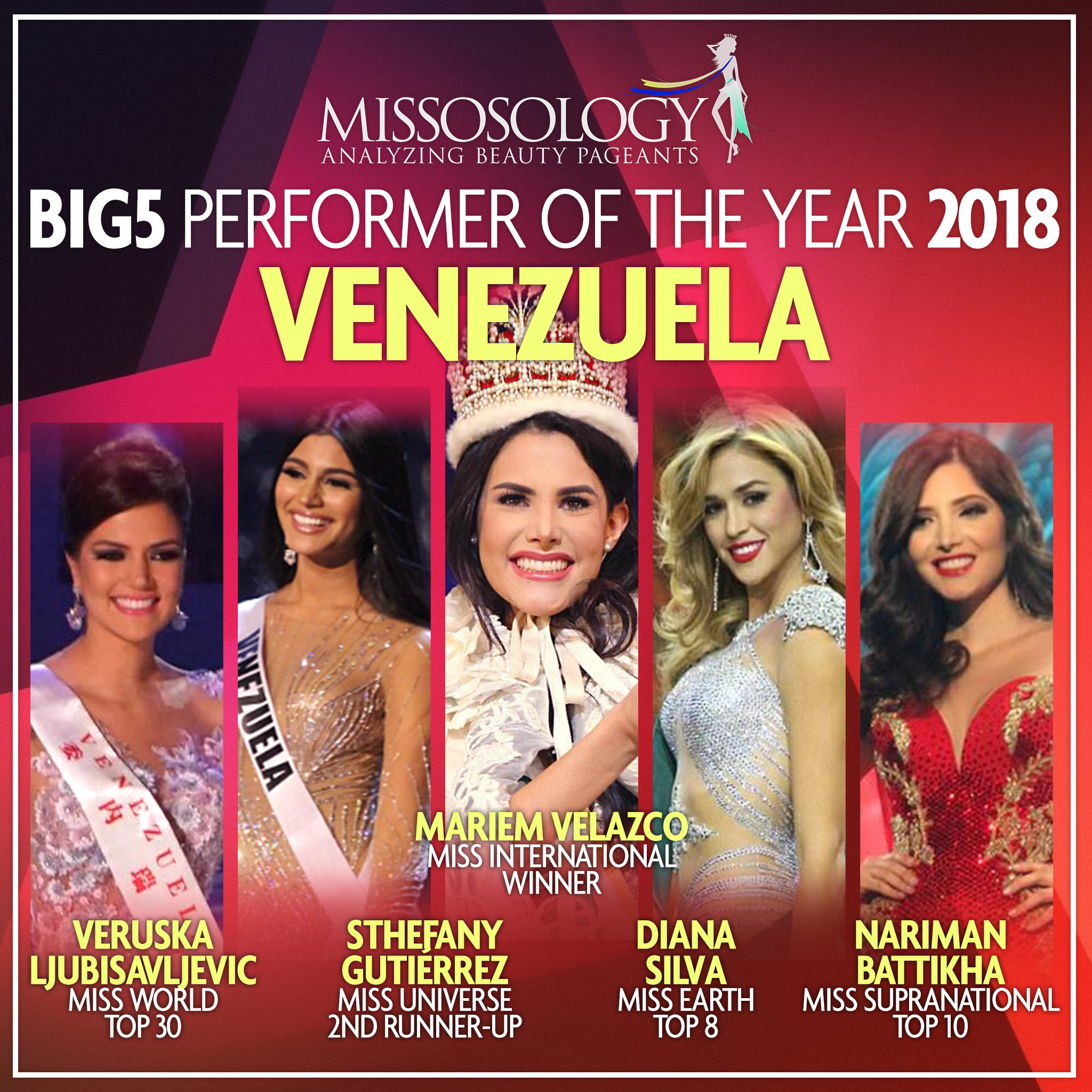 Meanwhile, it was Mexico which turned out to be the total disappoint after a dismal performance at Miss Universe 2018.  After winning the Miss World title, they were poised to claim the Performer of the Year title even with a mere Top 20 placement at Miss Universe. Unfortunately, their delegate failed to place despite being a heavy favorite.
South Africa, which is the fourth best performer this year, managed enter in the Top 3 of both Miss International and Miss Universe.  Such feat has never happened for the Rainbow Nation.
The new pageant darling – Vietnam – managed to enter the Top 5 for the very first time in history.  After winning the Miss Earth title, the momentum was slightly stopped when they failed to place at Miss International.  But in the end, it was the Miss Universe Top 5 placement that gave Vietnam the status as the country to watch out for in the next few years!
Thailand and Puerto also performed better this year than before.  Nepal made a great showing too with an overall 11th place finish.
It is also very interesting to note that Romania surged to 12th place despite not competing at Miss Universe and Miss World – two of the oldest and biggest pageants in the planet.  The Eastern European country has successfully placed in all of the other three Big 5 pageants this year, with its best placement at Miss International.
| Rank | Country/Territory | TOTAL | Earth | International | Supranational | World | Universe |
| --- | --- | --- | --- | --- | --- | --- | --- |
| 1 | Venezuela | 647 | 132 | 200 | 105 | 50 | 160 |
| 2 | Philippines | 616 | 126 | 180 | 100 | 10 | 200 |
| 3 | Mexico | 598 | 158 | 110 | 120 | 200 | 10 |
| 4 | South Africa | 510 | 100 | 170 | 10 | 50 | 180 |
| 5 | Vietnam | 507 | 212 | 10 | 105 | 50 | 130 |
| 6 | Thailand | 406 | 16 | 100 | 10 | 180 | 100 |
| 7 | Puerto Rico | 360 | 10 | 10 | 200 | 10 | 130 |
| 8 | Indonesia | 350 | 10 | 100 | 140 | 50 | 50 |
| 9 | Colombia | 350 | 160 | 120 | 50 | 10 | 10 |
| 10 | USA | 315 | 10 | 10 | 185 | 60 | 50 |
| 11 | Nepal | 290 | 50 | 10 | 10 | 120 | 100 |
| 12 | Romania | 290 | 50 | 140 | 100 | 0 | 0 |
| 13 | Japan | 240 | 50 | 110 | 10 | 60 | 10 |
| 14 | Poland | 240 | 10 | 10 | 160 | 10 | 50 |
| 15 | Brazil | 225 | 50 | 10 | 105 | 10 | 50 |
| 16 | Australia | 220 | 10 | 100 | 50 | 10 | 50 |
| 17 | Jamaica | 200 | 0 | 0 | 10 | 140 | 50 |
| 18 | Belarus | 200 | 10 | 0 | 50 | 140 | 0 |
| 19 | Austria | 196 | 186 | 0 | 0 | 10 | 0 |
| 20 | Netherlands | 190 | 100 | 20 | 50 | 10 | 10 |
Big 5 Performer of the Year
Hall of Fame
| Year | PERFORMER OF THE YEAR | RUNNER-UP |
| --- | --- | --- |
| 2018 | Venezuela | Philippines |
| 2017 | Colombia | Venezuela |
| 2016 | Philippines | Indonesia |
| 2015 | Philippines | USA |
| 2014 | USA | Colombia |
| 2013 | Philippines | Spain |
| 2012 | Philippines | USA |
| 2011 | Venezuela | Philippines |
| 2010 | Venezuela | Puerto Rico |
| 2009 | Venezuela | Brazil |
| 2008 | Spain | Venezuela |
| 2007 | Venezuela | Mexico |
| 2006 | Venezuela | India |
| 2005 | Puerto Rico | Venezuela |
| 2004 | USA | Australia |
| 2003 | Venezuela | India |
| 2002 | Turkey | Colombia |
| 2001 | Russia | Venezuela |
| 2000 | India | Venezuela |
| 1999 | Spain | Venezuela |
| 1998 | Venezuela | France |
| 1997 | India | Venezuela |
| 1996 | Venezuela | Colombia |
| 1995 | Venezuela | Trinidad and Tobago |
| 1994 | Venezuela | India |
| 1993 | Venezuela | Colombia |
| 1992 | Venezuela | Australia |
| 1991 | France | Venezuela |
| 1990 | USA | Venezuela |
| 1989 | Poland | USA |
| 1988 | Korea | Norway |
| 1987 | Venezuela | Puerto Rico |
| 1986 | Venezuela | USA |
| 1985 | Venezuela | USA |
| 1984 | Venezuela | Sweden |
| 1983 | USA | Ireland |
| 1982 | USA | Finland |
| 1981 | Venezuela | Brazil |
| 1980 | USA | New Zealand |
| 1979 | Bermuda | USA |
| 1978 | USA | Spain |
| 1977 | Germany | Spain |
| 1976 | Venezuela | Israel |
| 1975 | Finland | Yugoslavia |
| 1974 | USA | United Kingdom |
| 1973 | Philippines | USA |
| 1972 | Australia | Brazil |
| 1971 | Brazil | USA |
| 1970 | Australia | USA |
| 1969 | Finland | USA |
| 1968 | Brazil | Israel |
| 1967 | USA | Israel |
| 1966 | India | Norway |
| 1965 | USA | Finland |
| 1964 | Argentina | Brazil |
| 1963 | Brazil | Korea |
| 1962 | Argentina | Finland |
| 1961 | Germany | Republic of China |
| 1960 | USA | Italy |
| 1959 | Israel | Holland |
| 1958 | Denmark | Sweden |
| 1957 | Japan | Peru |
| 1956 | Germany | USA |
| 1955 | Sweden | Venezuela |
| 1954 | USA | Germany |
| 1953 | France | USA |
| 1952 | Finland | Sweden |
| 1951 | Sweden | United Kingdom |