If anyone out there would ask what would be the most consistent thing about the Big4 pageants lately, then the answer should be Indonesia. It is a large, very populous Muslim-dominated nation which thrives in diversity but can't boast any Big4 crown yet. But its people have that strong love for their nation and its Big4 contestants don their sashes with pride and confidence.
Elfin Pertiwi Rappa
The pageantry year 2014 – which unfortunately extended till January 2015 – saw all the Best in National Costume awards being won by Indonesians. Even minor pageants were not spared. As a country with diverse cultures, it is of no wonder that its designers have so many inspirations to draw from. The choices are truly varied and the differences among these cultures are sometimes vast. Think how different a national costume would be if it will be inspired by the culture of the Acehnese from the one inspired by the culture of Irian Jaya.
Indonesia fabulously opened the pageant season with a Top 10 finish and a National Costume triumph with  Elfin Pertiwi Rappa at Miss International 2014. Then, Annisa Ananda Nusyirwan made a perfect follow-up with her dazzling performance at Miss Earth 2014 which earned her the gold medal in the National Costume for the Asia-Pacific region (there was no overall winner for the National Costume at the pageant). Too bad Miss World no longer conducts the Best National Dress competition and no awards were given at the Dances of the World. Indonesia then capped its crowning glory at the National Costumes by snatching the Best National Costume Award at the Miss Universe 2014 pageant thanks largely to the great performance of Elvira Devinamira.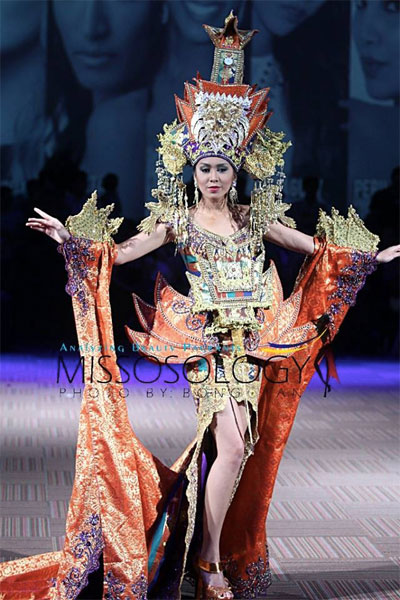 Annisa Ananda Nusyirwan
So, what makes Indonesia a success in this department? First, it helps that its designers are all Indonesians who can truly appreciate the culture and history of their own nation. Second, the designers of its costumes are not afraid to be adventurous and they don't just work around with the usual kebaya. They exerted a lot of effort to ensure that Indonesia will show up the next year with a completely different national costumes.
Truly, even if Indonesia has not won any of the Big4 pageants, its people can be proud of their hardwork and creativity. Their victory at the National Costume contests shows not only the Indonesians compete at pageants but they compete with passion and fervor. They are proud of their nation and with that, it is not surprising that they will soon be winning crowns in a decade or so.