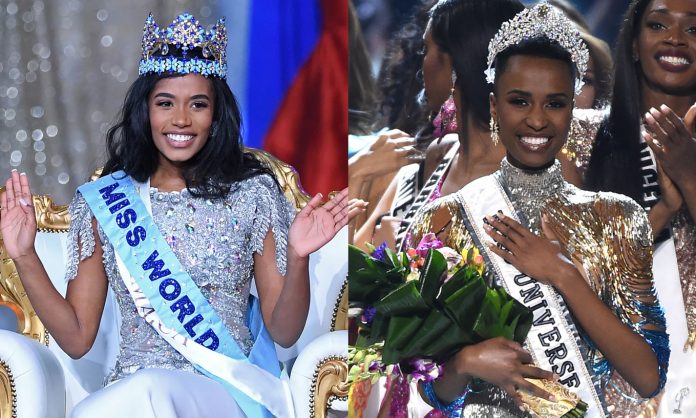 Systemic racism has once again brought into the limelight thanks to the current situation in the United States exacerbated by the lack of leadership in part of their president.
To understand systemic racism not just in United States but everywhere, one needs self-introspection because it lurks in one's unconscious bias. The world of pageantry for example is not immune to this. Big5 pageants especially that of Miss Universe, Miss World and Miss International have both unconscious and conscious elements of racism. Their relatively longer history, exposed these three pageants to several transformational events like the Civil Rights movement in the United States and the rise and eventual demise of apartheid in South Africa.

Big5 pageants can't whitewash the fact that historically, it is biased against beauties with darker skin tone. It took Miss Universe for example, two and a half decades before crowning a black winner. For Miss World it took 19 years while for Miss International it took almost half a century!
Some Big5 pageants even actively participated in schemes that encouraged systemic racism. Miss World from 1970 to 1976 allowed a black Miss Africa South to compete alongside a Miss South Africa which effectively gave a nod to the racist policy of apartheid. Miss Universe meanwhile allowed South Africa to participate in its pageant despite widespread boycott against the country's racist government.
To be fair, both Miss World and Miss Universe took steps to get rid of systemic racism. From 1978 to 1990, Miss World banned South Africa from participating. However, Miss Universe persisted and banned the country from participating only in 1985 after intense political pressure. South Africa returned at Miss Universe in 1995 at the time when democracy was returned to the troubled nation.
Two of the newest Big5 pageants – Miss Earth and Miss Supranational – may have escaped the era of intense systemic racism but they are yet to crown a black titleholder. Miss Earth can claim that it has a black winner but Winfred Omwakwe from Kenya only assumed the title in 2002 after Dzejla Glavovic of Bosnia and Herzegovina gave up her title. Miss Earth was also criticized for dispending sponsorship awards that prefer lighter skin and long straight hair.
The year 2019 was seen as a promising year to root out racism in pageantry. This is especially true in the United States since all of its major pageants have crowned black women. Cheslie Kryst (Miss USA 2019), Zozibini Tunzi (Miss Universe 2019), Nia Franklin (Miss America 2019), Kaleigh Garris (Miss Teen USA 2019) are supposed to show to the world that United States is heading towards the right direction in overcoming racism. How the country came from that point to the current situation is mind boggling. But then again, it is the same question how a nation can elect its first black leader and years later elect a racist one.
Racism in pageantry whether it is systemic or not is just the symptom of the prevailing situation in our society in general. Big5 pageants have come a long way since the era of apartheid and discrimination but this is without any risks. What is happening now in the United States is that the horrible remnants of racism is threatening the progress made in terms of equal civil rights. Big5 pageants has a role to play in arresting any regression to the dark past by ensuring diversity and – to borrow the words of Rev. Martin Luther King Jr. – judge the women based on the content of the character and not by the color of their skin.