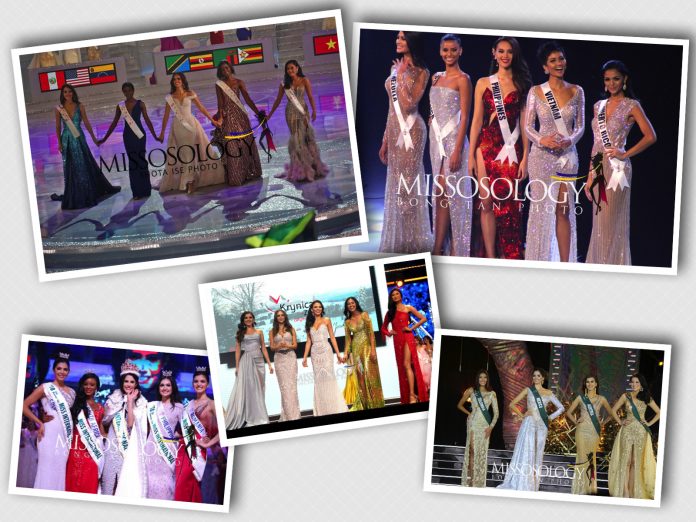 2018 is indeed an exciting pageant year. Vietnam, for the first time ever, won a major international beauty pageant title. The victory of Nguyễn Phương Khánh at Miss Earth allowed the country to jump from 65th to 56th place! What an achievement for Vietnam which began their participation at Big5 pageants only in 2002.
Nepal also shot up from 111th place to 98th. This sudden rise can be attributed to the surprising performances of Priya Sigdel (Top 18) at Miss Earth, Shrinkhala Khatiwada (Top 12) at Miss World and Manita Devkota (Top 10) at Miss Universe.
Equatorial Guinea is now at 163rd place up from 175th in 2017 thanks to the Top 25 finish of Maria Lucrecia Nve Maleva at Miss Supranational 2018.
The United States continues to be the beauty superpower, while Venezuela is catching up at second place. Many thought Venezuela will falter this year but instead it made its presence felt by winning the Miss International crown and placing 2nd runner-up at Miss Miss Universe. Venezuela is, indeed, still Venezuela!
Meanwhile, the Philippines, which is in the 4th place, has widened its lead over Colombia and is now threatening Brazil at 3rd place. Will 2019 propel the Philippines to the Top 3 or will Brazil continue to hold its ground? This is something that we have see next year!
| 2017 | 2018 | COUNTRY | BIG5-TOTAL | Universe | World | International | Earth | Supranational |
| --- | --- | --- | --- | --- | --- | --- | --- | --- |
| 1 | 1 | U.S.A. | 20937 | 8340 | 5940 | 4720 | 1402 | 535 |
| 2 | 2 | VENEZUELA | 18941 | 6380 | 4665 | 5200 | 2196 | 500 |
| 3 | 3 | BRAZIL | 13788 | 4540 | 3305 | 3600 | 1758 | 585 |
| 4 | 4 | PHILIPPINES | 13534 | 3640 | 2610 | 4230 | 2344 | 710 |
| 5 | 5 | COLOMBIA | 13044 | 4680 | 2215 | 4390 | 1144 | 615 |
| 6 | 6 | AUSTRALIA | 11067 | 2850 | 3815 | 3260 | 742 | 400 |
| 7 | 7 | INDIA | 10776 | 2840 | 3595 | 2560 | 1016 | 765 |
| 8 | 8 | SPAIN | 10437 | 2770 | 2300 | 4240 | 912 | 215 |
| 9 | 9 | JAPAN | 10239 | 2840 | 1715 | 4980 | 524 | 180 |
| 10 | 10 | FINLAND | 10035 | 3060 | 2660 | 3990 | 220 | 105 |
| 12 | 11 | FRANCE | 9512 | 2500 | 3840 | 2430 | 512 | 230 |
| 11 | 12 | SWEDEN | 9450 | 3880 | 3140 | 1850 | 440 | 140 |
| 14 | 13 | MEXICO | 8980 | 2680 | 2570 | 2320 | 870 | 540 |
| 16 | 14 | SOUTH AFRICA | 8924 | 2850 | 4510 | 500 | 874 | 190 |
| 13 | 15 | ISRAEL | 8765 | 2780 | 3495 | 2120 | 340 | 30 |
| 15 | 16 | GERMANY | 8555 | 2920 | 2815 | 2530 | 220 | 70 |
| 17 | 17 | PUERTO RICO | 8409 | 3340 | 2040 | 1870 | 394 | 765 |
| 18 | 18 | KOREA | 7788 | 1550 | 1750 | 3300 | 858 | 330 |
| 19 | 19 | UNITED KINGDOM | 7555 | 400 | 4885 | 2240 | 30 | 0 |
| 20 | 20 | THAILAND | 7466 | 1840 | 1360 | 2340 | 1256 | 670 |
| 21 | 21 | NETHERLANDS | 6616 | 2000 | 2230 | 1770 | 456 | 160 |
| 22 | 22 | CANADA | 6553 | 2760 | 2020 | 1000 | 378 | 395 |
| 25 | 23 | POLAND | 6370 | 900 | 1290 | 1930 | 1160 | 1090 |
| 23 | 24 | ARGENTINA | 6331 | 2080 | 2040 | 1810 | 276 | 125 |
| 24 | 25 | GREECE | 6240 | 2460 | 1900 | 1520 | 180 | 180 |
| 26 | 26 | NORWAY | 6085 | 2270 | 1655 | 1820 | 290 | 50 |
| 27 | 27 | ITALY | 5617 | 2240 | 1795 | 1070 | 412 | 100 |
| 28 | 28 | NEW ZEALAND | 5580 | 1160 | 2310 | 1900 | 150 | 60 |
| 29 | 29 | PERU | 5372 | 2250 | 1490 | 830 | 472 | 330 |
| 33 | 30 | JAMAICA | 5320 | 1320 | 3585 | 240 | 40 | 135 |
| 30 | 31 | DOMINICAN REPUBLIC | 5315 | 1700 | 1690 | 1260 | 440 | 225 |
| 32 | 32 | IRELAND | 5270 | 1490 | 2480 | 1220 | 50 | 30 |
| 31 | 33 | ENGLAND | 5238 | 2540 | 780 | 1430 | 238 | 250 |
| 34 | 34 | DENMARK | 5200 | 1160 | 2235 | 1210 | 360 | 235 |
| 35 | 35 | AUSTRIA | 5141 | 1210 | 2225 | 1170 | 536 | 0 |
| 36 | 36 | RUSSIA | 5027 | 1050 | 1450 | 1330 | 942 | 255 |
| 37 | 37 | ICELAND | 4720 | 930 | 1580 | 1880 | 10 | 320 |
| 38 | 38 | BELGIUM | 4665 | 1500 | 1300 | 1520 | 170 | 175 |
| 39 | 39 | PANAMA | 4559 | 1410 | 820 | 1460 | 304 | 565 |
| 40 | 40 | SWITZERLAND | 4252 | 1650 | 1320 | 690 | 492 | 100 |
| 41 | 41 | TURKEY | 4231 | 820 | 1425 | 1570 | 176 | 240 |
| 42 | 42 | CHILE | 3992 | 1810 | 790 | 480 | 832 | 80 |
| 44 | 43 | ECUADOR | 3893 | 950 | 875 | 1030 | 808 | 230 |
| 43 | 44 | CZECH REPUBLIC | 3812 | 640 | 660 | 880 | 1032 | 600 |
| 45 | 45 | TRINIDAD & TOBAGO | 3495 | 1460 | 1695 | 110 | 160 | 70 |
| 46 | 46 | COSTA RICA | 3316 | 960 | 750 | 1030 | 376 | 200 |
| 48 | 47 | UKRAINE | 3248 | 860 | 700 | 820 | 428 | 440 |
| 47 | 48 | BOLIVIA | 3162 | 860 | 860 | 1040 | 272 | 130 |
| 49 | 49 | PARAGUAY | 3086 | 960 | 650 | 620 | 576 | 280 |
| 52 | 50 | INDONESIA | 3043 | 480 | 960 | 980 | 158 | 465 |
| 50 | 51 | LEBANON | 2832 | 780 | 1120 | 590 | 272 | 70 |
| 53 | 52 | MALAYSIA | 2787 | 640 | 1170 | 600 | 192 | 185 |
| 51 | 53 | HONGKONG | 2735 | 1040 | 750 | 860 | 50 | 35 |
| 54 | 54 | HONDURAS | 2576 | 560 | 400 | 920 | 436 | 260 |
| 56 | 55 | CHINA PR | 2561 | 550 | 1420 | 160 | 346 | 85 |
| 65 | 56 | VIETNAM | 2541 | 270 | 700 | 470 | 626 | 475 |
| 55 | 57 | GUAM | 2526 | 720 | 1080 | 530 | 196 | 0 |
| 57 | 58 | SRI LANKA | 2450 | 640 | 890 | 690 | 80 | 150 |
| 59 | 59 | SCOTLAND | 2440 | 940 | 765 | 310 | 350 | 75 |
| 58 | 60 | YUGOSLAVIA | 2400 | 430 | 1240 | 570 | 160 | 0 |
| 63 | 61 | PORTUGAL | 2362 | 460 | 640 | 730 | 302 | 230 |
| 61 | 62 | NICARAGUA | 2350 | 590 | 465 | 1090 | 190 | 15 |
| 60 | 63 | URUGUAY | 2340 | 1200 | 810 | 290 | 30 | 10 |
| 63 | 64 | SINGAPORE | 2311 | 740 | 600 | 630 | 276 | 65 |
| 62 | 65 | GUATEMALA | 2248 | 780 | 520 | 560 | 348 | 40 |
| 66 | 66 | CURACAO | 2050 | 1170 | 420 | 380 | 60 | 20 |
| 69 | 67 | NIGERIA | 1970 | 420 | 1050 | 60 | 330 | 110 |
| 66 | 68 | ARUBA | 1940 | 500 | 890 | 520 | 20 | 10 |
| 68 | 69 | WALES | 1916 | 980 | 480 | 220 | 116 | 120 |
| 71 | 70 | SLOVAKIA | 1890 | 380 | 340 | 450 | 330 | 390 |
| 70 | 71 | EL SALVADOR | 1880 | 920 | 420 | 260 | 210 | 70 |
| 72 | 72 | KENYA | 1830 | 210 | 1030 | 190 | 320 | 80 |
| 73 | 73 | CHINESE TAIPEI | 1736 | 510 | 500 | 370 | 236 | 120 |
| 76 | 74 | HUNGARY | 1670 | 470 | 540 | 220 | 210 | 230 |
| 74 | 75 | BAHAMAS | 1632 | 570 | 680 | 60 | 182 | 140 |
| 81 | 76 | ROMANIA | 1605 | 150 | 400 | 200 | 340 | 515 |
| 75 | 77 | POLYNESIE FRANCAISE | 1587 | 250 | 410 | 480 | 432 | 15 |
| 80 | 78 | BELARUS | 1520 | 0 | 270 | 340 | 20 | 890 |
| 77 | 79 | CROATIA | 1520 | 340 | 930 | 30 | 60 | 160 |
| 78 | 80 | GHANA | 1516 | 350 | 820 | 120 | 206 | 20 |
| 79 | 81 | GUYANA | 1426 | 220 | 1150 | 10 | 36 | 10 |
| 88 | 82 | MAURITIUS | 1385 | 310 | 610 | 80 | 260 | 125 |
| 82 | 83 | MALTA | 1340 | 370 | 650 | 200 | 80 | 40 |
| 83 | 84 | CYPRUS | 1286 | 380 | 560 | 190 | 146 | 10 |
| 84 | 85 | ANGOLA | 1270 | 570 | 570 | 0 | 100 | 30 |
| 85 | 86 | MONGOLIA | 1258 | 10 | 430 | 490 | 308 | 20 |
| 86 | 87 | ZIMBABWE | 1231 | 150 | 855 | 20 | 176 | 30 |
| 91 | 88 | EGYPT | 1230 | 260 | 490 | 70 | 380 | 30 |
| 87 | 89 | HAWAII | 1220 | 370 | 10 | 840 | 0 | 0 |
| 90 | 90 | NAMIBIA | 1220 | 540 | 510 | 100 | 20 | 50 |
| 89 | 91 | GIBRALTAR | 1211 | 90 | 890 | 150 | 36 | 45 |
| 93 | 92 | KAZAKHSTAN | 1142 | 100 | 720 | 10 | 202 | 110 |
| 92 | 93 | LUXEMBOURG | 1140 | 270 | 280 | 480 | 40 | 70 |
| 95 | 94 | BOSNIA & HERZEGOVINA | 1082 | 0 | 280 | 0 | 752 | 50 |
| 94 | 95 | US VIRGIN ISLANDS | 1082 | 310 | 560 | 10 | 72 | 130 |
| 96 | 96 | TANZANIA | 1036 | 200 | 380 | 60 | 396 | 0 |
| 102 | 97 | SLOVENIA | 1034 | 190 | 250 | 0 | 334 | 260 |
| 97 | 98 | BERMUDA | 1010 | 450 | 550 | 10 | 0 | 0 |
| 111 | 98 | NEPAL | 1010 | 110 | 470 | 100 | 310 | 20 |
| 100 | 100 | HAITI | 1000 | 580 | 160 | 160 | 60 | 40 |
| 98 | 101 | TUNISIA | 990 | 80 | 320 | 590 | 0 | 0 |
| 99 | 102 | LATVIA | 966 | 110 | 270 | 280 | 176 | 130 |
| 101 | 103 | CZECHOSLOVAKIA | 920 | 220 | 250 | 450 | 0 | 0 |
| 103 | 103 | NORTHERN IRELAND | 920 | 0 | 560 | 0 | 300 | 60 |
| 105 | 105 | BOTSWANA | 860 | 270 | 520 | 0 | 70 | 0 |
| 104 | 105 | ESTONIA | 860 | 370 | 240 | 40 | 150 | 60 |
| 110 | 107 | MARTINIQUE | 850 | 50 | 290 | 30 | 470 | 10 |
| 106 | 108 | CUBA | 845 | 360 | 280 | 150 | 40 | 15 |
| 107 | 109 | SURINAME | 825 | 310 | 100 | 50 | 40 | 325 |
| 108 | 110 | ALBANIA | 820 | 380 | 160 | 0 | 80 | 200 |
| 109 | 111 | CAYMAN ISLANDS | 780 | 310 | 450 | 0 | 20 | 0 |
| 111 | 112 | GEORGIA | 740 | 140 | 260 | 40 | 250 | 50 |
| 117 | 113 | MYANMAR | 720 | 110 | 60 | 80 | 50 | 420 |
| 113 | 114 | ETHIOPIA | 676 | 120 | 230 | 90 | 76 | 160 |
| 114 | 115 | BULGARIA | 670 | 250 | 370 | 10 | 10 | 30 |
| 117 | 116 | BELIZE | 660 | 370 | 190 | 20 | 70 | 10 |
| 114 | 116 | NORTHERN MARIANAS | 660 | 270 | 10 | 300 | 80 | 0 |
| 117 | 118 | SERBIA | 656 | 90 | 170 | 110 | 196 | 90 |
| 122 | 119 | BARBADOS | 650 | 160 | 480 | 0 | 10 | 0 |
| 120 | 119 | GUADELOUPE | 650 | 60 | 200 | 210 | 120 | 60 |
| 116 | 121 | CONGO, D.R. | 640 | 330 | 150 | 140 | 20 | 0 |
| 120 | 122 | LIBERIA | 620 | 40 | 500 | 40 | 40 | 0 |
| 124 | 123 | KOSOVO | 590 | 420 | 20 | 0 | 90 | 60 |
| 122 | 124 | SERBIA & MONTENEGRO | 590 | 170 | 30 | 130 | 260 | 0 |
| 125 | 125 | MACAU | 560 | 0 | 240 | 120 | 170 | 30 |
| 127 | 126 | BRITISH VIRGIN ISLANDS | 540 | 340 | 190 | 0 | 10 | 0 |
| 126 | 127 | TURKS & CAICOS | 530 | 400 | 80 | 0 | 50 | 0 |
| 128 | 128 | LITHUANIA | 476 | 30 | 180 | 130 | 46 | 90 |
| 129 | 129 | SAINT LUCIA | 470 | 80 | 260 | 0 | 130 | 0 |
| 130 | 129 | ZAMBIA | 470 | 90 | 180 | 40 | 160 | 0 |
| 137 | 131 | UGANDA | 462 | 0 | 380 | 10 | 72 | 0 |
| 133 | 132 | MOLDOVA | 455 | 0 | 200 | 70 | 40 | 145 |
| 131 | 133 | GABON | 436 | 40 | 40 | 40 | 36 | 280 |
| 134 | 134 | SOUTH SUDAN | 430 | 0 | 300 | 30 | 50 | 50 |
| 132 | 135 | SEYCHELLES | 420 | 10 | 400 | 10 | 0 | 0 |
| 135 | 136 | SWAZILAND | 370 | 20 | 350 | 0 | 0 | 0 |
| 136 | 137 | MACEDONIA FYR | 360 | 0 | 140 | 160 | 30 | 30 |
| 138 | 137 | GRENADA | 320 | 10 | 310 | 0 | 0 | 0 |
| 138 | 137 | MOROCCO | 320 | 170 | 80 | 50 | 0 | 20 |
| 145 | 140 | COOK ISLANDS | 306 | 100 | 150 | 20 | 36 | 0 |
| 140 | 141 | USSR | 300 | 170 | 30 | 100 | 0 | 0 |
| 141 | 142 | ANTIGUA & BARBUDA | 290 | 110 | 180 | 0 | 0 | 0 |
| 143 | 143 | SENEGAL | 280 | 30 | 20 | 230 | 0 | 0 |
| 150 | 144 | MONTENEGRO | 260 | 60 | 130 | 0 | 50 | 20 |
| 161 | 145 | MADAGASCAR | 250 | 10 | 80 | 120 | 40 | 0 |
| 144 | 145 | VIRGIN ISLANDS | 250 | 210 | 40 | 0 | 0 | 0 |
| 146 | 147 | FIJI | 240 | 20 | 70 | 120 | 30 | 0 |
| 149 | 148 | CAMEROON | 220 | 0 | 40 | 10 | 150 | 20 |
| 147 | 148 | RHODESIA & NYASALAND | 220 | 10 | 210 | 0 | 0 | 0 |
| 148 | 150 | SAMOA | 216 | 100 | 40 | 0 | 76 | 0 |
| 153 | 151 | RWANDA | 215 | 0 | 30 | 0 | 20 | 165 |
| 142 | 152 | SIERRA LEONE | 206 | 10 | 110 | 20 | 56 | 10 |
| 152 | 153 | CRIMEA | 196 | 0 | 0 | 0 | 196 | 0 |
| 150 | 154 | GAMBIA | 190 | 50 | 90 | 0 | 0 | 50 |
| 161 | 155 | LAOS | 180 | 30 | 20 | 120 | 0 | 10 |
| 154 | 155 | NEW CALENDONIA | 180 | 10 | 0 | 160 | 10 | 0 |
| 155 | 155 | REUNION | 180 | 100 | 0 | 0 | 70 | 10 |
| 156 | 158 | PAPUA NEW GUINEA | 170 | 100 | 70 | 0 | 0 | 0 |
| 158 | 159 | TONGA | 166 | 0 | 20 | 0 | 146 | 0 |
| 157 | 160 | ALASKA | 160 | 160 | 0 | 0 | 0 | 0 |
| 166 | 160 | BANGLADESH | 160 | 0 | 160 | 0 | 0 | 0 |
| 170 | 162 | PAKISTAN | 158 | 0 | 0 | 0 | 108 | 50 |
| 159 | 163 | COTE D'IVOIRE | 150 | 10 | 100 | 30 | 10 | 0 |
| 175 | 163 | EQUATORIAL GUINEA | 150 | 0 | 60 | 0 | 0 | 90 |
| 159 | 165 | ST. VINVENT & THE GR. | 140 | 80 | 60 | 0 | 0 | 0 |
| 161 | 166 | BONAIRE | 130 | 90 | 30 | 0 | 10 | 0 |
| 161 | 166 | ISLE OF MAN | 130 | 0 | 130 | 0 | 0 | 0 |
| 161 | 167 | MONTE CARLO | 130 | 0 | 130 | 0 | 0 | 0 |
| 166 | 169 | LESOTHO | 120 | 10 | 110 | 0 | 0 | 0 |
| 171 | 170 | KYRGYZSTAN | 110 | 10 | 50 | 30 | 20 | 0 |
| 166 | 170 | SAN MARINO | 110 | 0 | 0 | 110 | 0 | 0 |
| 166 | 170 | ST. KITTS & NEVIS | 110 | 30 | 80 | 0 | 0 | 0 |
| 171 | 173 | JORDAN | 100 | 10 | 60 | 30 | 0 | 0 |
| 171 | 173 | MONTSERRAT | 100 | 0 | 100 | 0 | 0 | 0 |
| 171 | 173 | WESTERN SAMOA | 100 | 0 | 100 | 0 | 0 | 0 |
| 182 | 176 | ARMENIA | 80 | 10 | 20 | 20 | 20 | 10 |
| 176 | 176 | JERSEY | 80 | 0 | 80 | 0 | 0 | 0 |
| 177 | 176 | TOGO | 80 | 0 | 0 | 50 | 0 | 30 |
| 182 | 179 | CAMBODIA | 70 | 20 | 10 | 10 | 30 | 0 |
| 177 | 179 | SINT MAARTEN | 70 | 40 | 30 | 0 | 0 | 0 |
| 179 | 181 | GREENLAND | 60 | 40 | 20 | 0 | 0 | 0 |
| 179 | 181 | GUINEA | 60 | 0 | 50 | 0 | 0 | 10 |
| 179 | 181 | OKINAWA | 60 | 60 | 0 | 0 | 0 | 0 |
| 182 | 184 | CAPE VERDE | 50 | 0 | 30 | 0 | 0 | 20 |
| 182 | 184 | CONGO, REP. OF THE | 50 | 0 | 0 | 30 | 20 | 0 |
| 182 | 184 | IRAQ | 50 | 20 | 0 | 0 | 10 | 20 |
| 182 | 184 | ST. BARTHELEMY | 50 | 0 | 50 | 0 | 0 | 0 |
| 188 | 188 | BRITISH GUIANA | 40 | 0 | 0 | 40 | 0 | 0 |
| 188 | 188 | MALAWI | 40 | 0 | 40 | 0 | 0 | 0 |
| 190 | 190 | AZERBAIJAN | 30 | 10 | 0 | 0 | 0 | 20 |
| 190 | 190 | DOMINICA | 30 | 10 | 20 | 0 | 0 | 0 |
| 190 | 190 | FRENCH GUIANA | 30 | 30 | 0 | 0 | 0 | 0 |
| 195 | 190 | GUINEA-BISSAU | 30 | 0 | 30 | 0 | 0 | 0 |
| 190 | 190 | PALAU | 30 | 0 | 0 | 30 | 0 | 0 |
| 190 | 190 | SAO TOME & PRINCIPE | 30 | 0 | 10 | 0 | 0 | 20 |
| 195 | 196 | AFGHANISTAN | 20 | 0 | 0 | 0 | 20 | 0 |
| 195 | 196 | CHAD | 20 | 0 | 10 | 0 | 10 | 0 |
| 195 | 196 | GUERNSEY | 20 | 0 | 20 | 0 | 0 | 0 |
| 195 | 196 | NIUE ISLAND | 20 | 0 | 0 | 0 | 20 | 0 |
| 195 | 196 | SAINT-MARTIN | 20 | 20 | 0 | 0 | 0 | 0 |
| 195 | 196 | SYRIA | 20 | 0 | 20 | 0 | 0 | 0 |
| 195 | 196 | TIBET | 20 | 0 | 0 | 0 | 20 | 0 |
| 195 | 196 | TRINIDAD | 20 | 20 | 0 | 0 | 0 | 0 |
| 204 | 204 | ALGERIA | 10 | 0 | 10 | 0 | 0 | 0 |
| 204 | 204 | ANDORRA | 10 | 0 | 10 | 0 | 0 | 0 |
| 204 | 204 | BHUTAN | 10 | 0 | 0 | 0 | 10 | 0 |
| 204 | 204 | NEW HEBRIDES | 10 | 10 | 0 | 0 | 0 | 0 |
| 204 | 204 | PALESTINE | 10 | 0 | 0 | 0 | 10 | 0 |
| 204 | 204 | TANGANYIKA | 10 | 0 | 10 | 0 | 0 | 0 |
| 204 | 204 | TOKELAO | 10 | 0 | 0 | 0 | 10 | 0 |
| 204 | 204 | UZBEKISTAN | 10 | 0 | 10 | 0 | 0 | 0 |
| 204 | 204 | ZANZIBAR | 10 | 0 | 0 | 0 | 10 | 0 |
---
TOP 10 Countries/Territories
(sorted by pageant)
---
MISS WORLD (since 1951)
1. U.S.A. – 5, 940
2. UNITED KINGDOM – 4, 885
3. VENEZUELA – 4, 665
4. SOUTH AFRICA – 4, 510
5. FRANCE – 3, 840
6. AUSTRALIA – 3, 815
7. INDIA – 3, 595
8. JAMAICA – 3, 585
9. ISRAEL – 3, 495
10. BRAZIL – 3,305
---
MISS UNIVERSE (since 1952)
1. U.S.A. – 8, 340
2. VENEZUELA – 6, 380
3. COLOMBIA – 4, 680
4. BRAZIL – 4, 540
5. SWEDEN – 3,880
6. PHILIPPINES – 3, 640
7. PUERTO RICO – 3, 340
8. FINLAND – 3, 060
9. GERMANY – 2, 920
10. AUSTRALIA – 2, 850
---
MISS INTERNATIONAL (since 1960)
1. VENEZUELA – 5, 200
2. JAPAN – 4, 980
3. U.S.A. – 4, 720
4. COLOMBIA – 4, 390
5. SPAIN – 4, 240
6. PHILIPPINES – 4, 230
7. FINLAND – 3, 990
8. BRAZIL – 3, 600
9. KOREA – 3, 300
10. AUSTRALIA – 3, 260
---
MISS EARTH (since 2001)
1. PHILIPPINES – 2, 344
2. VENEZUELA – 2, 196
3. BRAZIL – 1, 758
4. U.S.A. – 1, 402
5. THAILAND – 1, 256
6. POLAND – 1, 160
7. COLOMBIA – 1, 144
8. CZECH REPUBLIC – 1, 032
9. INDIA – 1, 016
10. RUSSIA – 942
---
MISS SUPRANATIONAL (since 2009)
1. POLAND – 1, 090
2. BELARUS – 890
3. INDIA – 765
3. PUERTO RICO – 765
5. PHILIPPINES – 710
6. THAILAND – 670
7. COLOMBIA – 615
8. CZECH REPUBLIC – 600
9. BRAZIL – 585
10. PANAMA – 565