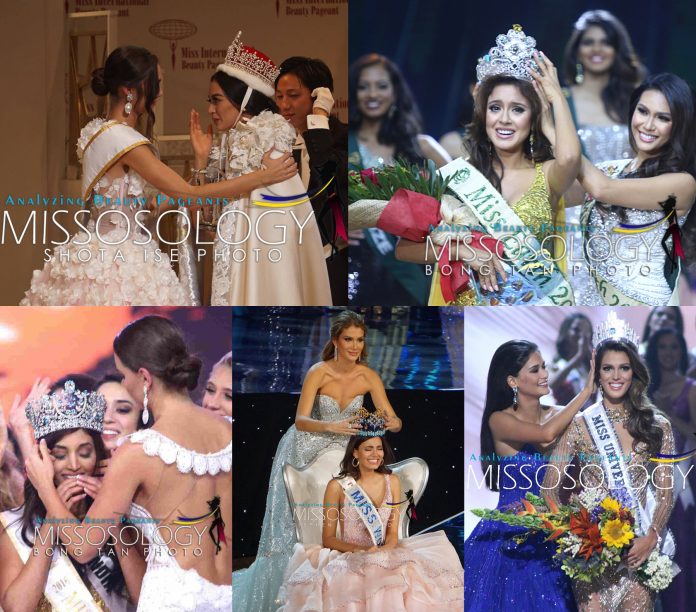 From the desk of Ric Galvez, Founder of Missosology, a post-season analysis of the pageant year 2016
I have been pushing for that narrative that Miss Universe 2016 a.k.a. 65th Miss Universe will conclude by leaving us all in total surprise. I guess I wasn't wrong after all despite the fact that I tried to do things outside of the box by predicting Spain as the winner. No excuses, Spain was not even a semifinalist.
I am proud of the work that we are doing here at Missosology and our hard work has now been recognized by the people within the pageantry industry as well as by the media. I am always amazed by the excellent photos of Shota Ise and Bong Tan. I am also proud that our opinions are being sought with Pawee, Ferdie and Drew being interviewed by TV networks. Yel, Mario and Bong all contributed greatly to each and every coverage that we make.Stephen and I have been interviewed by a reputable national daily where we shared our knowledge and opinions about beauty pageants.
Missosology is the ONLY beauty pageant website that was able to cover the Big5 pageants – Miss International, Miss Earth, Miss Supranational, Miss World and Miss Universe – on location. We gave the general public free and timely coverage. We published the results complete with photos as they happen. I am proud to say that we achieved what we longed to achieve and all of these are rooted in our passion and in our dedication.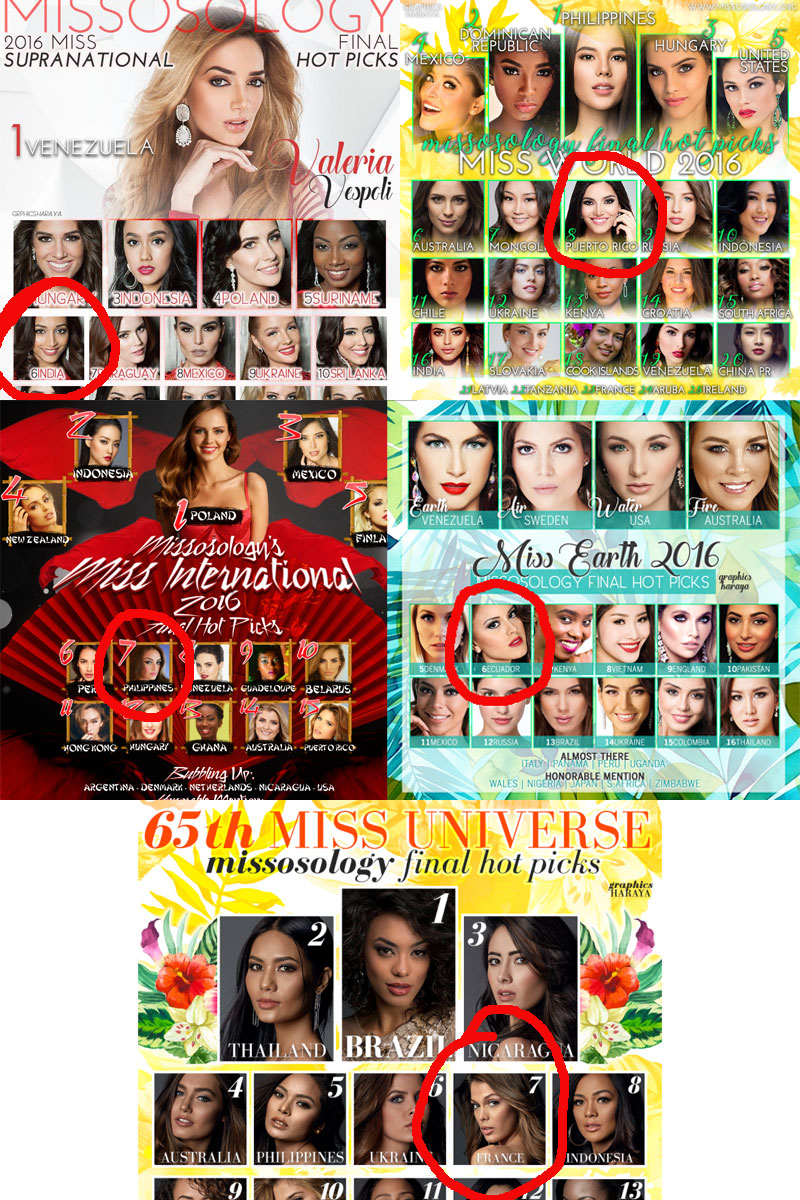 Again, we are not making any excuses for our failures but I would like to point out the pattern of the results of all Big5 Pageants when compared to our final hot picks. In our final Miss International 2016 Hot Picks, Miss Philippines Kylie Verzosa was in the 7th place and she won. In our Miss Earth 2016 Hot Picks, the eventual winner, Katherine Espin of Ecuador, is on the 6th place and in the Miss Supranational 2016 Hot Picks, Srinidhi Shetty was ranked 6th as well! So imagine our reaction when Miss Puerto Rico Stephanie Del Valle, ranked 8th in our Miss World 2016 Final Hot Picks, won the Miss World crown! I half-jokingly told the group to watch-out on whoever lands in the 6th, 7th and 8th positions of our Miss Universe 2016 Final Hot Picks.
True enough, Miss Universe 2016 Iris Mittenaere of France was in the 7th place in our Miss Universe 2016 Final Hot Picks. At the very least, all of our predicted winners made the cut and that's quite a relief. We weren't able to predict the winners of all Big5 pageants but, c'est la vie – that's life! We were known in the past years to have accurately predicted the results of major beauty pageants but it should not be the case every year lest we risk losing the suspense and excitement that these pageants bring. We at Missosology are happy to have served you all to the best of our abilities. And as Miss Universe 2016 Iris Mittenaere has said in the final question and answer – "when you fail…you have to try again and keep going." These are the words we live by.