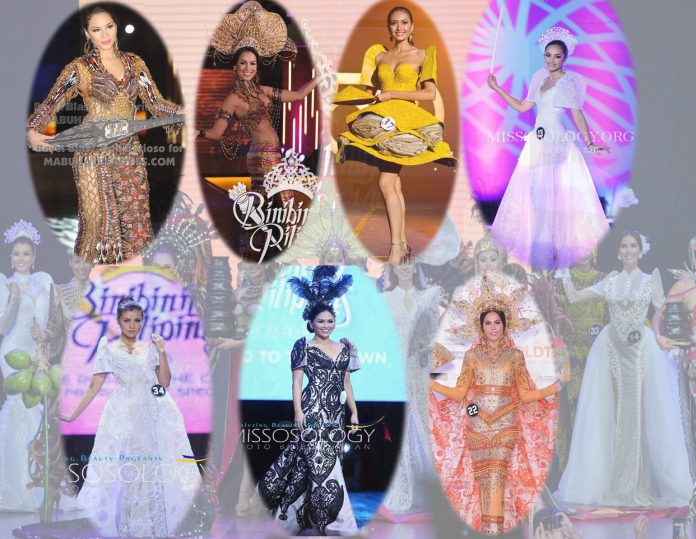 The Bb. Pilipinas pageant particularly its National Costume competition has opened doors for budding Philippine fashion designers
Written by Ric G. Galvez
@ricggalvez
The Best in National Costume Award which was given since 2011, is one of the commendable pre-pageant contests that Bb. Pilipinas has created. This particular contest gives the much needed spotlight to our local designers and while the national costume of Philippine candidates, especially for Miss Universe, had drew some flak over the years, things have dramatically changed since 2014. READ https://www.rappler.com/life-and-style/specials/bb-pilipinas/197221-photos-candidates-memorable-national-costumes
Technically, the award started in 2010 but was more focused on the terno costume and was called as the Best in Terno. Ma. Venus Raj took the very first award. In 2011, Elizabeth Clenci bagged the Best in National Costume title while wearing a T'boli inspired dress complete with a guitar-like accessory called hegulung. The costume was designed by Jearson Demavivas.
The Ifugao-inspired costume created by Edwin Uy and worn by Nicole Schmitz won the coveted award in 2012. While Nicole won the Bb. Pilipinas-International crown, the costume was not used during the Miss International competition. An avant-garde approach to the much revered terno meanwhile reigned supreme in 2013. Maria Teresita Alaine Baccay's gold above-the-knee terno designed Abbog Ocampo was an attempt to modernize the traditional dress complemented by a salakot accessory.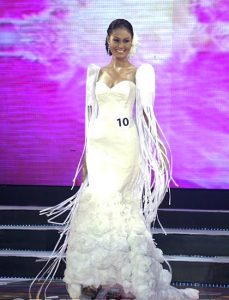 From 2014 to 2016, a more traditional approach was appreciated by Bb. Pilipinas. This was evident when Kris Tiffany Janson's white terno designed by Cary Santiago was awarded with Best in National Costume award in 2014. Then, for two straight years Frederick Peralta's terno creations were hailed as the best among the best. The intricate white terno worn by Teresita Ssen Marquez won in 2015 while in 2016, Angela Lauren Fernando's black accented terno complete with blue headdress emerged as the winning costume.
Chanel Olive Thomas may have won the Bb. Pilipinas-Supranational title and the Best in National Costume in Bb. Pilipinas 2017 but her costume was never used at the Miss Supranational pageant. Her costume was another Edwin Uy creation which impressed the Bb. Pilipinas judges for using the Muslim royalty costume as an inspiration. It was rich, vibrant and eye-catching.
This year, Philippine local designers were again given that valuable chance by Bb. Pilipinas to showcase their talents. One of the shortlisted costumes was created by Neil Patrick Jimlani and was donned by Binibini # 31 Jehza Mae Huelar. Neil Patrick hails from Davao and he told Missosology that his costume pays tribute to the late national fashion icon Pitoy Moreno.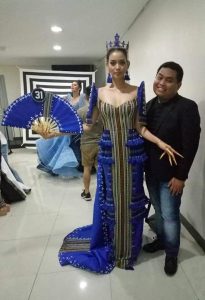 "My main inspiration is the national costume of Charlene Gonzales which won the Best National Costume award during the Miss Universe 1994 pageant," said Jimlani, who is an Ateno de Davao graduate and is currently a part-time fashion instructor at Philippine Womens College of Davao
He added, "It is where he [Pitoy Moreno] infused the T'boli costume to it. With that, it fueled me to create a piece that would represent and celebrate Davao's beloved indigenous people."
Jimlani was handpicked by Jehza herself to design her costume for the Bb. Pilipinas 2018 pageant. The designer runs a small shop in Davao and used to work for Rajo Laurel, a prominent Filipino designer who dressed presidents and actors. Jimlani's creations can be viewed in his Facebook Page https://www.facebook.com/neiljimlanicouture/ and in his Instagram account at @neiljimlani_hautecouture
Like the rest of small-time designers who made it to the Top 10 of Bb. Pilipinas 2018 National Costume contest, Jimlani was definitely given by Bb. Pilipinas that rare chance to be recognized nationally. The pageant has already shifted gears by giving importance and preference to Philippine designers. Since Pia Wurtzbach, Filipino designed gowns and national costumes were showcased in important international competition like Miss Universe.
Will we ever see a Jimlani gown or national costume at international pageants? Very likely, yes! Bb. Pilipinas had already made that bold step of choosing local creations that has a ripple effect to Philippine fashion designers. It would be great if the winning national costume at Bb. Pilipinas 2018 will eventually see action at international competition just like what they are doing in Latin America especially in Mexico.
As the epicenter of pageantry is shifting towards East Asia, particularly in the Philippines, it would be a waste if its multiplier effect will not benefit the Filipino designers. If Gionni Straccia rose into prominence after years of Venezuelan domination and if Alfredo Barraza became world famous for dressing Paulina Vega, there is no reason why a Jimlani or an Uy or a Peralta will one day become a prominent international fashion designer. And this would be thanks to the policies of Bb. Pilipinas that put a very bright spotlight to the country's budding – and very creative – fashion designers.