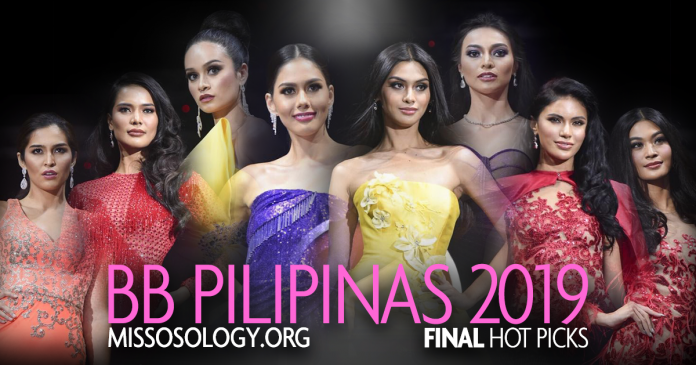 Text and photos by Drew Francisco
Graphics by Mario Bergantiños and Drew Francisco
Bb Pilipinas, the premier pageant in the Philippines, has once again gathered 40 captivating ladies from different parts of the nation in search of the next queens who will raise the country's flag in the international stage.
As a Miss Philippines, there will always be pressure to live up to the expectations of the "best pageant fans in the world". However, the pressure is more intense this year following the victorious feats of Miss Universe 2018 Catriona Gray and Miss Intercontinental 2018 Karen Gallman, plus the runner-up finish of Ma Ahtisa Manalo in Miss International and the semifinals placements of Jehza Huelar and Michele Gumabao in Miss Supranational and Miss Globe, respectively.
Who among this year's candidates has what it takes to take on challenge and bring glory to the country? After careful deliberations, we present to you Missosology's Final Hot Picks for Bb Pilipinas 2019.
CROWN CONTENDERS
For Miss Universe Philippines: Negros Occidental | Vickie Marie Milagrosa Rushton
Whoever wins the Miss Universe Philippines crown will surely have big shoes to fill following Catriona Gray's remarkable feat in Miss Universe last year. Catriona has raised the bar so high that it is too hard to pick a successor that could match or even surpass her dedication to the crown.
History has it that whenever the Philippines wins the Miss Universe crown, the best candidate in the succeeding Bb Pilipinas batch ends up getting sent to Miss International instead (Aurora Pijuan, Kylie Verzosa). But this year, we thought: why not send the best and most beautiful to Miss Universe again? After all, the improbable back-to-back victory happened in 2009 with Venezuela.
The question is, who among the 2019 batch is the best and most beautiful? In our humble opinion, it is Vickie. She is undeniably the face of Bb Pilipinas 2019, and this face for sure won't go unnoticed in any international pageant, especially in Miss Universe.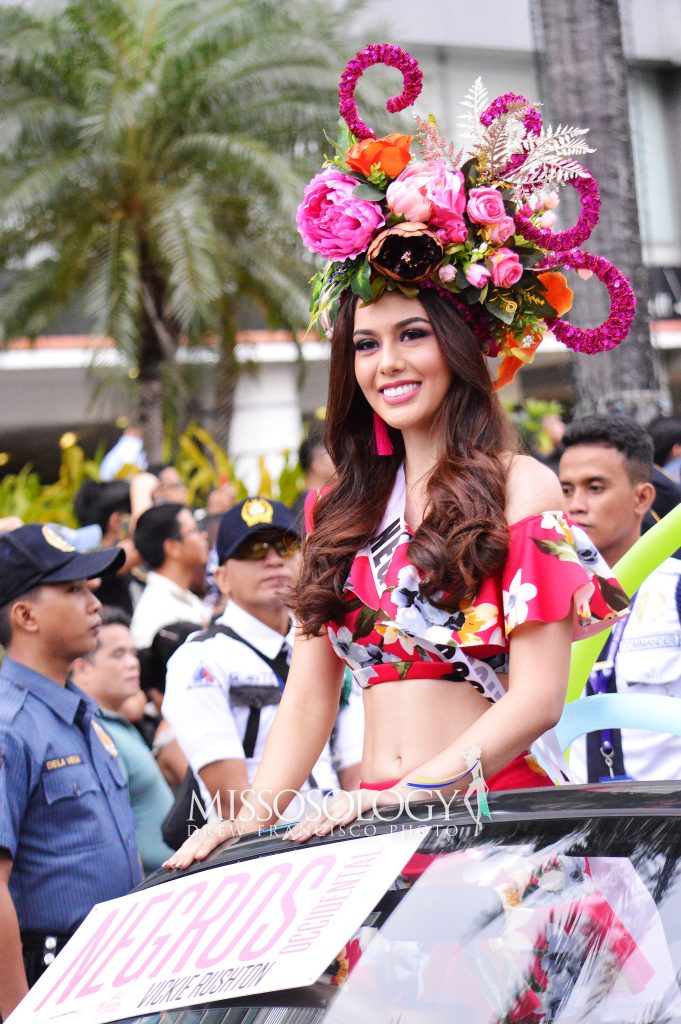 Some might say this 27-year-old model and actress has been lacking the oomph factor, but remember that Vickie is no stranger to pageantry. She has won all of the pageants that she has competed in, which began in 2009 when she was barely 17. Last year, she placed first runner-up in what was considered one of the most competitive Bb Pilipinas batches ever.
This former Mutya ng Pilipinas titleholder has definitely improved since her stint last year. She has found her perfect styling, and is more engaging now to fans and the press. She speaks with more confidence now, too. Aside from that, Vickie now embraces her advocacy of raising awareness for the inclusion and acceptance of children with down syndrome.
Vickie has been on top of her game since Day 1 and now is the right time for her to go home with a crown on her head. The province of Negros Occidental has never won a Bb Pilipinas title since 2007, and this might change on Sunday.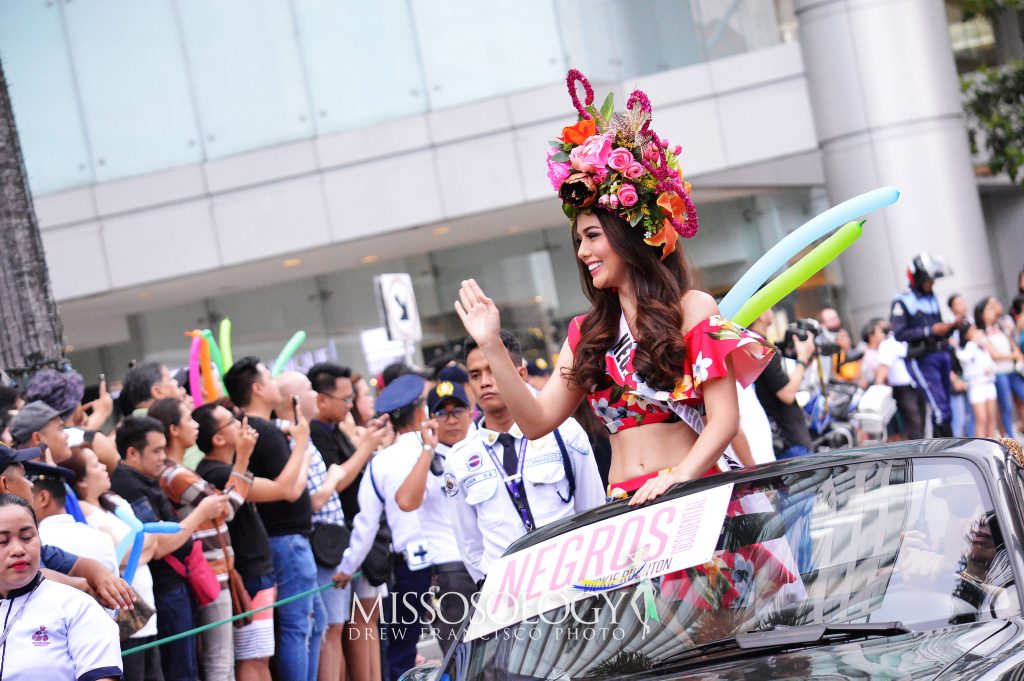 For Bb Pilipinas International: Masbate | Hannah Arnold
One of the freshest faces in the competition, 23-year-old Hannah has been nothing but impressive since the screenings. She is the perfect Binibini prototype: tall, beautiful, with an good academic background (she has a degree in forensic studies!). She is one of the most engaging speakers in the batch, too. The Philippines seems to have mastered the art of placing (and winning) in Miss International, and Hannah could definitely keep the streak going for the country. Her sophisticated beauty and sweet demeanor would be so hard to ignore in the Land of the Rising Sun.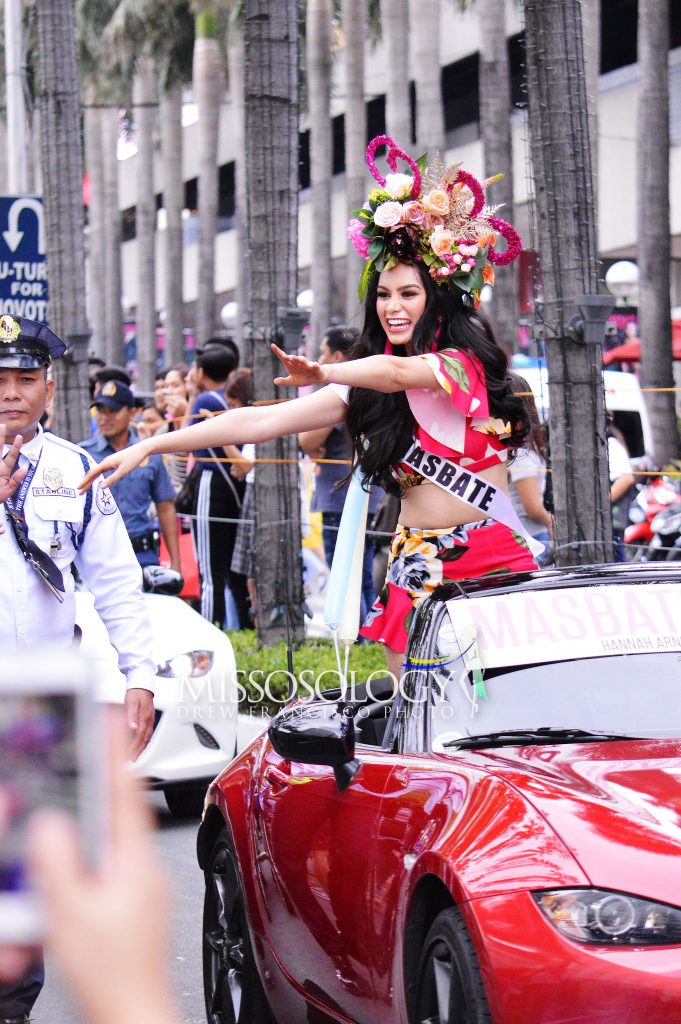 For Bb Pilipinas Supranational: Pampanga | Emma Mary Tiglao
Mention Miss Supranational and no other candidate comes to mind but Emma. This 24-year-old Pampanga native waited five years for her Bb Pilipinas return, and she is in her top form. She is one of the most prepared delegates, needless to mention polished. Her striking beauty, great charisma, and impressive stage presence will surely rock the Miss Supranational stage. We might be looking at our second Miss Supranational. It's time for her to finally have a crown on her head.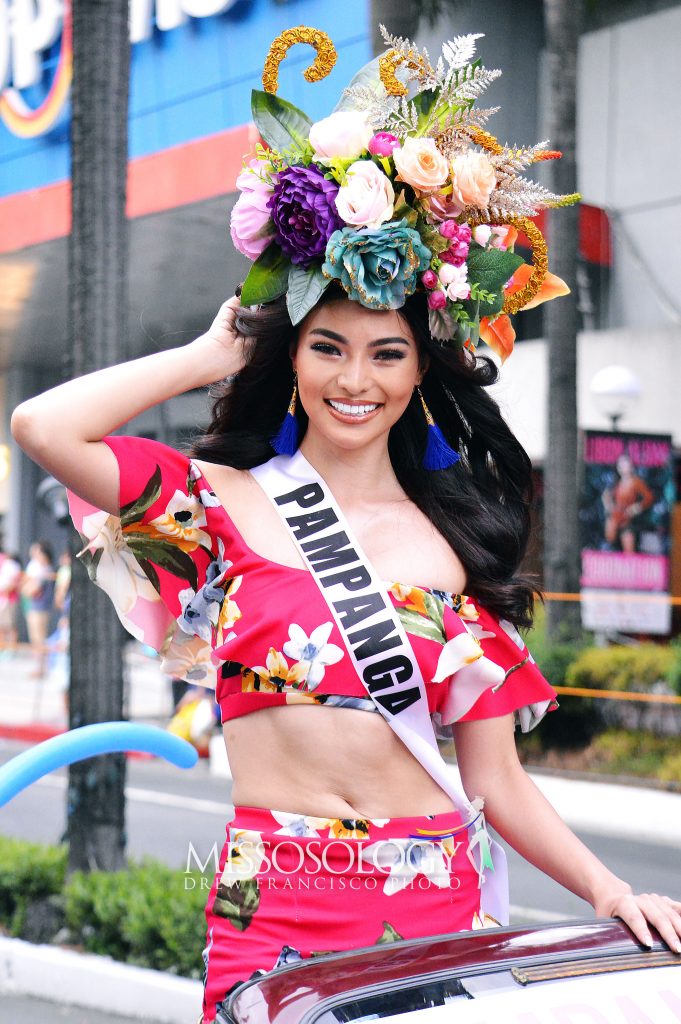 For Bb Pilipinas Intercontinental: Bataan | Bea Patricia Magtanong
After years of bridesmaid finish, the Philippines has finally won the elusive Miss Intercontinental crown last January. No other way to keep the streak and gun for a back-to-back than to send a refreshing beauty like Patch. This 24-year-old newly-minted lawyer has always been on every pageant fan's wishlist each Binibini season. Finally taking on the pageant challenge, Patch did not disappoint, leaving no stones unturned in her pageant training. With her impressive scholastic background and good communication skills, Patch will surely be a force to reckon with not only in the finals, but in the international stage, too.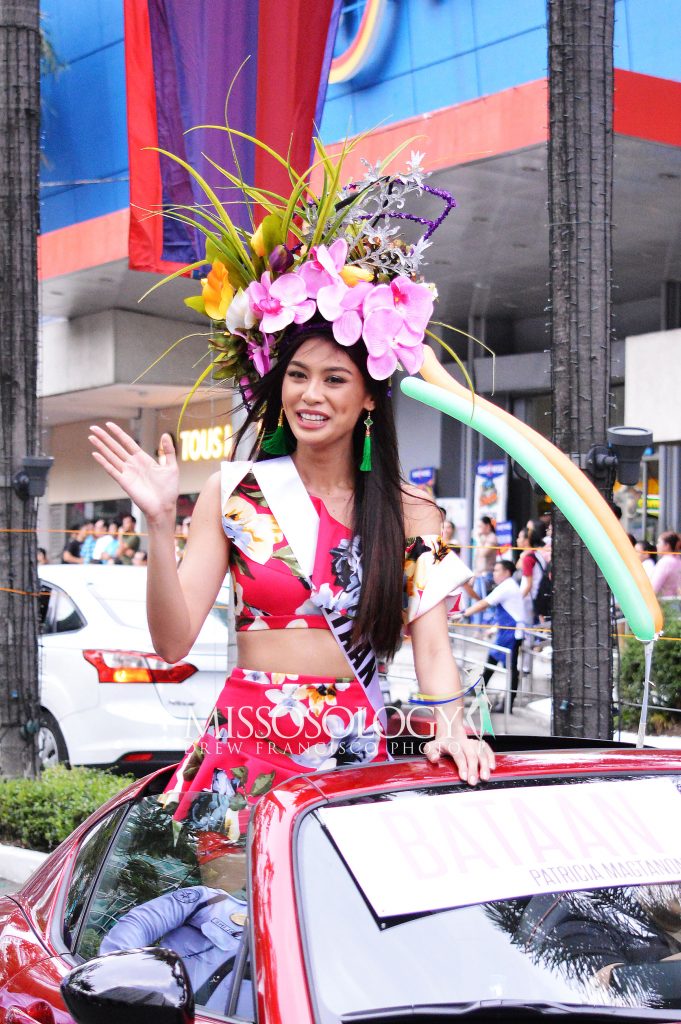 For Bb Pilipinas Globe: Los Baños, Laguna | Leren Mae Bautista
It is easy to count Leren out with the emergence of new faces, but we cannot ignore the fact that 26-year-old Laguna native is an international pageant titleholder. Her experience as Miss Tourism Queen of the Year winner surely comes in handy as she competes for Bb Pilipinas. Her serene look and modelesque stance reminds us of Miss Globe 2015 Ann Colis. There is always that one not so popular girl who emerges in the finals and gets a crown. With Leren peaking at the right time, it won't be a surprise if she wins more than just the Bb Pilipinas Globe title.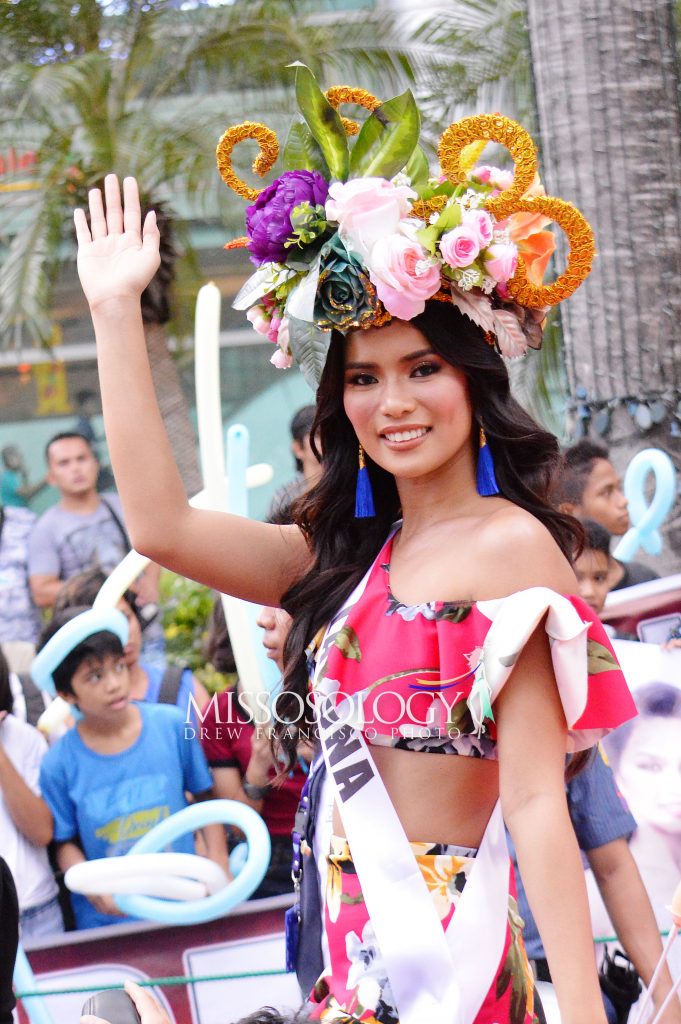 For Bb Pilipinas Grand International: Talisay City, Cebu | Gazini Christiana Ganados
The Philippines has been sending top-notch delegates to this minor pageant. Despite their impressive credentials and stage presence, the crown remains elusive (add to that the daylight robbery that happened last year to Eva Patalinjug). This is the only crown in the Bb Pilipinas franchise that the country has not won, and we believe the 23-year-old stunning lass from Talisay City, Cebu has what it takes to win the crown. Gazini's statuesque figure, banging body, and effortless beauty fits the Grand prototype. It would be (another) crime to waste this beauty.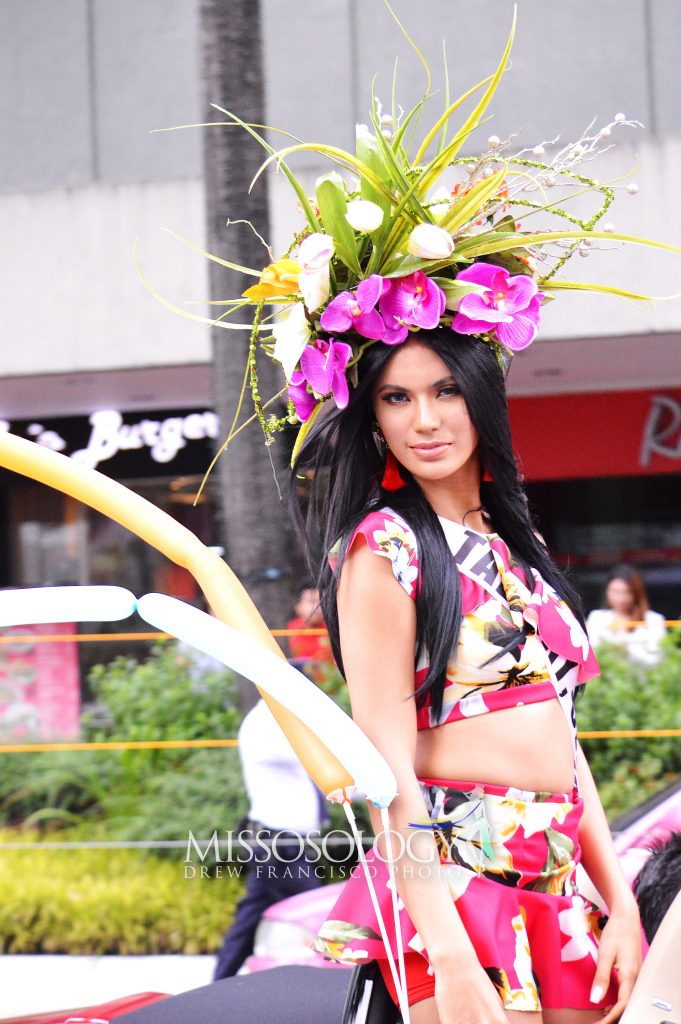 ALTERNATES
Samantha Lo's spontaneity and excellent communications skills are her main weapons coming into the finals. It can't be denied that this Cebuana has one of the freshest faces; however, she he needs to improve her stage presence. In case she fails to win a crown, we want to see her back next year as we envision her making waves in any international pageant.
Aya Abesamis of Pasig came back this year with more hunger to win a title. She has the beauty and grace of her mom, former Miss Universe Philippines Desiree Verdadero (3rd Runner-up at Miss Universe 1984). She was a one of the standouts during the press presentation and national costume show. She has been under the radar as of late, but we won't be surprised to see her taking a crown.
Cebu | Samantha Ashley Lo

Maguindanao | Resham Saeed

Daraga, Albay | Julia Eugenie Saubier

Palawan | Samantha Mae Bernardo

Pasig City | Maria Andrea Abesamis
One can't deny the fierceness of Palawan's Samantha Bernardo. A year's worth of preparation is paying off for this Bb Pilipinas 2018 runner-up. Samantha has the natural charm and sex appeal that make her standout.
Julia Saubier from Daraga, Albay is unarguably the best speaker of the batch. She is gaining more fans as the pageant progresses, and it is no surprise given her engaging personality and beaming confidence.
Maguindanao's Resham Saeed is one of the most underrated beauties in the competition. A girl with killer curves, great stage presence and better speaking skills, she will surely give the other girls a run for their money.
Check out the full list below: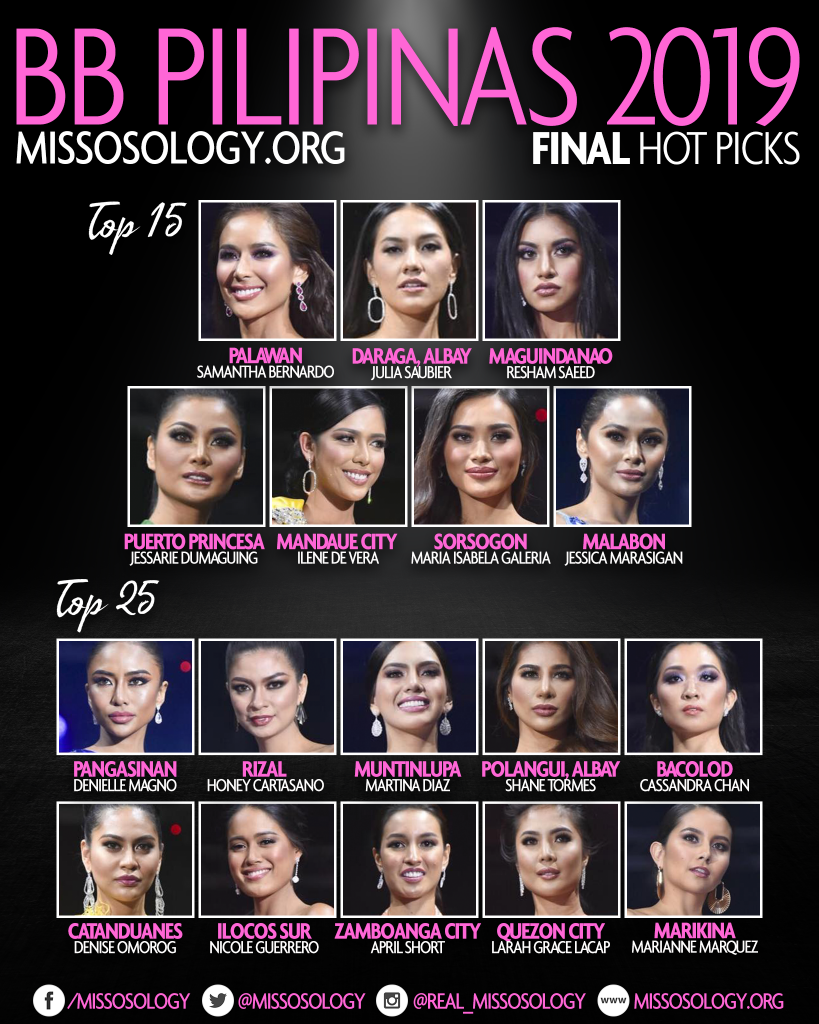 Universe: Negros Occidental | Vickie Marie Milagrosa Rushton
International: Masbate | Hannah Arnold
Supranational: Pampanga | Emma Mary Tiglao
Intercontinental: Bataan | Bea Patricia Magtanong
Grand International: Talisay City, Cebu | Gazini Christiana Ganados
Globe: Los Baños, Laguna | Leren Mae Bautista
1st runner-up: Cebu | Samantha Ashley Lo
2nd runner-up: Pasig City | Maria Andrea Abesamis
9 Palawan | Samantha Mae Bernardo
10 Daraga, Albay | Julia Eugenie Saubier
11 Maguindanao | Resham Saeed
12 Puerto Princesa | Jessarie Dumaguing
13 Mandaue City | Ilene Astrid de Vera
14 Sorsogon | Maria Isabela Galeria
15 Malabon | Jessica Marasigan
16 Pangasinan | Denielle Joie Magno
17 Rizal | Honey Grace Cartasano
18 Muntinlupa | Martina Turner Diaz
19 Polangui, Albay | Marie Sherry Ann Tormes
20 Bacolod | Cassandra Colleen Chan
21 Catanduanes | Louisielle Denise Omorog
22 Ilocos Sur | Jean Nicole Guerrero
23 Zamboanga City | April May Short
24 Quezon City | Larah Grace Lacap
25 Marikina | Marianne Marquez