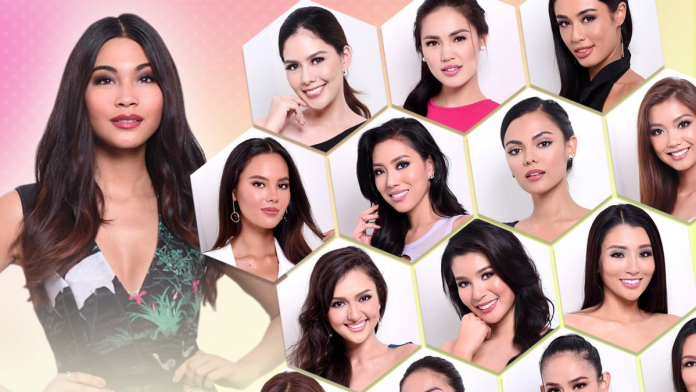 Bb. Pilipinas 2018 Fourth Hot Picks
On February 21st, there was the much anticipated press presentation of Bb. Pilipinas 2018.  From there, our resident pageant experts and reporters have gathered the pulse of the public, and here we present our fourth hot picks!
CROWN CONTENDERS
Topping our list is Binibini 11 Aya Abesamis, the daughter of former Miss Universe Philippines, Desiree Verdadero (3rd Runner-up at Miss Universe 1984) whom a lot of pageant followers have been waiting for so long.  For the past two or three years, rumors about the participation of Desiree's daughter have circulated our message board. Finally, the pretty stunner and model has arrived, and is ready to slay everyone who comes her way.  Mentored and trained by Aces & Queens, Aya is here to avenge the loss of the MUP title away from her beauty camp, which went to the rival group last year.  Aya is a model and was a major standout at last Wednesday's presentation show.  She definitely has the beauty and grace of her mom, who remains to be one of the most loved and admired MUP winners to date.  Aya also has the support of her first cousin, Mafae Yunon-Belasco, who was once a Bb. Pilipinas-World titleholder and Top 5 at Miss World 2003.  The winning genes is definitely in Aya's blood!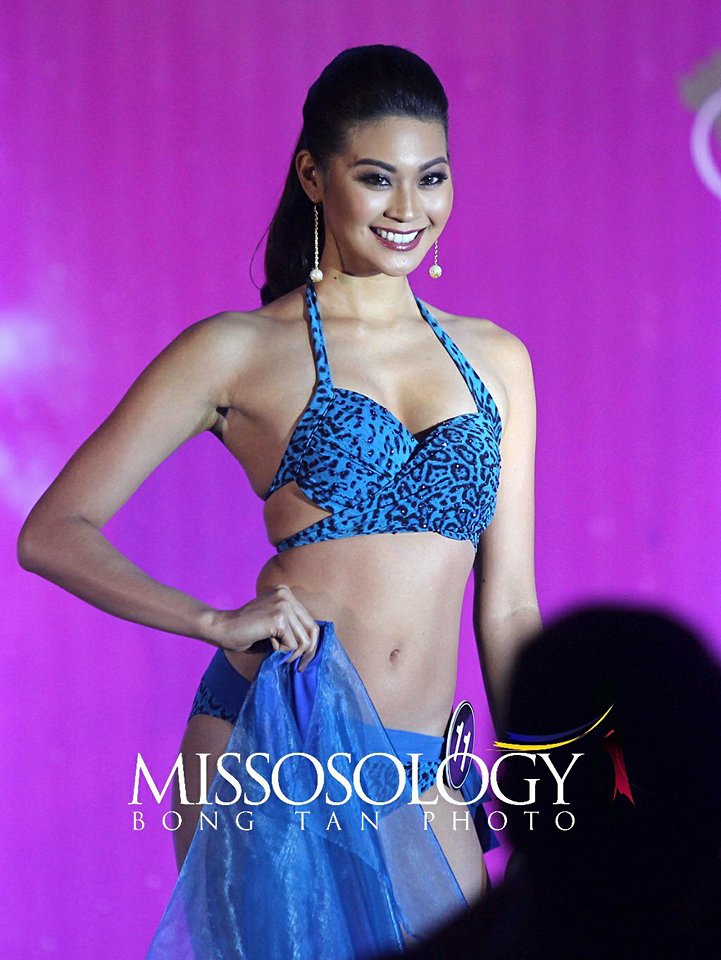 Moving up to second place is none other than the pretty mestiza lass from Negros Occidental, Binibini 1 Vickie Marie Rushton.  Vickie certainly has one of the, if not the, most beautiful faces of the pageant.  Her facial profile is the ideal template for Miss International, a pageant that the Philippines has won twice in the last five years.  Vickie is no stranger to pageantry.  She has won all of the pageants that she has competed in, which began in 2009 when she was barely 17.  She was a former Mutya ng Pilipinas titleholder, and has been an active Kapamilya star, appearing both on TV and film.  The province of Negros Occidental has never won a Bb Pilipinas title since 2007, although it has been doing quite well in the rival Miss Philippines Earth pageant.  Although Vickie may be considered "too old" for Miss International, she is still eligible to represent the Philippines in Tokyo, Japan because the the cut off age is 26.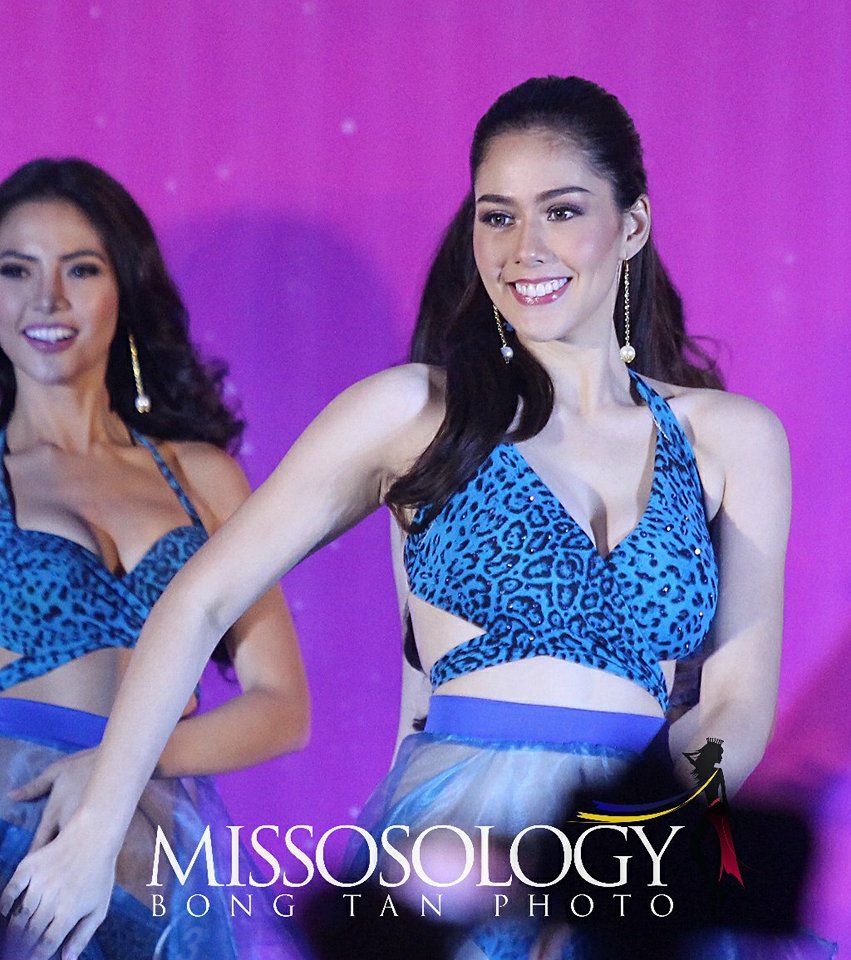 Binibini 19, Michele Gumabao is in third place, and has won our admiration during the press presentation.  This volleybelle is also one of those whom we consider as an ideal contender for Miss Universe Philippines, if Aya fails to grab it.  Michele's transformation from being a sportswoman to a pageant girl is a good sell, especially at Miss Universe where "story" matters more than anything else.  In the meantime, she is pegged in third place and we hope to see her win the second Miss Supranational crown for the Philippines.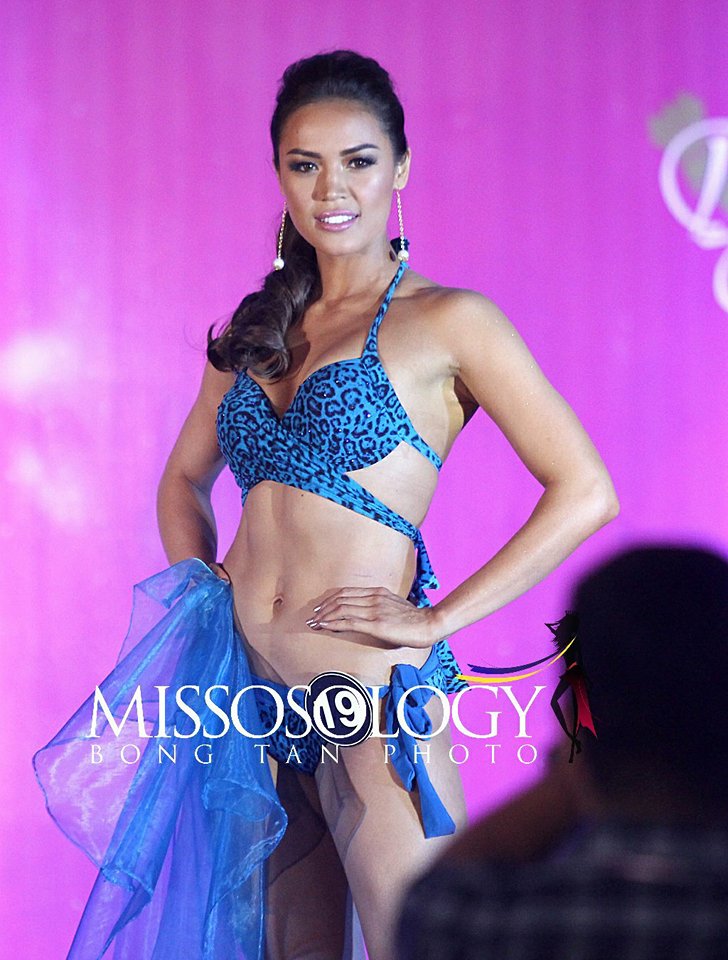 Binibini 35 Sandra Lemonon, who was Miss World Philippines 2016 4th Princess, has gone up several places in our ranking, and is now in fourth place.  This sexy stunner surprised many of us during her stage performance, and we thought that if the pageant were held now, she could be a shoo-in for one of the major titles.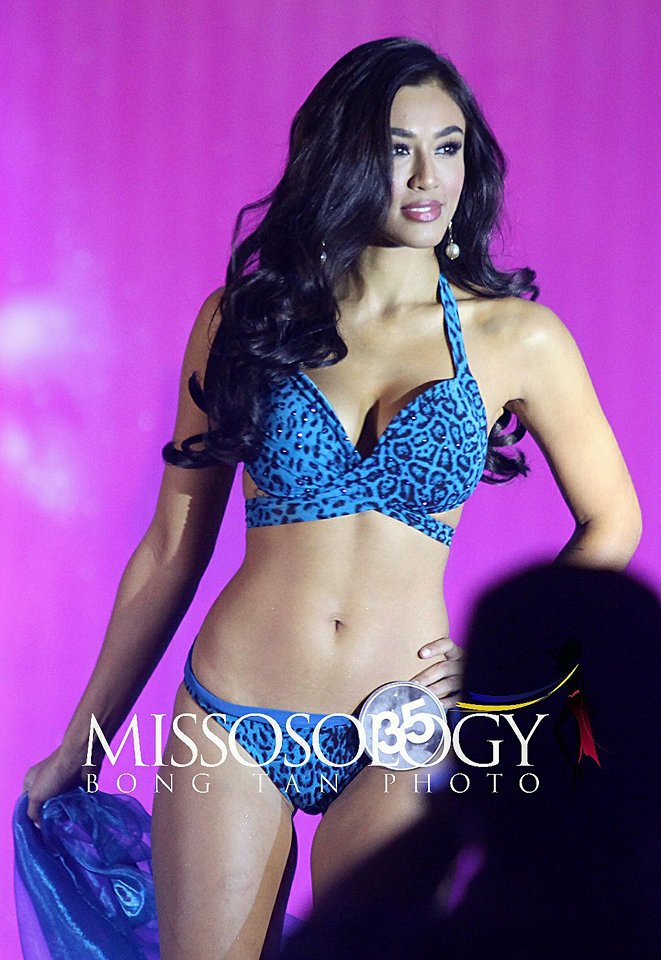 At fifth place, and losing the first spot for the very first time, is Binibini 20 Catriona Gray.  Hopes and expectations are high for Catriona to deliver when it matters.  Unfortunately, during the press presentation, she did not display a winning form, although her pasarela was impressive.  A little more than three weeks to go until the final night, and we advise Cat to hit the gym and be in her best form, if she is there to win the Miss Universe Philippines crown.  In the meantime, Miss Grand International might be where she will end up to.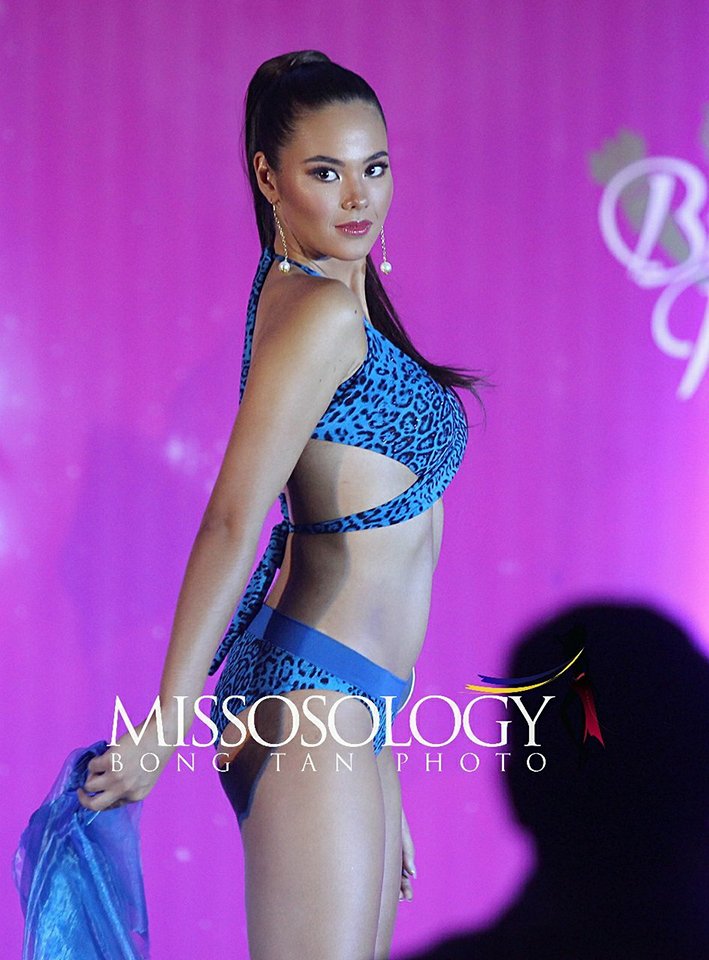 At sixth place is Binibini 23 Dr. Ena Velasco from Bacolod City, another Ilongga who has shown a lot of improvements since the audition.  The former Masskara Queen is aiming to become the second former MQ to compete at Miss Universe, which is exactly 20 years since Jewel Mae Lobaton inherited the Bb Pilipinas Universe title in 1998 after Tisha Siland was dethroned.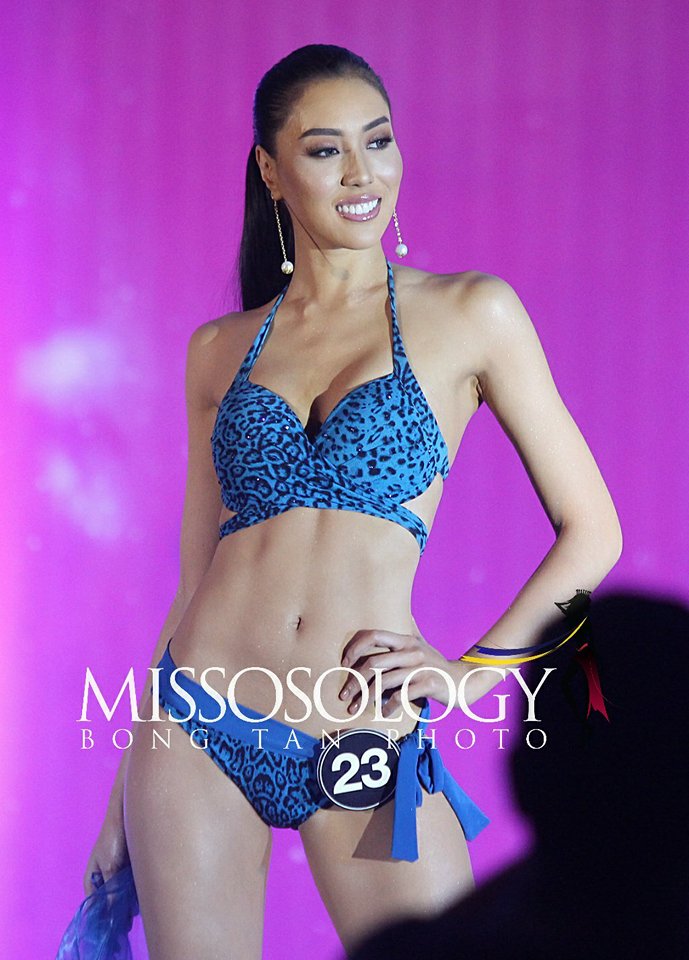 WORTHY CONTENDERS
Other crown contenders who are still in our radar are Karen Gallman, who is back with a better fighting spirit.  Stephanie Joy Abellanida, who is a CPA by profession, also surprised us during the press presentation and we will be keeping an eye on her.  She seems very consistent and she has an infectious smile! Ma. Ahtisa Manalo has the doll-like face which is good at Miss International or Miss Intercontinental.  Eva Patalinjug is also another promising contenter, and we cannot just easily  ignore this Cebuana beauty queen, especially her amazing stage presence. Meanwhile, Angelica Mae Corbe has the bone structure of a Miss Universe contender of the 1990s.
Pageant veterans Edjelyn Joy Gamboa, Muriel Orais, Samantha Bernardo, and Cebuana lass Wynonah Buot complete our Top 15.
In the next few weeks, we shall see who will move up and move down as the most anticipated national pageant in Asia progresses.  What do you think of our list?  Do you agree or disagree?  Post your comments as we highly appreciate the opinion of everyone as the final night of Bb Pilipinas 2018 draws closer.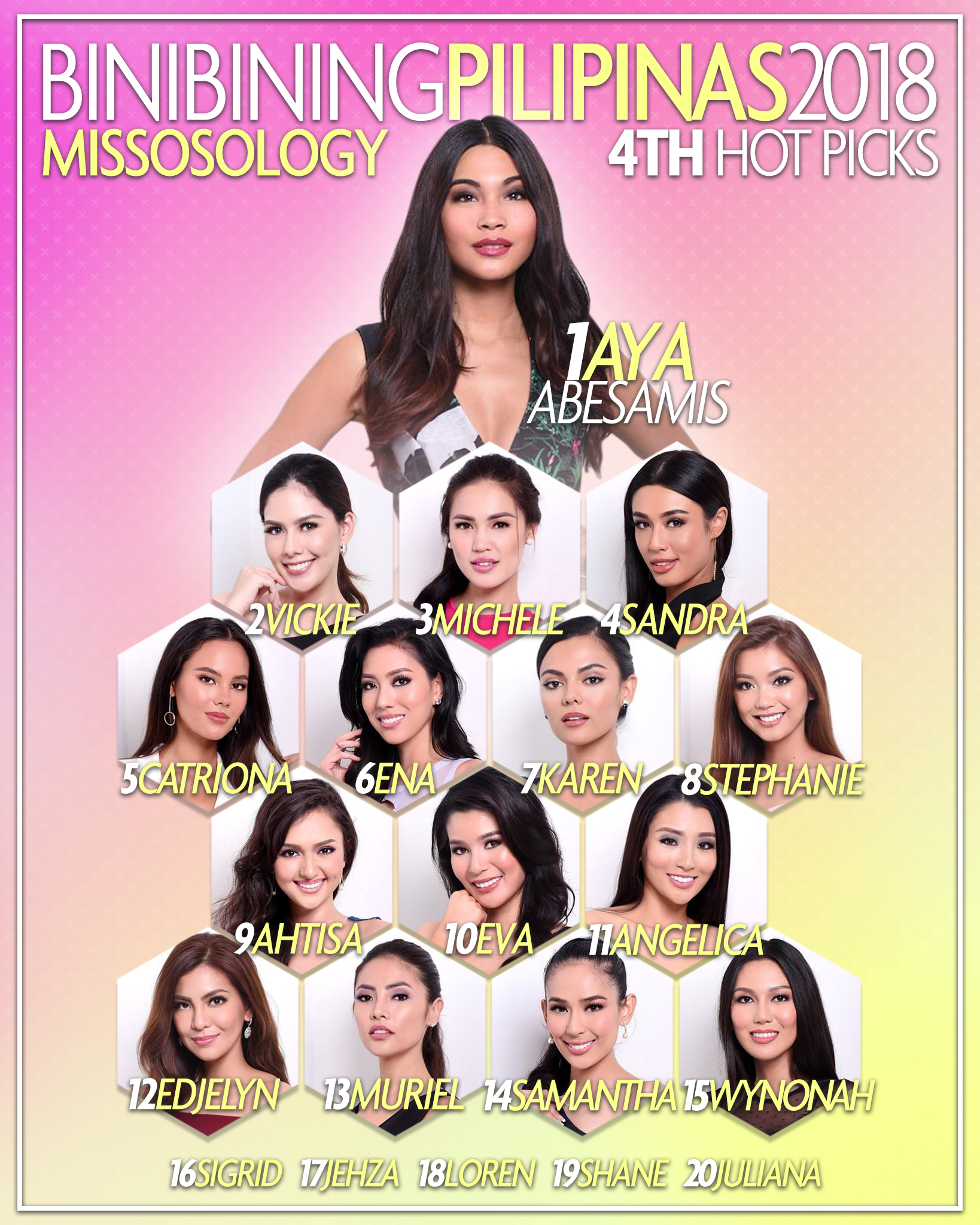 Bb Pilipinas

Fourth

Hot Picks
1. #Binibini11 Aya Abesamis
2. #Binibini1 Vickie Marie Rushton
3. #Binibini19 Michele Gumabao
4. #Binibini35 Sandra Lemonon
5. #Binibini20 Catriona Elisa Gray
6. #Binibini23 Ena Louis Velasco
7. #Binibini38 Karen Gallman
8. #Binibini33 Stephanie Joy Abellanida
9. #Binibini17 Ma. Ahtisa Manalo
10. #Binibini32 Eva Psychee Patalinjug
11. #Binibini28 Angelica Mae Corbe
12. #Binibini24 Edjelyn Joy Gamboa
13. #Binibini3 Muriel Orais
14. #Binibini14 Samantha Bernardo
15. #Binibini26 Wynonah Buot
Bubbling up
16. #Binibini7 Sigrid Grace Flores
17. #Binibini31 Jehza Mae Huelar
18. #Binibini36 Loren Mar Artajos
19. #Binibini8 Shane Tormes
20. #Binibini15 Juliana Kapeundl