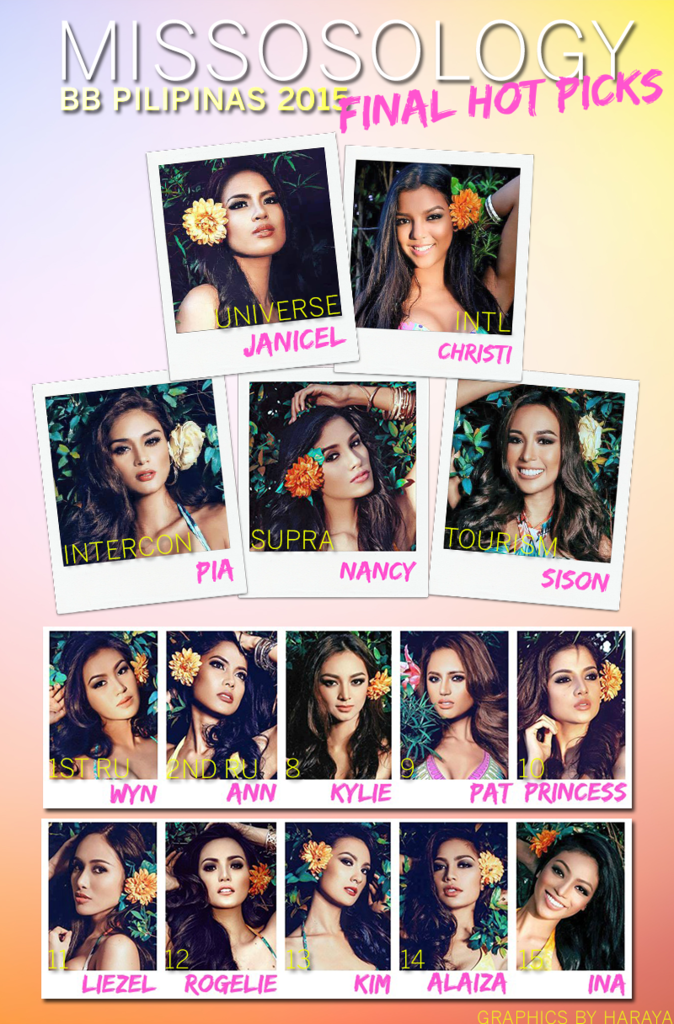 ---
Bb. Pilipinas 2015 Final Hot Picks
The time of the year has come when Filipinos within and outside the country are one in anticipation as to who will grab the major crowns of the ultimate and premiere pageant in the archipelago.  It's the Bb. Pilipinas 2015 Coronation Night, which will be held at the Araneta Coliseum on March 15th.  34 beautiful and accomplished young Filipinas are vying for the five equally important crowns, with the ultimate title of Miss Universe Philippines still being considered by most pageant fans as the top honor.  Other titles at stake are Bb. Pilipinas International, Bb. Pilipinas Supranational, Bb. Pilipinas Intercontinental and Bb. Pilipinas Tourism.  So, here are the final hot picks of Missosology: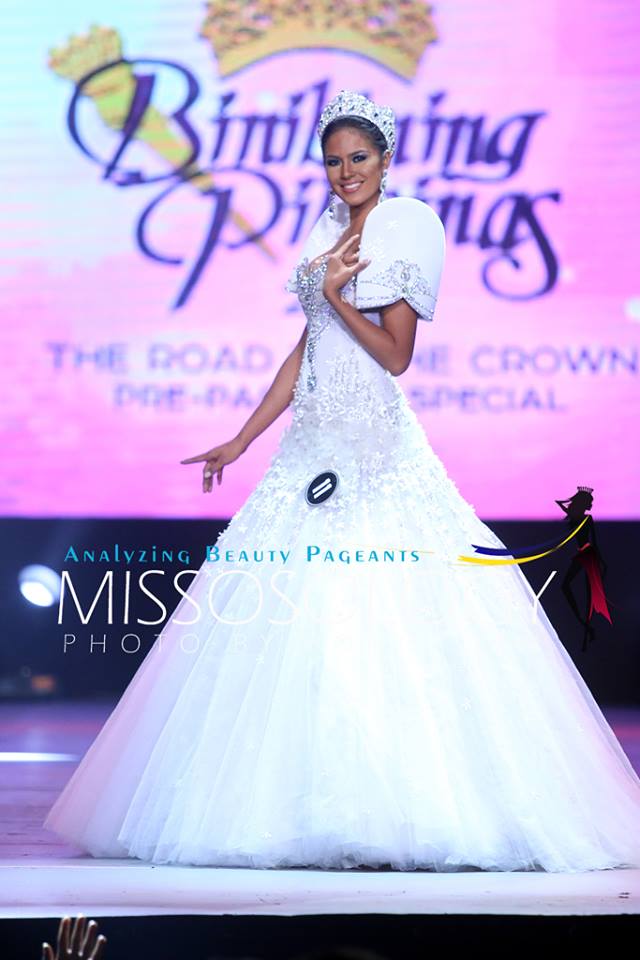 MISS UNIVERSE PHILIPPINES – Janicel Lubina – For the past five years, the ultimate title of Miss Universe Philippines were given to extraordinary women with great scholastic achievements.  There was diversity among the winners and the Philippines had shown to the world how beautiful and intelligent the Filipinas are.  But Janicel's story is very different. Whether we like it or not, she may defy the academic qualities of the past MUP winners, but she is the "ultimate" representation of what a normal Filipina is – well, minus the tall height and heels.  Blessed with beautiful morena skin, jaw-dropping waistline, endless legs and of course, a good heart, this self professed former household helper and a farmer has the story that can make headlines.  But only if the MUP crown is placed on her head!  She may not possess the conventional Hollywood accent that the past Binibinis are known for, but hey, she is a Filipina and the exotic accent is what will make her even more charming and appealing!  She is the real deal, and to deny her of the MUP crown will be a major mistake.  Filipinos will be very proud to have her as MUP, in the same way that they are proud of native-born Manny Pacquiao, with his deadly punch.  As you can see, it's definitely not with the accent at all! If boxing is for the deadly punch, Miss Universe Philippines is for the beauty and magnetic charm, and these are Janicel's main weapons!
BB. PILIPINAS INTERNATIONAL – Christi Lynn McGarry – As mentioned in one of the written posts in the Missosology forum by our main Miss International correspondent, the Miss International system has evolved.  Based on the past years, they have been looking for a different brand of beauty and personality.  Christi perfectly fits the bill!  She has the towering height that will make her easily noticeable during the group activities in Japan, where MI is based.  She has the body frame of last year's winner Valerie Hernandez of Puerto Rico, and she is well-poised as well!  Her facial profile with her hair up is just exactly what looks perfect with the Estelle pearl crown.  So yes, it's definitely Christi for the International title, or we'll say goodbye to the chance of redeeming the injustice that Bianca Guidotti experienced last year.  We are confident of Christi's social and communication skills, so please, give the International title to her!
BB. PILIPINAS INTERCONTINENTAL – Pia Alonzo Wurtzbach – This is Pia's third consecutive try at Bb. Pilipinas, but we never get tired of her! Hopes were high for Pia when she joined again last year, but sadly, she missed to get a title, despite placing as 1st Runner-up two years ago.  Some are saying that she deserves to get the Miss Universe Philippines title, just like how Maricar Balagtas and Mary Jean Lastimosa accomplished such feat on their third try!  But let's face it!  We barely saw a major change with Pia since her stint last year.  We thought that she already peaked up on her first try, and this year has attracted a lot of new and fresh faces who are more deserving than her.  But, that's not to say that we have totally given up on Pia.  She is still as lovely and endearing as she has always been, and we want to see her compete in an international competition.  So, the best option for her is this German-based pageant, where the Philippines had such a bad experience with the robbery that happened to Kris Tiffany Janson last year.  Hopefully, the Germans will be kind to Frau Wurtzbach, because she is one of them!
BB. PILIPINAS SUPRANATIONAL -Nancy Lee Leonard – Nancy is very photogenic!  A lot of pageant fans are crazy with her almost perfect projection, to the point that many are expecting her to win the Miss Photogenic award.  However, she has a bit of a problem with her communication skills.  So, okay, what about Lubina, if you make ask?  Lubina basically is not completely unfortunate when it comes to her speaking skills.  Her thoughts usually make sense, and her accent is lovely.  However, with Leonard, although much is expected from her because she was once a Top 5 at Miss Earth Philippines, she really has the tendency to choke up.  Hopefully it won't happen on Sunday night because we love Nancy!  She can be a great Miss Universe Philippines if only she is taller than Lubina!  But, in Miss Supranational, there is no question and answer portion on stage!  So, that's where she should go!
BB. PILIPINAS TOURISM –  Hannah Ruth Sison – After last year's commendable finish as 2nd Runner-up, it will be fitting to give Hannah a crown on her third try!  So, her friend Parul Shah may turn over the tourism title to her.  What is regrettable with this title is the fact that it deprives a girl from competing in an international pageant, and we don't want a younger contestant to be trapped with this, and not be able to compete again in Binibini.  So, as a pageant retirement gift for Hannah, she might as well become an ambassador for Philippine tourism, which is a very respectable title.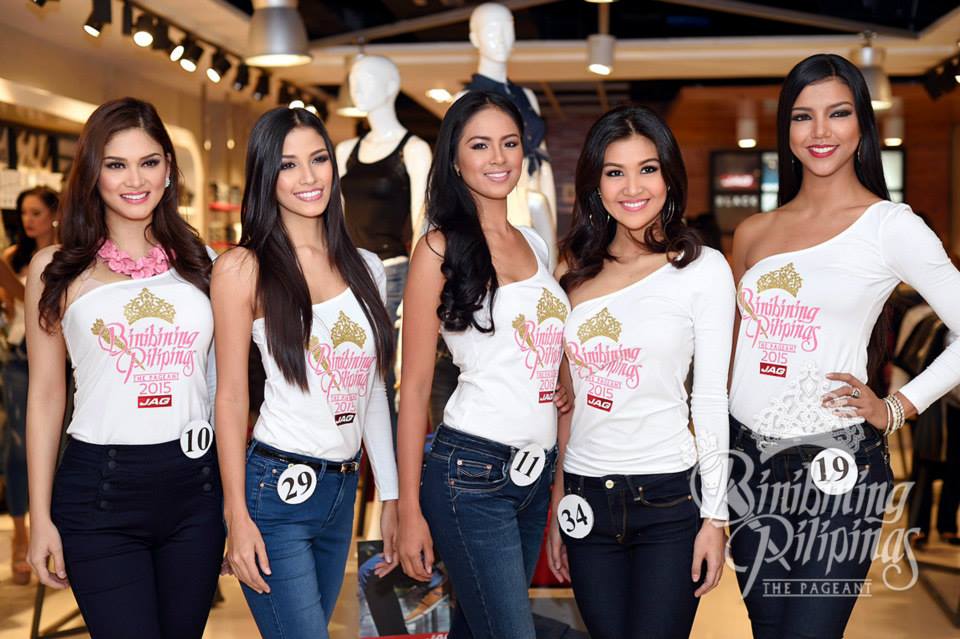 1st RUNNER-UP-  Teresita Ssen Marquez –  Wynwyn, as she is popularly known, is a performer.  She is very talented and we expect her to win the Best in Talent award.  She is cute and has the showbiz prettiness written all over her, but to be sent to an international competition is not for her!  She may be the daughter of two famous Philippine celebrities in the 1980s and 1990s, but here in the 21st Century it's all about real qualification!  The social media is a cruel world, and we don't want Wynwyn to become a subject of ridicule if she is forced to get a title that she does not deserve.  We are not undermining her qualities of becoming a beauty queen, but let's face it!  She's not her auntie Melanie who has the proverbial "long legs".
2nd RUNNER-UP Ann Lorraine Colis – When it comes to facial beauty, Ann Lorraine is definitely one who always stood out during the Binibini activities.  All she needs is to polish her catwalk skills and to show some more curves in her body because that is what she is lacking.  A runner-up position will be good for her now, so she can come back and aim for the Universe next time, because that's where she belongs!  As of now, she is someone who simply resembles Miss India Universe 2014 Noyonita Lodh.
8: Kylie Verzosa – Kylie is very beautiful!  She reminded us of Marie Ann Umali and Francine Prieto (Anna Marie Falcon) when these two competed in Binibini.  She has the mestiza look that would be a good contender at Miss International during the 1990s, but nowadays, such formula does not work.  We hope to see her compete again and get a title!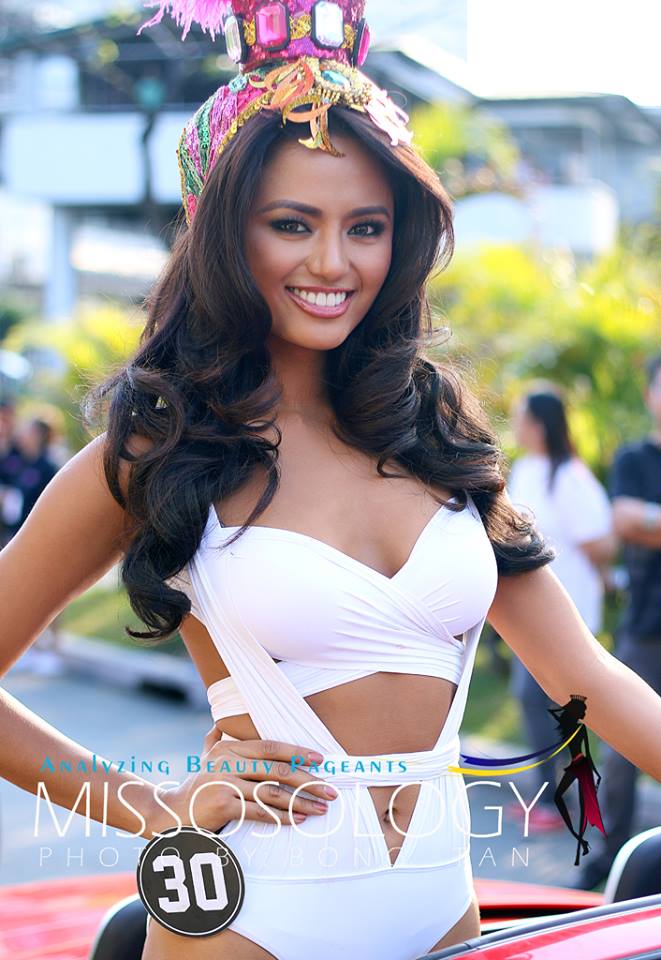 9: Patricia Lae Ejercitado – This is Letlet's third attempt to win a crown at Binibini, but the elite circle of winners is already crowded with repeaters and pageant veterans who have achieved better results than her.  She will be a great contender for Miss Universe, just in case she gets one of the crowns.  So, we are hoping for the best!
10: Princess Joy Camu – She has been gaining a lot of momentum as the coronation day approaches, so we'll see if luck will be on her side.  She needs to really step up her game in order to be noticed and remembered, because at times she tends to blend in with the group.  If ever she gets a crown, she will be a good alternate for Miss Intercontinental!
11: Mae Liezel Ramos – She is another alternate for Miss Universe Philippines, which now happens to be full of alternatives!  She is like the Oriental version of Gabriela Isler, and she is more prepared now.
12: Rogelie Catacutan – This Cebuana stunner might pull a major surprise this coming Sunday!  She is a real fighter and a serious contender, and once she is given the chance to hold a microphone, be ready to be mesmerized!  Cebuanas are known for their impeccable speaking skills!  International or Intercontinental may be good for her!
13: Kimverlyn Suiza – Oh, the lovely lass with a swan's neck!  Sometimes Kim is in, and sometimes she's out.  She needs to know her best styling because at times, when she is not careful, she sports a look that make her head look disproportionate to her body.  If ever she gets a crown, maybe a Tourism title is good for her.
14: Alaiza Flor Malinao – A lot of Missosologists are pegging her to be this year's dark horse, and who knows!  She might pull a Janine Tugonon circa 2011, when from out of nowhere she just entered the Top 5 and placed as 1st Runner-up.  Alaiza is a good alternate for Miss Universe Philippines, but it will be a long shot to beat the heavy favorites.
15: Ina Dominica Guerrero – Ina is sexy, sassy and exotic!  Her skin tone is enviable!  If she does things perfectly right on Sunday night, she might pull an upset win!  Her beauty is very much appreciated by foreigners, so if we see more foreign judges on Sunday, her chances will be up!
So, what do you think of our assessment?  We do not expect to perfectly predict the outcome of this year's Binibini, but through the years that we have covered national and international pageants, we the staff of Missosology have come up with the above final hot pick.  Let's hope and pray for a successful Binibini coronation night!
Grab your ticket now!