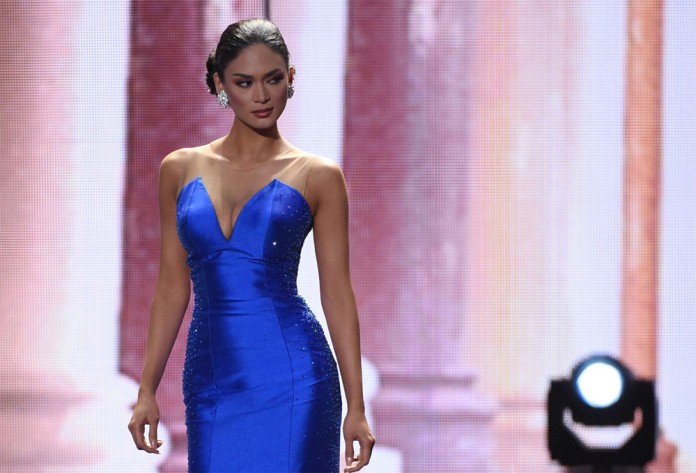 There is no doubt that almost everyone knows by now what was the constant refrain of Filipinos for the past several years. In case you forgot, 'twas: why don't we allow Filipino designers to create the gowns for Miss Universe Philippines. Well, last year, Albert Andrada became a heaven-sent answer. When he was approached to design a gown for Pia Wurtzbach, he never hesitated and designed a perfect piece for a winning candidate.
The royal blue gown of Pia Wurtzbach alludes to the essence of the Philippines. Albert confides that the color represents the azure waters of his country. That the color matches well with the DIC crown was simply a serendipity. In an interview with a Philippine newspaper, Albert revealed what inspired him to create such a dramatic design at the back of the gown. "The back reveals opulent details of sun rays made of beads, sequins and crystals, which represent the sun rising in the middle of a serene blue sea," he said.
Even the minute details are full of symbolism with the tiny sapphire colored crystals and the beadwork representing beautiful sands of Philippine beaches. The multiple folds at the hem meanwhile are inspired by the fins of the different beautiful fishes.
Indeed, the Philippine public was right in demanding that a Filipino designer should design the gowns for their contestants at Miss Universe. As Albert Andrada demonstrated, the very soul and spirit of the Philippines is very much present in that royal blue gown of Pia Wurtzbach. After all, no one knows the Philippines and its beautiful women better than the Filipinos themselves.
For more on Albert Andrada's luxe fashion and collections visit http://www.albertandrada.com/
Check out these articles too!
Analyzing the gown of Miss World 2015 Mireia Lalaguna
Analyzing the gown of Miss Earth 2015 Angelia Ong
Analyzing the gown of Miss International 2015 Edymar Martinez