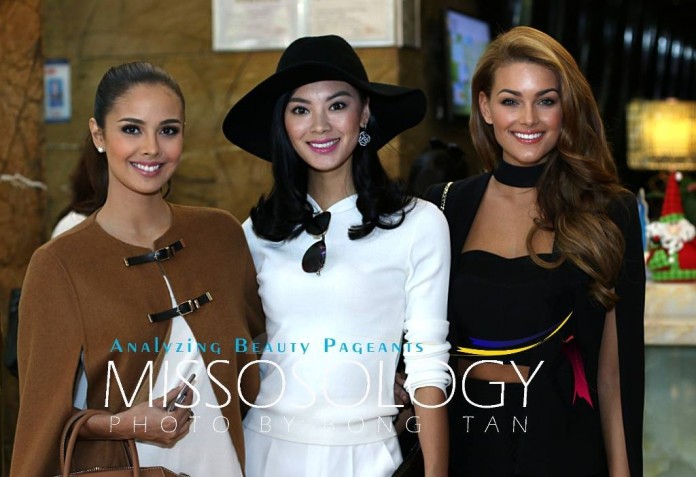 While I was pretty much spot on with my Miss International analysis READ http://www.missosology.org/miss-international/featured-article-miss-international/24016-miss-international-2015/, I was a complete disaster at my Miss Earth predictions, READ http://www.missosology.org/miss-earth/featured-article-miss-earth/25161-analysis-the-miss-earth-2015-pageant-forecast/.
However, this will not stop me from doing on what it seems to be the most difficult job this year – analyzing Miss World 2015. Arguably, Miss World – among the Big4 pageants – would be the most difficult to fathom. This is the first time in recent memory that there is no clear leader and that makes everything exciting.
Cut to the chase, I am focusing on four girls: Miss Poland, Miss Australia, Miss Lebanon and Miss Philippines. Miss Poland Marta Pałucka can be described as, using the missosologists' jargon, a Miss World prototype. Her beauty is what Miss World is looking for. It's been a while since Poland last won their Miss World crown and by the way it was also won in Asia (in Hongkong), so it would be very nice to see the history repeating itself.
Miss Australia Tess Alexander meanwhile is also a strong contender. Let's be honest though that I don't see much of a Miss World in her. She's more a fresh beauty rather than a sweet beauty but we will see if the pageant has changed its taste.
Also a strong contender for the crown is Miss Lebanon Valerie Abou Chacra. Her face is perhaps the most beautiful we've seen this year in any of the Big4 pageants. I am afraid though that she is not making that much of a noise but she is one of the Top 30 at the Top Model contest, so she is pretty much in the contention.
Lastly, I would like to highlight Miss Philippines Hillarie Parungao. She's just Megan Young version 2.0. She's beautiful, she's sweet, very elegant actually. But whether she will win in a hostile environment is another thing. The political spat between China and the Philippines is pretty much intense nowadays.
I am also keeping an eye on Miss Vietnam Trần Ngọc Lan Khuê, Miss Brazil Catharina Choi, Miss Venezuela Anyela Galante and Miss South Africa Liesl Laurie (yes, I think a back-to-back could happen). These candidates are also the possible came-from-behind girls who could simply snatch the blue crown.
Written by Ric Galvez, founder and overall coordinator of Missosology.Org. You may e-mail him at ric@missosology.org