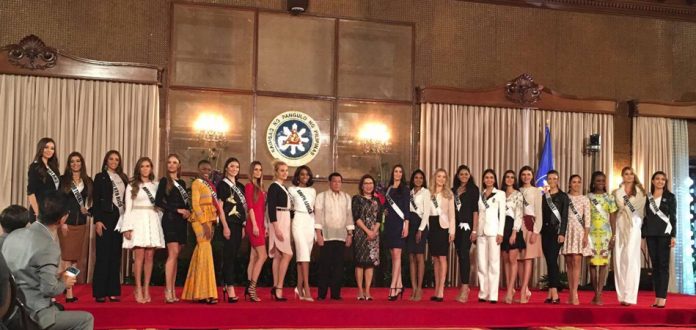 The candidates of the 65th Miss Universe on Monday, January 23, paid a courtesy call on Philippine president Rodrigo Duterte ahead of the finals to be held on January 30 at the Mall of Asia Arena in Pasay City.
Before reading a prepared speech, Duterte expressed his admiration to the more than 80 delegates from around the world who gathered at the Rizal Hall of the Malacanang Palace.
"Before I proceed, I'd like to make an admission that never in my life I have been in a room full of beautiful women. This is either privilege and an honor and I hope that this day will never end," he said, drawing laughter from the audience.
Duterte thanked the Miss Universe Organization for choosing the Philippines to host the pageant's 65th edition.
"I hope that the contestants had a wonderful time visiting places such as Vigan, Cebu, Baguio, Batangas, and Davao. It is truly a great honor for us to be sharing you your most beautiful destinations including the rich culture and history behind each of these gems," he said.
The Philippines, which produced three Miss Universe titleholders, hosted the Miss Universe pageant in 1974 and 1994.
"More than presenting beauty and brains, the Miss Universe competition or any beauty contestant for that matter is an opportunity for you to represent your country, to promote your advocacies, and to advance women empowerment to a greater audience," he said. "That is why I hope that you will continue to make this out of your time here in the competition and in your country."
Miss Switzerland and Miss Finland failed to join the courtesy call since both "are not feeling well", according to organizers. Missosology.Org; PNA; Photos courtesy of PTV/Solar, LCS, MUO