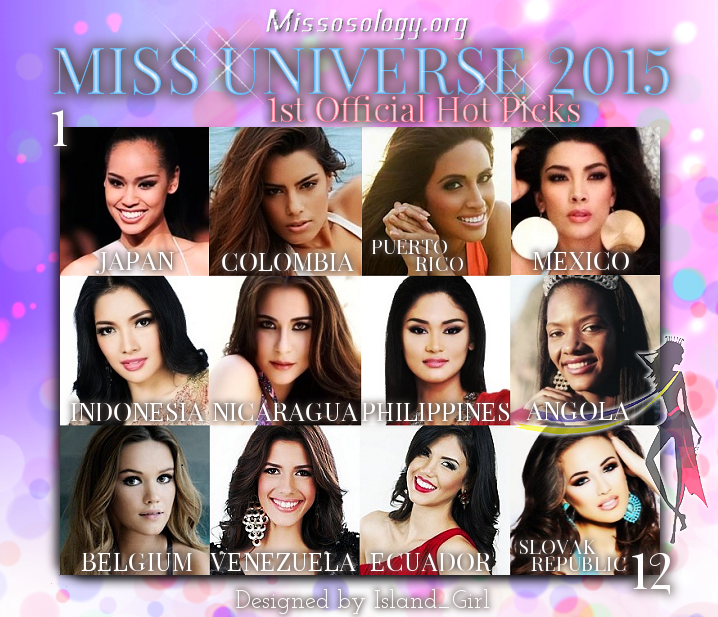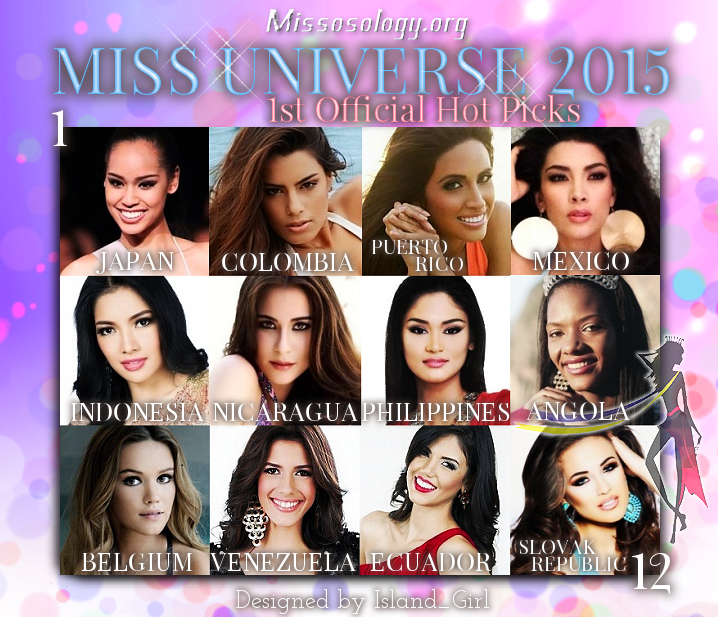 64th ANNUAL MISS UNIVERSE BEAUTY PAGEANT
1st Official Hot Picks
Barely less than a couple of months since the crowning of Paulina Vega as the 63rd Miss Universe in Doral, Florida, Missosology is now on the look out for the hottest and most talked about national delegates who will compete in the next edition of Miss Universe.  So far, less than 30 beauties have been crowned and we have come up with the following hot picks!
1. JAPAN – Ariana Miyamoto.  After being crowned as the first ever multiracial Japanese delegate to Miss Universe, news spread like wildfire not only in Japan but all over the world!  Japan has been unfairly stereotyped as a very homogeneous society, so seeing a half-black half-Oriental delegate from the Land of the Rising Sun became a controversial issue. And who would have expected that Japan would be the first country from the far east to send a half black girl to the world's premiere international beauty pageant?   No other Asian country, apart from Israel, has ever sent a black mix to any BIG 4 Pageant primarily due to the popular inclination towards Eurasian look.  So from America's NBC, to online news networks from France, Brazil, Honduras and even Vietnam, Ariana's victory became an item.  She gave Miss Universe another reason to be something to look forward to this year!
2. COLOMBIA – Ariadna María Gutiérrez Arévalo.  And speaking of newsmaker, Ariadna is the bomb!  She may have the difficult task of achieving a back-to-back victory for Colombia, but it's highly possible that she could achieve that!  During the last Miss Universe pageant, a lot of fans had initial reservations towards Paulina being crowned as MU because they thought that Ariadna would be a better winner from Colombia than her.  But lo and behold, Paulina won and now, people are doubting a back-to-back for Ariadna.  This woman is capable of getting a third crown for Colombia so never underestimate this goddess!
3. PUERTO RICO – Catalina Morales Gómez.  The Boricuans should feel more confident with Catalina.  She is fresh looking, and her exotic beauty is very appealing.  Her catwalk skills is impeccable, so this year we expect Puerto Rico to be back with a bang!   We just hope that she maintains her fresh look and youthful vibe before competing at Miss Universe.
4. MEXICO – Wendolly Esparza Delgadillo.  Two straight years of no placement from Mexico must be very painful for Lupita Jones, the national director of Mexico and a former Miss Universe winner herself.  And not just her, the Mexicans have been weeping for their dismal performance at Miss Universe despite sending a topnotch delegate in the previous edition.  However, this seems to be a year of quiet vengeance for the NBM family, who will surely prepare Wendolly to win the MU crown.
5. INDONESIA – Anindya Kusuma Putri.  Indonesia is definitely on the roll these past few years!  They are gaining momentum, and the selection of Anindya received mixed reception, although we see the reason why she was chosen as this year's Puteri Indonesia.  Have you seen the similarity between her and Miss Universe 2012 1st Runner-up, Janine Tugonon?  Anyway, we have already seen a lot of quick improvements from Anindya since her crowning, so we are expecting even greater transformation for her in the coming weeks and months.
---
6. NICARAGUA – Daniela Torres.  The very beautiful and elegant Daniela won the Miss Nicaragua 2015 crown with no serious competition at all!  She won by a landslide!  She was flawless on stage, and was beaming with a lot of self-confidence and poise.  She is Nicaragua's best winner in recent years so we can only hope that she will get an excellent support and preparation.
7. PHILIPPINES – Pia Wurtzbach.  For now, she may not be a hot favorite for the crown but she is a favorite by her countrymen.  She does not have the winning form, yet, but watch out!  Bb. Pilipinas is capable of transforming their MU delegate to an amazing level!  In fact, during the past five years, a lot of Filipino pageant fans are more excited with the  transformation of their chosen MU delegate than the actual crowning itself.  Pia will certainly not disappoint us in the next few hot picks!
8. ANGOLA – Witney Shikongo.  This southwestern country is very consistent in sending quality girls, and they are well-prepared.  After Leila Lopes' victory in 2011, they may have failed in entering the semis spot but we are more confident with Witney to break that spell.
9. BELGIUM – Annelies Törös.  This natural beauty is very hard to ignore.  Preparation is the key for Belgium to place once again in Miss Universe.  Now that she is being recognized, we hope that her organization will prepare her extensively.
10. VENEZUELA – Mariana Jimenez.  This South American pageant powerhouse is in trouble!  The national economic situation is taking its toll.  Sponsorship and industrial support is lacking. Mariana should better study hard on how to make her look more feminine because at times, she has the Jictzad vibe.  Catwalk wise, she is an excellent contender!
11. ECUADOR – Francesca Cipriani.  We actually wonder how Francesca won over Daniela during the Miss Ecuador contest, but if last year's delegate failed to enter the cut, we doubt if Francesca can do better than her.  As of now, she can focus on preparing and improving herself while waiting for the rest of the MU delegates to be decided in the coming months.
12. SLOVAK REPUBLIC – Denisa Vyšňovská.  Beautiful in glam shots, but in candid photos she is just ordinary looking.  She needs to improve her body as well.  There is still time for transformation!