MISS INTERNATIONAL 2014
PRE-FINAL REVIEW
And one more night to go!  Who will be the new Miss International?  We will find out in less than 24 hours!
But before we reveal our Missosology Final Hot Pick, check out the individual review of all the delegates from our resident correspondent who has met all the delegates in several activities this year!
Argentina.  Josefina Herrero – Knowing that Miss International has the tradition of introducing the girls in alphabetical order, this lovely maiden will open the show with her glorious national costume!  She will set the standard, and for anyone in a pageant, it's indeed a difficult task.  We believe that Josefina will set a really high standard and we mean it in a good way!
Armenia.  Shushanik Yeritsyan –  Photos don't do justice on her!  In person, she looks like a goddess from ancient times that we see on history books.  We usually see her look in classical movies, with roles of a beautiful princess being lured by princes from east and west!  She can either be Caucasian or an Oriental beauty, depending on her hair color.  Such is her versatility, and we hope that the judges will appreciate her during the finals.
Aruba.  Francis Massiel Sousa –  The national costume is just getting better and better for this happy island in the Caribbean!  We love her performance during the press presentation, and her vavavoom body is to die for!   Aruba last placed in the Miss International winners' circle, way back in 1994, and that's already 20 years ago!  Will Francis be the next one?
Australia.  Bridgette-Rose Taylor –  She is very a sweet young lady, and based on her performance at the Miss International forum held last week, she is a great speaker.   However, she will succeed Aruba in the national costume presentation, and that is a huge disadvantage because she will pale in comparison.  Our advise to her during the finals… do a 3-second Aborigine dance to be remembered!
Belarus.  Natallia Bryshten – Two words to describe her, "effortless beauty".  She can just sit down, do nothing or have a neutral face, but her presence is very much felt because she's got a heavenly made facial bone structure that fits any cover pages of a fashion magazine.  We have high hopes for Natalya!
Belgium.  Gönül Meral – She is "Miss Personality" no doubt!  The most charismatic contestant this year, and definitely one of the best dressed!  If there is one delegate who seems to be always visible in pageant blogs and websites, it must be her!  She always sports a new hairstyle, and that is quite interesting. Gönül is a woman of substance, and she can speak several languages. She does not forget her Turkish heritage, but at the same time, she is proud of her Belgian upbringing.
Bolivia.  Joselyn Toro – The Latin American group is filled with a lot of strong girls coming from non-traditional pageant powerhouse, that we barely noticed Joselyn.  But, her national costume presentation was remarkable!
Brazil.  Deise Benício – We had really high expectations for Brazil this year.  It is one country that is doing really well in the other BIG4 Pageants, but in Miss International, they seem to be clueless about it.  This year, Denise is being packaged poorly, although there is no doubt that her beautiful face is one of the best this year!
Canada.  Kesiah Papasin – Although she was born and raised in Canada, she is full-blooded Filipino with roots in Mindoro island.  She has this exotic look that could have been packaged like an American Indian princess (Pocahontas for instance).  Capitalizing on her looks, we would rather see a more sophisticated Kesiah during the finals, sporting a neat low bun.  She has an infectious smile and that's something that is well-appreciated by the Japanese.
Chile.  Tania Dahuabe – Chile is back after a few years of absence, and with a revamped Miss International Chile, they sent Tania who is always looking happy.  She seems to really enjoy every activity, and we hope that her participation will send a positive signal to the Chilean sponsors to support MIC because their delegate this year is doing a great job!
China.  Wei Lisi – For a change, China is sending a Mongolian beauty at this year's  Miss International!  She has this royal Oriental look, jet black hair and very appealing personality.  Her English ability is also above average, which is a plus!  Her national costume, although very simple and unassuming, caught our attention because of the way she presented it.
Chinese Taipei.  Yang Yuyao –  She is a cute delegate, who may pass as Miss International Japan.
Colombia.  Zuleika Kiara Suárez Torrenegra – The staff members and chaperons love her.  The people in Japan love her.  Zuleika is one unforgettable beauty who can easily steal your heart!  She is always smiling, and never ran out of energy!  She can be fierce, sweet and elegant, depending on the occasion.  Such versatility is rare, and she has it!   Go for the win!
Cuba.  Adisleydi Alonso Rodríguez –  At first glance, you may not notice her right away.  But the longer you stare at her, you will be reminded of those Hollywood TV stars of the 1990s, playing the role of a hot young lawyer.  She is eloquent, and has the commanding presence that MIO is looking for.  Watch out for her!
Curacao.  Chimay Damiany Ramos –  She is cute and sweet, but we wish to see more energy from her.
Dominican Republic.  Bárbara Santana – One of the best Latinas this year!  Her fashion statement is topnotch, and she is fluent in English too!   What is admirable with Barbara is her simplicity, yet she catches attention.  Her husky voice is very charming, much like that of Miss Colombia.
Ecuador.  Carla Prado – We were very excited to have Carla as the substitute contestant after the original winner could not be sent to MI because she is overage.  Her cute face does not need heavy make-up, so we hope to see a very angelic and youthful Carla during the finals.
Egypt.  Perihan Fateen – We are very glad to see Egypt back in the pageant after a few years!  Perihan's classic Mediterranean look is mesmerizing.  A great speaker, one is bound to listen to her when she opens her mouth.  She may be caught from time to time showing tantrums and unkind remarks to the staff, but we hope that it's just because of tiredness.  The walls have eyes, so all the contestants must be very careful.
El Salvador.  Fátima Idubina Rivas Opico – Wearing one of the most unforgettable national costumes, Fátima needs to make her presence be felt even more because she is surrounded by fellow Latina delegates who are more popular due to tradition and other political factors.
Estonia.  Birgit Konsin – No doubt that she has one of the sweetest faces in the competition, but we are not seeing a winning aura.  Her national costume had no impact at all, so her only chances are her swimsuit and evening gown presentations.
Finland.  Milla Romppanen  – If there is one contestant this year, who screams "royalty personified" it's got to be Milla!  She is packaged perfectly for this pageant!  Not only does she have silky white and flawless skin, she is always well-poised and is never seen showing a tired look no matter how exhausting the day is.  In Japanese, she is johin.  And she is very powerful when she speaks, like a seasoned politician.
France.  Aurianne Sinacola – One thing that we love about her is the very amiable face.  Once she smiles, you will be drawn to her.  After last year's absence, France is back with bang and Aurianne is a great delegate who can put France back into the limelight.  Watch out for her charming French accent during the speech competition!
Gabon.  Maggaly Nguema  – Last year, Gabon sent a super beauty but she was ignored by the judges.  But, this country is never gonna give up with Miss International, while the rest of the African continent seems to have abandoned this pageant since time immemorial.  For the third straight year, and the second time around, Gabon is sending their national queen to this pageant, and Maggaly is not just a pretty face.  She is a philanthropist, a singer and hard worker.  Hopefully this year, the judges will see things beyond the skin color.
Georgia.  Inga Tsaturiani – She is more into modeling than being a beauty queen.  We love her funky look, with the bangs!  It's edgy and very unconventional.
Germany.  Katharina Rodin – A lot of staff members smile when they see Katharina because she seems to be "lost" most of the time.  But wait, she had one of the best performances in the kimono show!  She delivers when it matters!
Gibraltar.  Kristy Torres – After last year's Top 15 finish for Gibralter, Kristy is her to keep the momentum alive.  Unlike last year, we don't know really know much about her than her two predecessors.  But she seems very cordial and nice so that's a good thing.
Guatemala.  Claudia María Herrera Morales – Seriously, she has a very beautiful face!  And if height does not factor in this pageant, she can be a top contender for the crown!   We hope that the judges won't count it against her.
Guyana.  Ruqayyah Boyer – This is Ruqayyah's third BIG4 pageant, so we are pretty much aware that she is already experienced in this field.  In Miss Universe 2012, she had a major fall in the evening gown preliminary, while in Miss World 2013, her Beauty with a Purpose project experienced some problems before submission.  At Miss International, everything is going on smoothly for her, and not to mention, during the press conference, she was perfectly amazing in her national costume!  Watch out for her Leo Almodal evening gown during the finals!
Haiti.  Christie Désir – The energy that Christie exudes on and off stage is very contagious.  She is brining positive vibes no matter where she is.  Her smile always radiates a certain warmth that is so endearing.  We really hope to see her place high in this competition.
Honduras.  Mónica Brocatto – Last year, the Honuran delegate was sent back home from Narita Airport when she was told that MIO would not accept a last-minute replacement at Miss International.  That explained tha absence of Honduras last year, although their ambassador sat as one of the judges.  This year, Monica is bringing the colors of her beloved country, an she seems to be doing great, and her presence was strongly felt during the press conference, with her huge national costume.
Hong Kong.  Katherine Ho Yim-Kuen – She is very cute and was one of the few girls who was pulled out by the media during the press presentation.  It's a tough battle for her because her neighbor Macau (more about her later) is a top contender and she is always overshadowed by the latter.
Hungary.  Dalma Karman –  Not so many people know that Dalma was actually a repeater at Miss International Hungary.  This year, she won her national title through a series of eliminations via a reality shows that was broadcasted on YouTube.  Mentally and emotionally, this 19-year-old university student is very much prepared.  Her classic European look is rare to find.
India.  Jhataleka Malhotra – Before the actual competition started, Jhataleka was a favorite by many to win the crown this year.  India and Japan, this year, is further strengthening their relationship when their respective leaders had a bilateral visits in each country.  It will be a great feather on the cap if Jhataleka wins the first ever Miss International crown for India because she has really worked so hard for this.
Indonesia.  Elfin Pertiwi Rappa – When you look at Elfin, you think of a cute girl.  But when she holds a microphone, she becomes a different persona!  She is a debater!  An orator!  On top of that, she is also one of the best dressed girls this year!  If Indonesia has to place in the semifinals, they have high chances with Elfin!
Israel.  Shani Hazan – Everyone was excited to learn that Shani was going to compete for Miss International.  Being Miss Israel 2012, she was the second national queen from Israel to compete for the MI crown.  However, there are talks about her weight gain, which we believe are actually non-issue at all!   The most important thing in MI is ones self-confidence and overall presentation, and Shani has one of the sunniest personalities this year!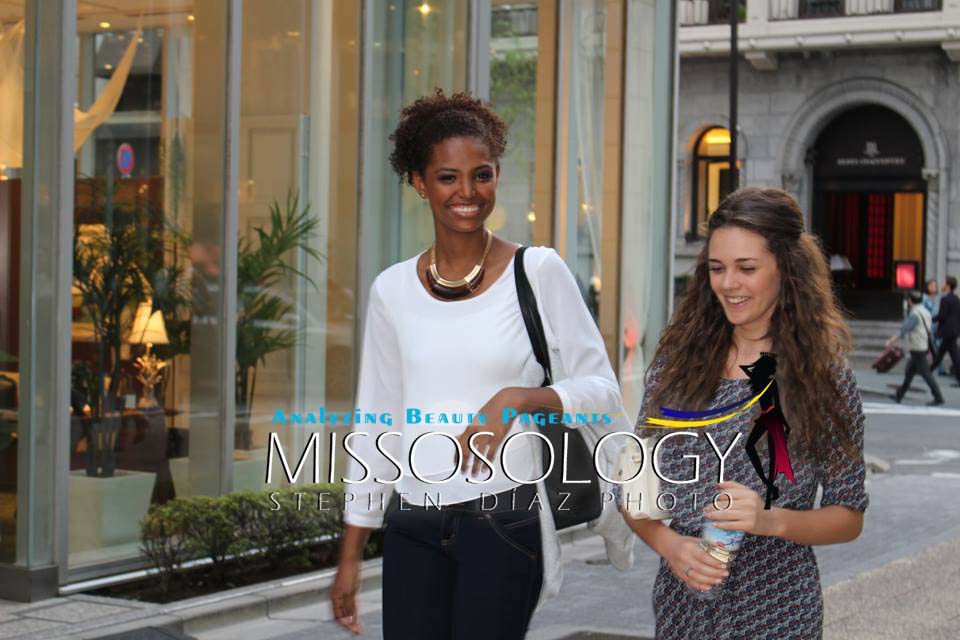 Italy.  Giulia Brazzarola –  She was selected by her national organization out of those who were wearing make up.  So, she came to Japan not knowing what she was up to.  If you see a contestant who does not wear make up in a beauty pageant, this is your girl!  She is very pretty, though.
Japan.  Lira Hongo –  The hometown girl is a university student from one of the most prestigious schools in Tokyo and she has been a gracious hostess to everyone.  She is fluent in English, and has been active in promoting gourmet tourism in Japan.
Korea.  Lee Seo-bin – This tall and modelesque beauty may not be the typical Korean look that we are used to, but she has class and lots of poise.  We are hoping to see a placement for Korea this year!
Lebanon. Lia Saad – Considered as one of the best speakers during the Miss International forum, Lia may be very young, but she thinks maturely for her age.  In two or three years time, she may try competing in another pageant as we find her to be a little bit unripe for a BIG4 pageant.  She has a lot of potentials.
Macau.  Hio Man Chan – After being proclaimed as 2nd Runner-up at the Miss Asia Pacific World held in Korea early this year, Hio was appointed as Miss Macau International a few weeks later.   Being armed with great wardrobes everyday, no one can ignore her presence as she is expected to finally bring her tiny territory into the limelight.  A lot of people expect her to be in the Top 10, at the very least.
Malaysia.  Jayarubini Sambanthan Muthaliyar – She is the best that Malaysia has ever sent to this pageant for many years!  Her tall figure, enviable dark complexion, and big beautiful eyes are not just her only assets.  She is very intelligent and is an eloquent speaker.  If she made it into the Top 10, she is a force to reckon with!
Mauritius.  Shiksha Devi Matabadul – Some may not notice her, but Shiksha was actually one of the best during the Miss International forum.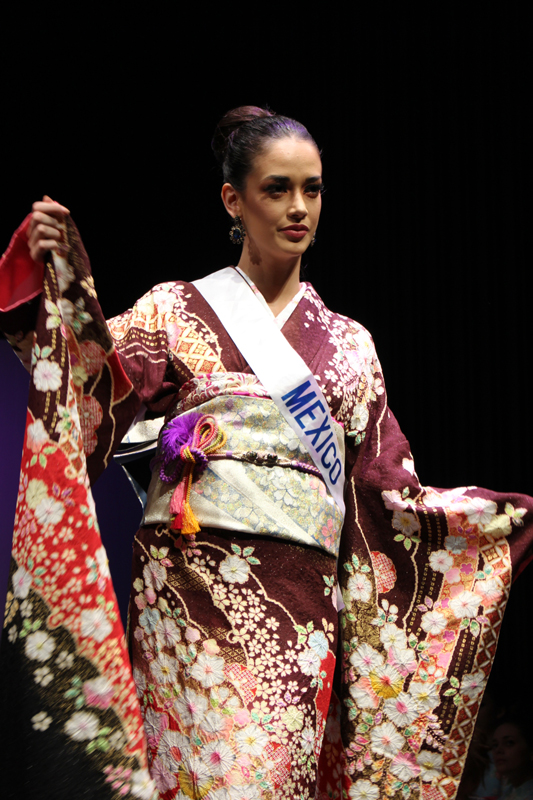 Mexico.  Vianey Vázquez  – It is quite interesting that midway through the competition, a lot of pageant fans were saying that Vianey was competing alone.  Yes, she is very beautiful and has the aura of the reigning queen, Bea Rose Santiago, but her waterloo is her speaking ability.  She needs to be more convincing in delivering her speech.  Other than that, she is definitely the one to beat in this year's batch.
Mongolia.  Bayartsetseg Altangerel – This actress and aspiring film director who resides in California is actually a surprise treat during the MI Forum and press conference!  If she goes far in the contest, she totally deserves it!
Myanmar.  May Barani Thaw –  Her kimono show presentation was eye-catching.  Although May is just a substitute candidate, she is representing her country very well and is always looking good, with proper make up and hairstyle.
Nepal.  Sonie Rajbhandari – The very sweet looking Sonie is representing Nepal very well, and her fans must be very proud of her!  She is very adorable, and you can really sense that she is very smart.
Netherlands.  Shauny Bult – Last year, Netherlands came so close into winning their second Miss International crown through Nathalie den Dekker.  This year, they did not disappoint once again as this lovely lass came very much prepared.  Two years ago, Shauny had her first international experience at Miss Earth, and although she was a major favorite for the crown, she went home unplaced.  Her brand of beauty and overall appeal seem to jive well with the Japanese taste and culture, and indeed, Miss International is a perfect platform for her.
New Zealand.  Rachel Harradence – Her national costume presentation was amazing!  In fact, she was better dressed than her predecessor, although Casey Radley won 2nd Runner-up through determination and inner strength.   We hope that Rachel got some guidance from Casey on her way to the crown.
Nicaragua.  Jeymmy García – This exotic beauty from Central America did not disappoint us in the national costume presentation.  She was hot and fierce!
Norway.  Thea Cecilie Nordal Bull – This sweet teenager who lives just a town away from Oslo is actually like a beautiful blank canvass.  You would want to play with her face because everything is on the right place.  If trained and polished well, Cecilie can become a serious contender for any major international crown in the future.  But at 18, she is very raw.  We can see a lot of potentials in her, and we certainly hope that this is not her last pageant.
Panama.  Aileen Haydée Bernal Ardines –  She is one of the tallest contestants this year, and she needs not to exert effort in order to be noticed.  But, she usually hangs out with Miss Spain and the other Latina delegates so she easily blended in.  It would have been for her advantage if she also grouped with girls from other regions, for sure she would stand out even more!
Paraguay.  Jessica María Solange Servín Narváez –  The very friendly Jessica loves to ask questions.  She has one of the most toned body of the competition so watch out for her swimsuit performance!
Peru.  Fiorella Ximena Peirano Medina – When you look at Fiorella, you will think that she is the long lost sister of Alejandra Andreu, the Miss International 2008 winner from Spain.  And that means a lot!  A little more sweetness and less fierceness (because that is very MU-ish) can bring her far into the competition.  A Top 10 finish for her is very likely!
Philippines.  Mary Anne Bianca Guidotti – The pressure is on Mary Anne as she is the "crown defender" but she needs to loosen up.  She is very beautiful, and it can't be denied that people are awed by her mere presence, not because she is "Miss Philippines" but because she is naturally stunning.  Although some people are criticizing her wardrobes during the pageant activities, but that is something that is always happening with Filipina delegates at Miss International.  A back-to-back win is not farfetched.
Poland.  Zaneta Pludowska – There are so many gorgeous blondes this year that we barely notice Zaneta.  But, she has to make an impact during the very important dress rehearsals because that's where the preliminary judging is going to happen!  And if one is lucky enough to read this part of the pageant review, then she is very lucky!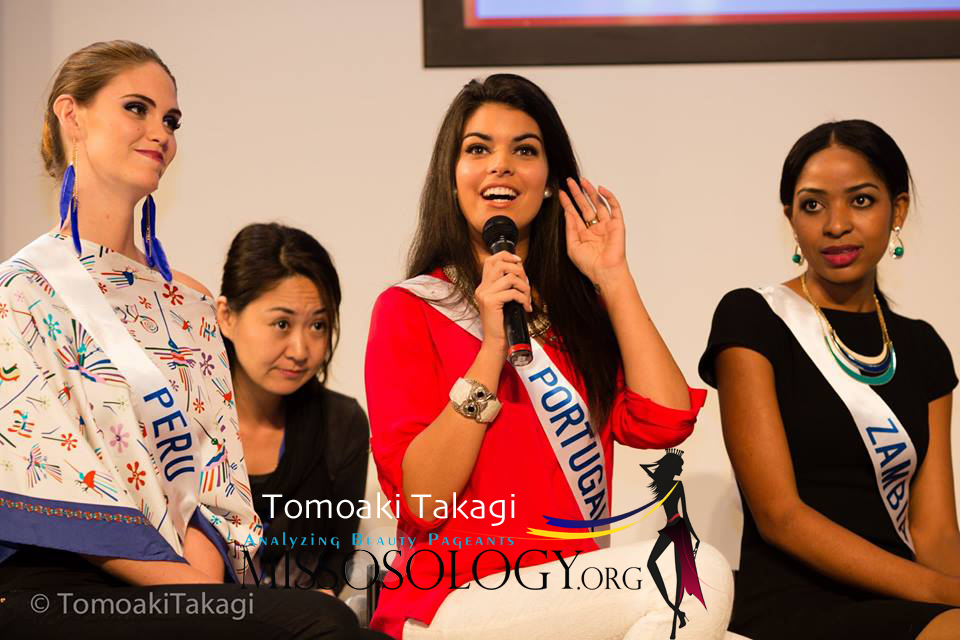 Portugal.  Rafaela Sofia Pardete – Pretty, and someone that any guy would want to introduce to his parents!   Rafaela is the "girlfriend" type of beauty who can be an ideal date because she is fresh and engaging.
Puerto Rico.  Valerie Hernández Matias – She is very sassy!  One look at her pictures and you would wonder if she is a Kardashian!  Love the spunk in her national costume performance!  Bring it on, girl!
Romania.  Anca Francesca Neculaiasa Pavel – This lovely girl has a look of an angel.
Russia.  Alina Rekko – When Alina's photos were first introduced, everyone went ballistic!  She's a goddess!  But as the days progressed, she's being noticed less and less.  To the non-believers, don't just count her out het!  Alina is a brave woman who knows what to say, and has a very strong conviction.  Her MI Forum speech was unforgettable!
Serbia.  Lidija Kocic – In 2010, Lidija represented her country in Miss Universe.  Four years later, she is now here in Japan for her second attempt for a BIG4 crown.  She may have learned a lot from the very competitive MU 2010 experience, so let's hope that it will work this time at MI.
Singapore.  Vanessa Sim – Undeniable smart and a powerful speaker, Vanessa is actually very pretty, especially up close.  What we don't like about her is the light-colored hair.  With her very strong Asian look, it would have been great if she sported a black hair, complimenting her tanned skin.  Other than that, it is a delight to see a dark-skinned Singaporean representing the island state this year.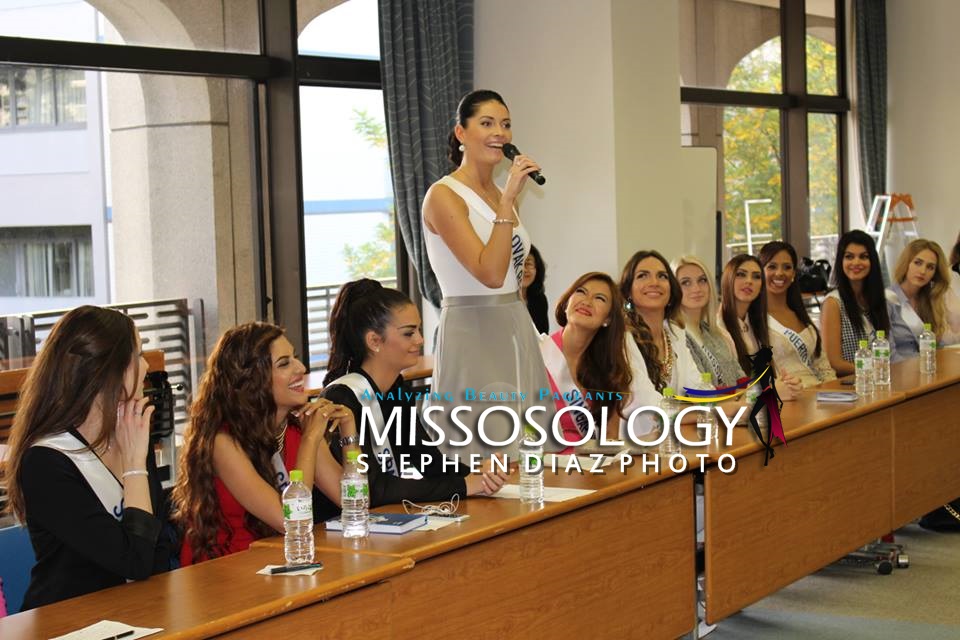 Slovakia.  Lucia Semankova – Beautiful, poised and charming!  The strongest Slovakian to compete at Miss International in recent years, Lucia was indeed memorable during her speech at the MI Forum.  Hopefully, she will sport that same hairstyle during the MI finals because during the forum, she was beaming with elegance and sexiness that is hard to explain.  And she is a talented opera singer, so we should watch out for her!
Spain.  Rocío Tormo Esquinas – Normally, Spain sends sweet looking girl, but Rocio is of rarity.  She has strong facial features that is rarely appreciated in Japan, but who knows what the judges may think of her.
Sri Lanka.  Tamara Shanelle Makalanda – Love, love, love the hair!!!   If she knows how to play with her hair, she might score a lot of points with the judges.  With a great body, all she needs is a memorable catwalk just like what Madusha Mayadunne did in 2012 when she won 2nd Runner-up.
Sweden.  Moa Sandberg – We never expected Moa to be extremely stunning up close and personal.  And she is very tall!  With a new approach to the national costume, where she portrayed a Viking empress, Moa is set to surprise everyone and avenge the injustice that her predecessor experienced last year.  Moa catches a lot of attention wherever she goes, so it means that the Japanese crowd loves her!
Thailand.  Punika Kulsoontornrut – Punika, or Polly, is the "story of the competition".  Dethroned as Miss Earth Water 2013 because of her participation in this contest, she was both admired and condemned by two polarizing factions.  But, this is her life's choice and people should respect her decision, as opportunities like this rarely come.  Polly has a sister who is studying in Japan, so she is very much informed about Japanese culture, and she knows how to act and behave that is somehow pleasing to the Japanese eyes.  A lot of people expect her to be in the Top 5, at the very least!
Turkey.  Hilal Yabuz – Although she was just a substitute after the original delegate backed out, Hilal is actually the tallest delegate this year at 188 cm.  She does not need high heels to be noticed.  And one thing about her that is really appealing is her very friendly personality.  Although everyone is being dwarfed by her presence, she manages to adjust to everyone in order to be relatable.  Such a sweet Turkish delight!
Ukraine.  Yana Ravlikovskaya – Very beautiful, but is always seen with a frowning face.  Such a shame because her beauty screams "Miss International".  Remember, beauty alone won't bring you far into the competition.
United Kingdom.  Victoria Tooby – Among the blonde girls, there is no doubt that Victoria is the girl to beat!  A lot of pageant fans have placed her as one of the top contenders for the crown, and we understand why!  She is simply amazing!  The Japanese university students, especially the guys, went crazy when they saw her!  And she was accommodating to them, with no single sign of inconvenience.   Although she is caught with her tomboyish ways at times, we want to see a very sophisticated Victoria at the finals night.
U.S.A.  Samantha Brooks – Since 2012, the USA has placed in the semifinals and we are very happy with that because the national director is one of the most amiable persons we know.  Samantha reminds us of Miss International 2005, Precious Lara Quigaman.  Pretty, intelligent and elegant.  The Miss U.S. International franchise faces a legal battle against another existing Miss International pageant, which is based in Virginia.  If Samantha wins, it will be huge boost for the real Miss International pageant to fight this case.
Venezuela.  Michelle Bertolini Araque – Michelle is either a hit or a miss.  Many fans think that Venezuela could do better than that!  She was packaged poorly, starting with the national costume presentation.  The ill-fitted silver suit was an epic failure,  and her tendency to wear flat shoes in almost all activities tell us that she is not here to win it!
Vietnam.  Dang Thu Thao – The delegate with the most expensive national costume, we wonder how she got through the Japanese customs, but that's beside the point.  This appointed delegate is a popular model in Vietnam, and is doing quite well in most of the pageant activities.
Zambia.  Mercy Mukwiza –  The last delegate to be presented, and the fourth among the Africans, Mercy is very pretty and is a great conversationalist, as evidenced by her participation in the Food Festa, where she was one of the selected girls to speak in behalf of the delegates.   Although there are only four delegates from Africa this year, it is refreshing to see that it will be ended by a great African delegate, with such a beautiful name… Mercy!