All roads now lead to Malopolska in Poland as the 12th edition of the Miss Supranational finally pushes through. Despite the pandemic limitations, the youngest of the Big5 pageants is expected to stage yet another world class event of glamour, fashion and beauty.
More than 50 candidates from around the world are expected to compete for the crown currently held by Thailand's Anntonia Porsild. As we all await for the ladies to finally touch down in Poland, it is time to finally release our Third Hot Picks.
By now, it should't be a surprise that South Africa's Thato Thelma Mosehle is leading our pre-arrival leaderboard. This 26-year-old stunner, who recently completed her medical internship, is one of the most talked about delegates since her appointment as Miss Supranational South Africa. Miss Supranational has yet to crown an African titleholder, and it would be a crime to waste this stunner. From Thaho we expect the same fire and presence that ladies from the Miss South Africa organization always bring in their respective pageants.
Not far behind is the Philippines' Dindi Pajares. Although just recently crown, it can't be denied that this 28-year-old cabin crew and air force resevist is polished! Dindi has been competing in pageants since 2011 and to carry the Philippines sash in the international arena has always been her dream. With years of experience and preparation, expect Dindi to deliver the goods and give her competitors a run for their money.
Still in third place is Karla Inelisse Guilfú of Puerto Rico. This 23-year-old psychology graduate and certified yoga instructor is sparking hopes of a second Miss Supranational crown for the Island of Enchantment. Beautiful, modelesque and intelligent, we see no reasons why that won't be possible. Her aura exudes a classy touch and her confidence is oozing from within.
Still in the Top 5 is Romania's Michela Ciornea, who is a one of the top favorite among our pool of experts and correspondents. She is a 25-year-old resident doctor and a model who previously represented her country in Miss Intercontinental. Her previous pageant experience plus her unassuming beauty and great stage presence will surely work to her advantage in Miss Supranational.
Completing our Top 5 for now and a new entry is Peru's Solange Hermoza Rivera. This 26-year-old life coach and business systems engineer has a classy and striking beauty. After Peru's runner-up finish in 2019, Solange is definitely ready to win it all for her country.
Also worth keeping an eye out as the pageant progresses is Indonesia's Jihane Almira Chedid who had more than a year's worth of preparation. Indonesia has been performing really well in Miss Supranational over the past years so hopes are high that this 21-year-old actress will finally give her country its first Miss Supranational crown.
Check out the complete list below:
1 South Africa, Thato Mosehle
2 Philippines, Dindi Pajares
3 Puerto Rico, Karla Guilfu
4 Romania, Michela Ciornea
5 Peru, Solange Hermoza Rivera
6 Indonesia, Jihane Almira Chedid
7 Chile, Macarena Gutierrez Radich
8 Namibia, Chanique Rabe
9 India, Aavriti Choudhary
10 Czech Republic, Angelika Kostyshynova
11 Thailand, Benjarat Akkarawanichsil Aebi
12 Dominican Republic, Eoanna Constanza
13 Poland, Natalia Balicka
14 Netherlands, Swelia Da Silva Antonia
15 Venezuela, Valentina Sanchez Trivella
16 Brazil, Deise Benicio
17 Canada, Sasha Lombardi
18 Colombia, Valentina Aldana Dorado
19 Greece, Melina Milliou
20 Panama, Darelys Santos
21 USA, Shivali Patel
22 Ecuador, Justeen Cruz
23 Ghana, Veronica Adu Nti
24 Nepal, Shimal Kanaujiya
25 Bolivia, Luz Claros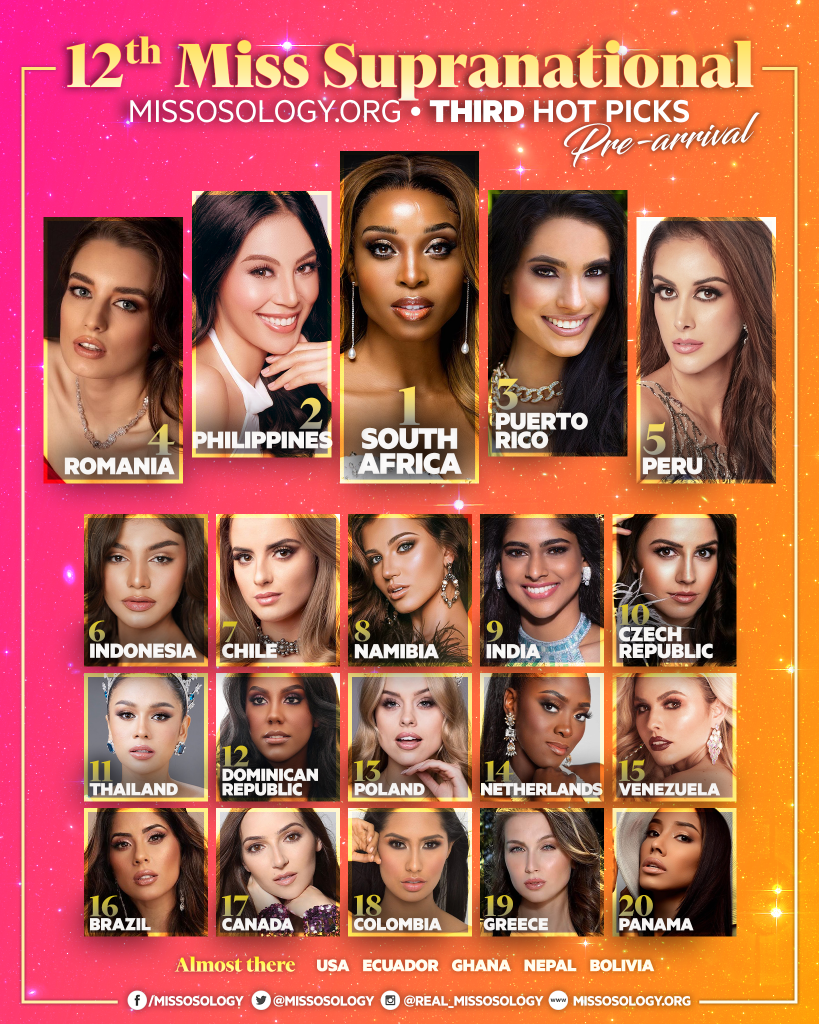 Follow Missosology's social media pages for more updates. Missosology.Org