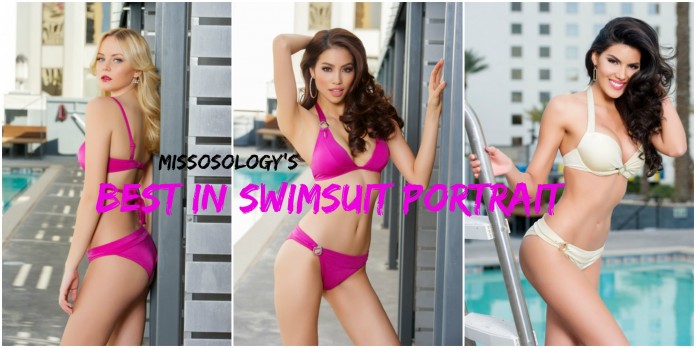 12th Place – MISS USA (Olivia Jordan)
Olivia has definitely mastered the art of looking relaxed and congenial in front of the camera so it's not surprising to say that she nailed her swimsuit portrait at Miss Universe.
---
11th Place – MISS NETHERLANDS (Jessie Jazz Vuijk)
Despite being in a sexy swimsuit, Jessie still looks sweet and natural with her angelic charm and beauty.  She is definitely one of the blonde delegates to watch out for this year!
---
10th Place – MISS DENMARK (Cecilie Wellemberg)
Cecilie with a C!  And that is CONFIDENCE!  She definitely put such an effortless swimsuit portrait, and we are very sure that her training in the US has made her even more confident and fierce at the same time.
---
9th Place – MISS IRELAND (Joanna Cooper)
Despite being the last to be crowned as a national winner, and the shortest delegate this year, Joanna is extremely photogenic and she definitely knows how to cover for what she lacks in height.
---
8th Place – MISS PARAGUAY (Myriam Arevalos)
Despite doing one of the most difficult poses with matching hair flip on one side, Myriam definitely nailed this round with her engaging smile, well-proportioned body and those endless legs!  Just wow!
---
7th Place – MISS KOSOVO (Mirjete Shala)
What we love about Mirjete is how she was able to capitalize on her short hair, which made her look unique but at the same time, it did not take an extra effort on her part to look amazingly gorgeous in swimsuit!  Confidence with a style!
---
6th Place – MISS ISRAEL (Avigail Alfatov)
The Israeli bombshell is indeed a revelation at this year's Miss Universe.  She is sassy, and looks like a high profile top model in Europe even with less make up.  But in her swimsuit shot, she definitely proves that she has what it takes to make it big in the modelling industry!  Watch out for her!
---
5th Place – MISS MEXICO (Wendy Esperanza)
Although the pressure is now on Wendy to perform really well at Miss Universe, despite early pronouncement that they are not competing, this swimsuit portrait simply screams VIVA MEXICO!!!  Mexico is definitely back to slay 'em!  She is indeed an Aztec goddess!
---
4th Place – MISS CURACAO (Kanisha Sluis)
Leaving aside the sash weight of this country, Kanisha is another strong contender sent by this tiny Caribbean isle at Miss Universe.  Somehow, they are being ignored annually, but we hope that MUO, under a new management, will be kinder to Kanisha.  Looking naturally beautiful and relaxed, with no unnecessary poses, she just earned a high score in this round!  Check out that waistline!
---
3rd Place – MISS ANGOLA (Whitney Shikongo)
Among the ebony beauties, it is Whitney who managed to pull this through with a bang!  Looking radiantly beautiful, and armored with an amazing skin tone that is an envy of everyone, she is the strongest African contender for the crown.  Looks like we will be seeing a major comeback from Angola, post-Leila Lopes.
---
2nd Place – MISS DOMINICAN REPUBLIC (Clarissa Molina)
Clarissa is simply unstoppable!  She always nails every photo shoots by being natural in front of the camera, and always acting like a pro.  She is sexy, sweet, pretty, gorgeous, and elegant all rolled into one!  In fact, descriptions about her would be endless! Definitely, one of the best this year!
---
1st Place – MISS VIETNAM (Huong Pham)
Simply put, Huong is perfection in her swimsuit portrait!  Words won't be enough to describe how she totally nailed this portion. She owned this round with the right posing, and the correct angular choice that defined her perfect bone structure. We can easily see her sexy curves and the stare that is piercing, one could die on the spot!  We have never seen such a great contender from Vietnam in any pageant which could equal or come close to Huong.