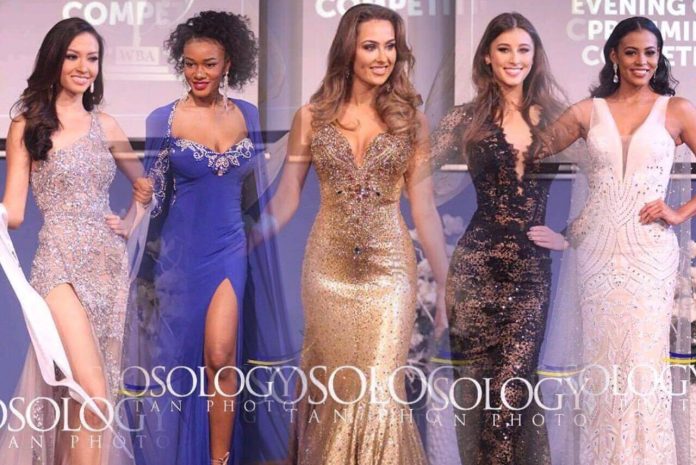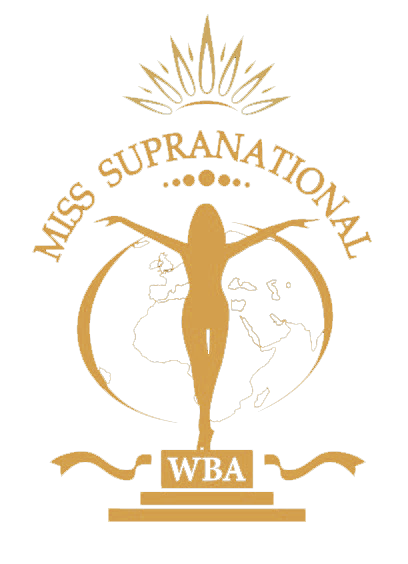 Miss Supranational 2017 has indeed stepped up their game!  It used to be that the preliminary competitions were held in a low key fashion, but this year they have slowly come up with a better presentation. First of the preliminary judging was the evening gown.  Reigning queen Srinidhi Shetty flawlessly hosted the said event, and each of the contestants displayed their evening gowns in a fashionable manner.
Given the fact that it was a closed-door event, some of the evening gowns did not really stand out as they were meant to be.  Unlike in an event held on stage where there is proper lightings, the ones who strategically chose a red carpet gown got our nod.  Some girls outsmarted the others because they knew which gowns to choose, given the venue and situation.
Here are our choices for the most outstanding evening gowns during the preliminary event held last Tuesday.
No. 10
SLOVAK REPUBLIC (Michaela Smarkova).  The simplicity of this evening gown worn by Michaela made her look more classy and expensive in a sea of sparkling dresses before her.  She wore it with elegance and style, which is appropriate for the venue.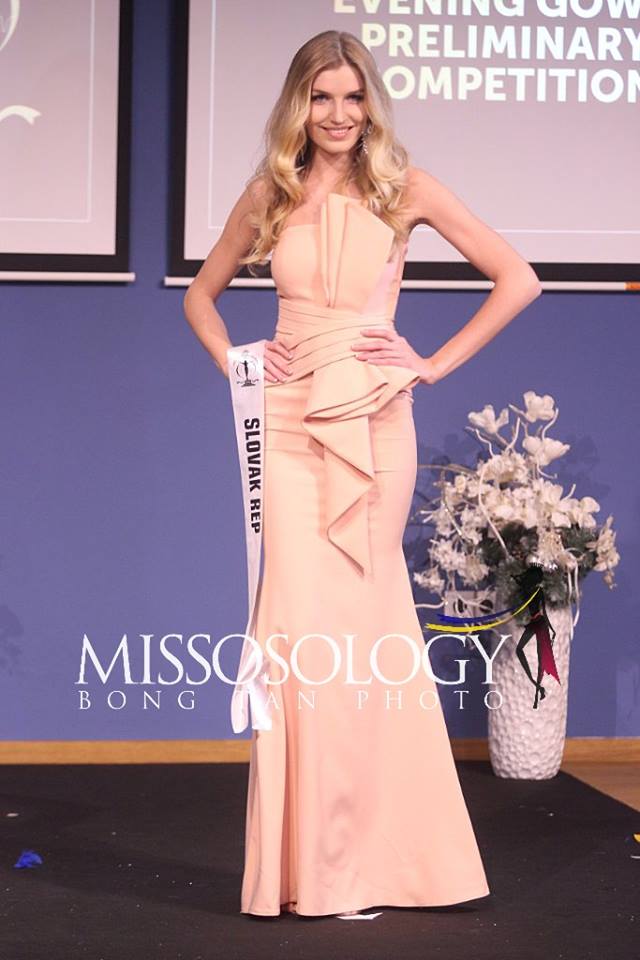 ---
No. 9
CANADA (Karema Batotele).  Perfectly fit to highlight her curvaceous body, this royal blue gown was worn by Karema with elegance and precision.  The cape was not distracting, while the feathers at the bottom gave a perfect accent to the whole dress.  And of course, don't forget that slit!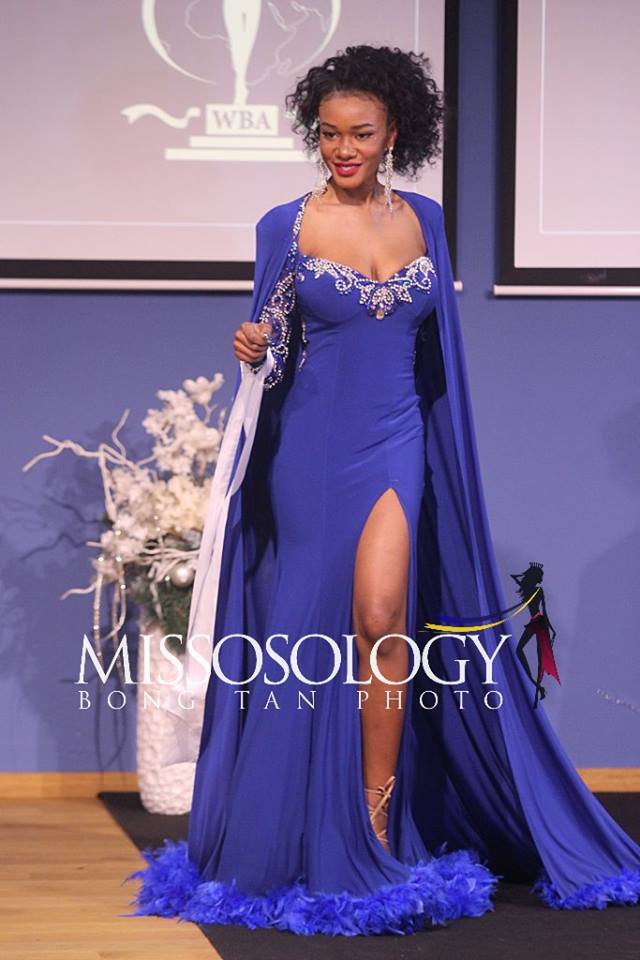 ---
No. 8
COLOMBIA (Tica Martinez).  This dress would have placed higher if Tica walked slowly and gently in order to highlight her curves.  Nevertheless, it is still an outstanding gown with a very risky design, and we appreciate such uniqueness.  Although the color was a little too pale, she was able to carry it well!  The back part is a bit ill-fitting, but the overall design offsets everything.  This gown would look better on stage!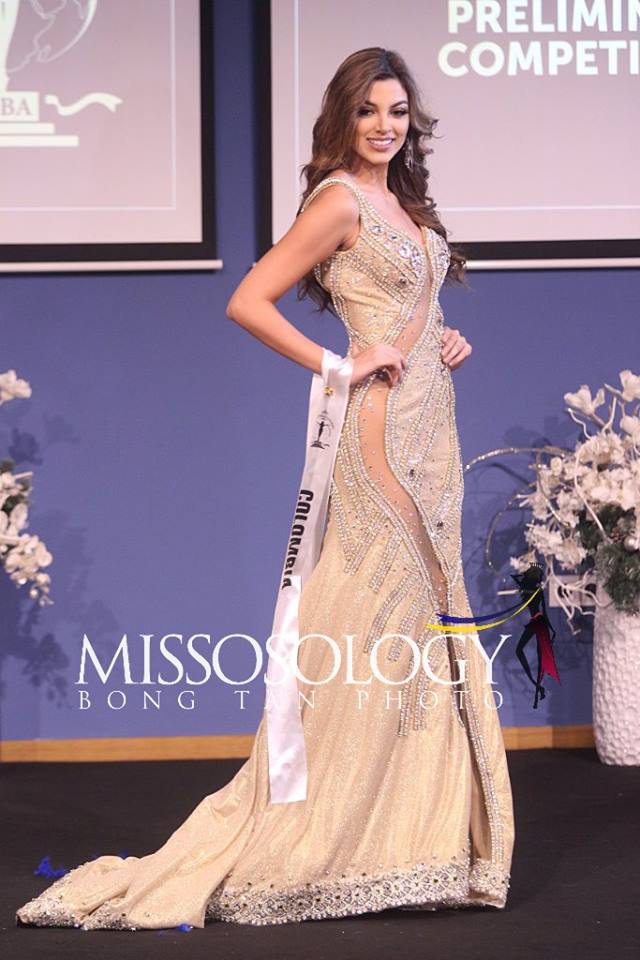 ---
No. 7
POLAND (Paulina Maziarz).  Despite the jet lag after her stint at Miss International in Japan, Paulina is still looking fresh!  And with this beautifully designed black number, she looked gorgeous and sophisticated!  With her thin frame, any gown would look good on Paulina.  The sparkles are in the right place, while the lace designs are placed with the right balance and accent.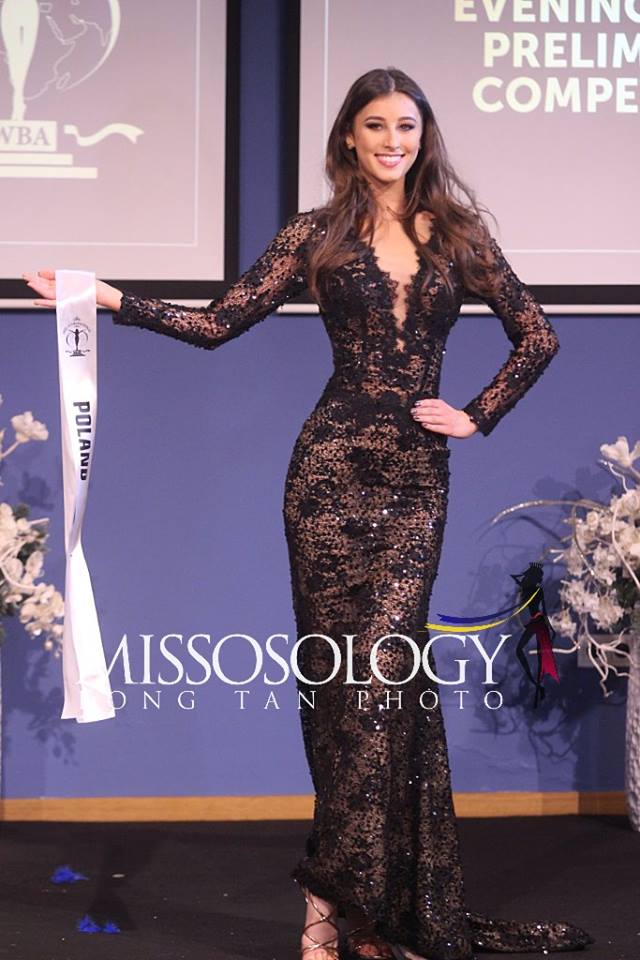 ---
No. 6
PERU (Lesly Reyna).  This gown worn by Lesly is actually one of the most difficult to wear because the upper part must fit well.  And it did!  The zigzag that opens at the bust area makes it sexy but not totally revealing.  What is even more admirable is the matching skin tone that makes the net seem invisible even up close.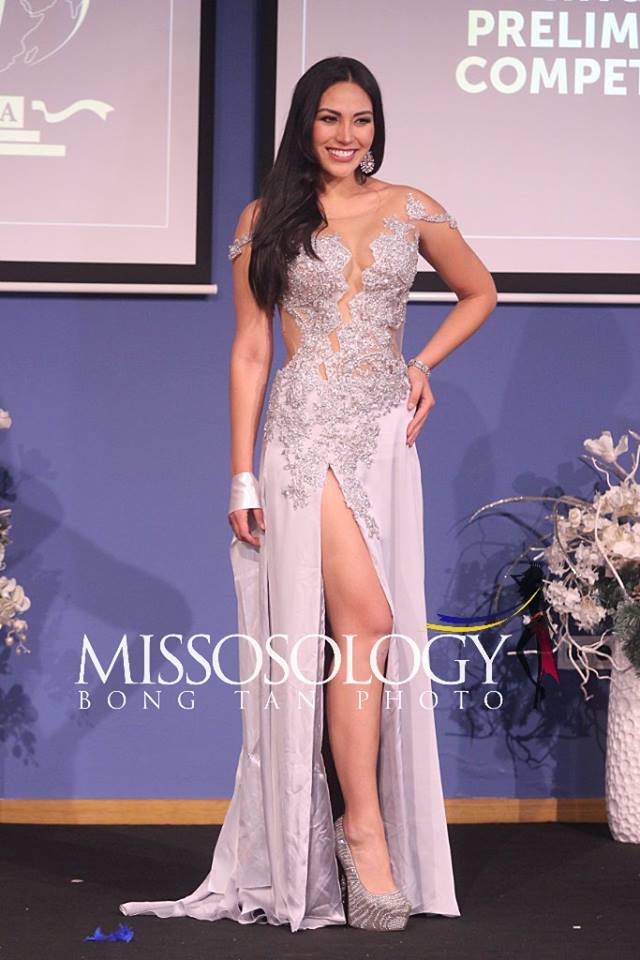 ---
No. 5
ECUADOR (Katty Lopez).  Yes, we may have seen this type of gown before, but this time Katty wore it with class and finesse.  The color is just perfect for her skin tone.  The overall cut made her body look even more curvaceous, which is an absolute plus!  Although we don't have a photo of the back side, it is actually very sensual but not provocative.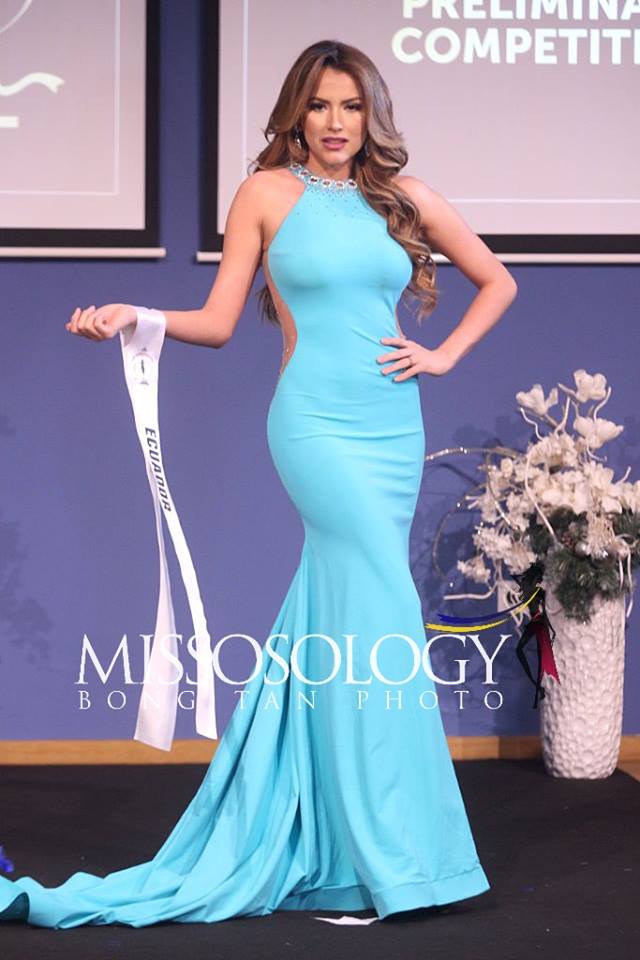 ---
No. 4
JAPAN (Yuki Koshikawa).  This year, there were a lot of red gowns but the one worn by Yuki stood out the most.  The intricate design of the lace patterns, plus the attached jewels and crystals on the upper part made her look heavenly.  Just like Miss Poland, Yuki has a slim frame which made the gown look even more stylish despite its simplicity.  She also did not overdo her walk, so we were able to focus on the beautiful dress that she's wearing.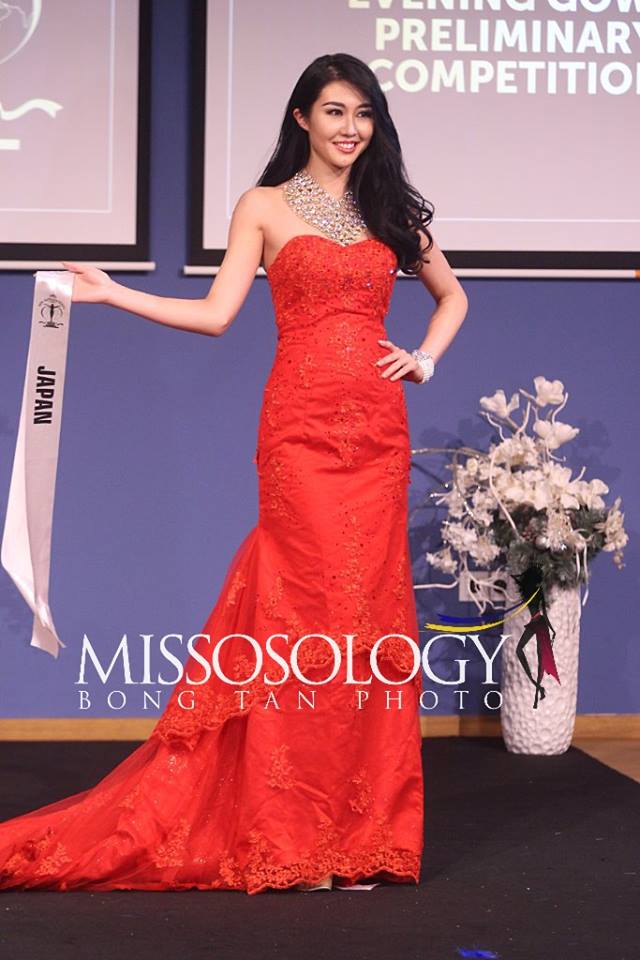 ---
No. 3
MEXICO (Samantha Leyva).  When you're as tall as Samantha, expect that you will be able to carry any gown with opulence and style.  And what a perfect dress this was!  Samantha looked youthful with this white evening gown that would make you stare at her as if she is an angel.  The see-through white cape made it look like a gentle waterfall while the symmetrical design on the front part has some Aztec influence on it. Simply wonderful!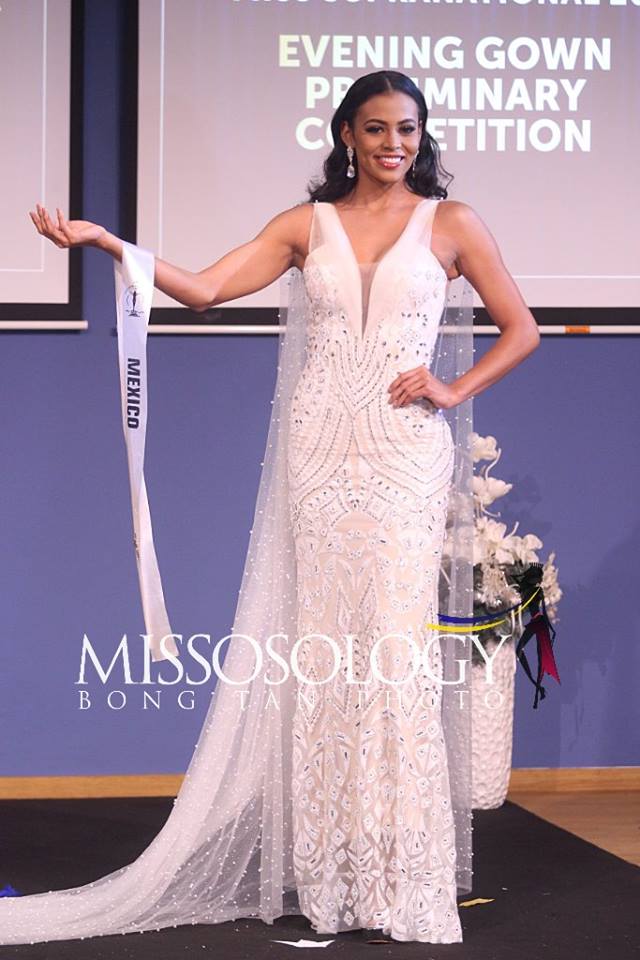 ---
No. 2
INDONESIA (Karina Nadila).  This is a dress that is truly made for Miss Supranational stage!  We expect it to look even better when on stage, but even on a smaller setting, Karina did stand out with this wonderful creation!  Although Karina is not among the tallest contestants this year, she looked as if she is one!  The cut is perfect, and the craftmanship dedicated to its intricate design deserve much appreciation.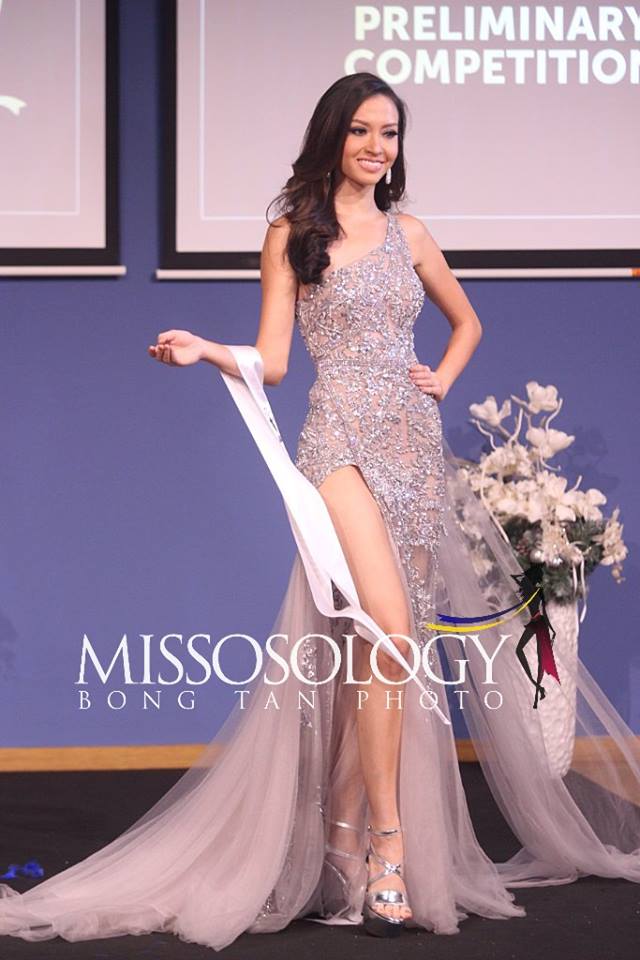 ---
No. 1
WALES (Rachael Tate).  Leo Almodal has done it again!  Do we really have to explain why this is first on our list?  Well, Rachael has this dress ordered from Leo way before Miss Earth 2016 winner Katherine Espin did the phenomenal pose in her pageant.  Yes, the overall look may look familiar, but the color, design and cut are different.  This is the kind of dress that would look perfect whether on or off stage.  With that being said, Rachael has indeed worn the most outstanding gown during the preliminary round at Miss Supranational 2017.