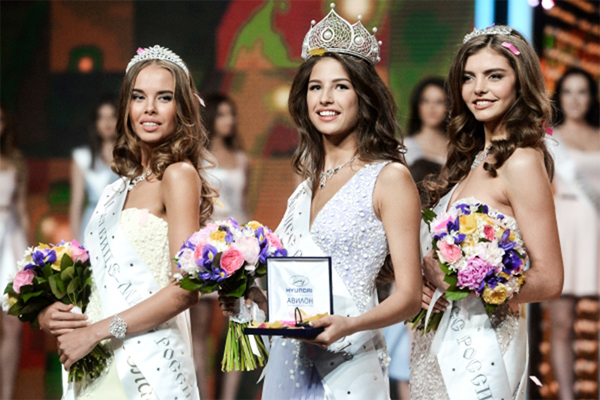 Победительницей конкурса «Мисс Россия-2016» стала представительница Тюмени Яна Добровольская. Ей досталась корона стоимость $1 млн и право представлять Россию на конкурсах «Мисс Мира» и «Мисс Вселенная». Финал конкурса прошел в субботу, 16 апреля, на сцене концертного зала Барвиха Luxury Village.
Yana Dobrovolskaya who hails from Tyumen won the Miss Russia 2016 title. She will represent Russia at the Miss World and Miss Universe contests provided that there are no conflict in schedules. The pageant's finals night was held on April 16 at the Barvikha Luxury Village.
Первой вице-мисс конкурса стала Юлиана Королькова из Оренбургской области, второй вице-мисс — Юлия Хорошавина из Кирова. Всего в финале конкурса принимали участие 50 девушек.
The first runner-up was Yuliana Korolkova of the Orenburg region while the second runner-up is Yulia Khoroshavina from Kirov. A total of 50 women took part in the finals.
После финала конкурса Добровольская рассказала журналистам, что мечтает стать профессиональным педагогом-хореографом и воспитать будущих чемпионов. «Я мечтаю состояться в жизни, стать великолепным педагогом, мечтаю воспитать чемпионов, стать чудесной женой и примером для своих детей» — приводит ее слова ТАСС.
During the post-coronation interview, the new Miss Russia told reporters that her dream is to become a professional choreographer and train future champions. "My dream is to play a role on someone's life, be a great teacher and nuture champions, to become a wife and a wonderful example for my children," she told the Russian news agency TASS.
Победительнице конкурса — Яне Добровольской — была вручена эксклюзивная корона из белого золота, украшенная бриллиантами и жемчугом, стоимостью $1 млн.
As the winner of the Miss Russia contest, Yana Dobrovolskaya was awarded with an exclusive crown of white gold decorated with diamonds and pearls with an estimated value of $1 million.