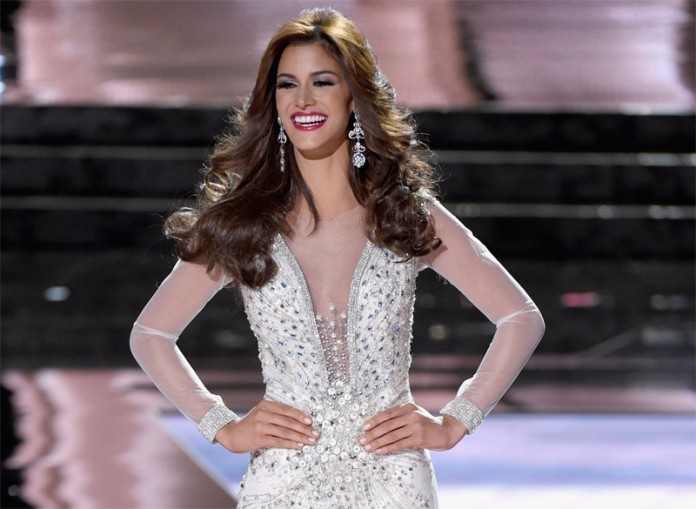 ¿Acaso fue culpa del vestido? / Is the gown to be blamed?
Miss Venezuela Universo – Mariana Jiménez fue aclamada como una de las grandes favoritas de la pasada edición del certamen, incluso alguno expertos la consideraban como su máxima apuesta por la corona. Durante la competencia ella mostró un buen performance y logró rebasar la etapa en traje de baño.
Miss Universe Venezuela Mariana Jimenez has been hailed as a strong contestant at Miss Universe 2015. Some even predicted that she will win the pageant. During the finals night, Mariana was able to show a very good performance and made it past the swimsuit competition.
Sin embargo en el top 10, Mariana falló su misión de alcanzar un puesto mayor. Muchas personas expresaron su asombro en redes sociales y expresaron que el vestido de gala utilizado fue la razón por la cual la venezolana no fue capaz de alcanzar una de las 5 estrellas en el top final.
At Top 10 however, Mariana failed to go any further. Many people expressed their shock at the social media sites. They believe that the gown she used during the Top 10 was the reason she failed to make it to the Top 5.
El vestido blanco, retro en su diseño, fue creado por el diseñador Raenrra. Bastantes fueron los fans que se mostraron indignados porque la beldad sudamericana no usó el confeccionado ya tradicionalmente por Alejandro Fajardo; Sin embargo, ella misma fue quien aclaró que la decisión de qué vestido usar para la final fue exclusivamente de ella, afirmando que al ver el vestido creado por Raenrra fue amor a primera vista y quedó prendada de él, incluso fue más allá diciendo que se siente feliz con el lugar alcanzado y su desempeño en general.
The white, rather retro in design, was made by the designer Raenrra. Many fans were outraged as to why Mariana did not use the gown that is usually made by Alejandro Fajardo. But recently, Mariana clarified that she the one who chose the gown for the Miss Universe finals. She admitted that when she saw the gown by Raenrra, she instantly liked it. She also further said that she is happy about her placement.
Mariana no es la primera soberana en parar su carrera en el top 10 debido a un pobre diseño de vestuario. Recordamos que en 2010, Mariana Paola Vicente de Puerto Rico falló en la elección de su vestido final quedando fuera del top 5, situación similar la de la sudafricana Melinda Bam en 2012 y de Mary Jean Lastimosa en 2014.
¿Crees que el vestido fue el culpable de que Mariana no haya avanzado al top 5?
Mariana is not the first contestant to fail to advance in the Top 5 of Miss Universe because, allegedly, of poor gown design. In 2010, Mariana Paola Vicente of Puerto Rico failed to advance because of her gown. Similar incident happened to Melinda Bam in 2012 and to Mary Jean Lastimosa in 2014.
Do you think that the gown is to be blamed that Mariana did not land in Top 5?