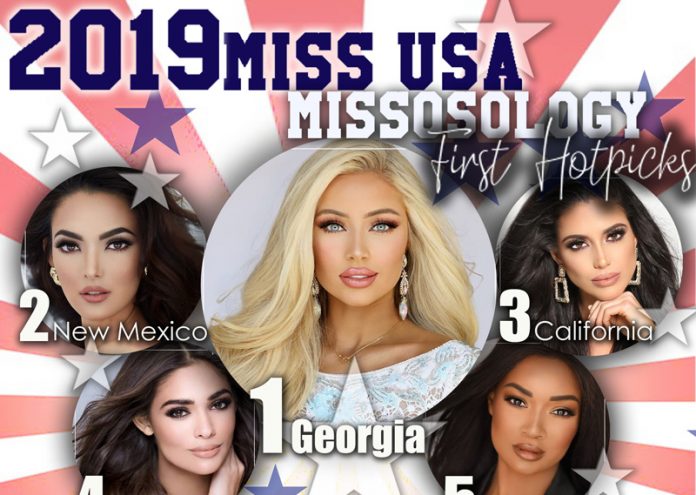 Written by Bong Tan
Graphics by Mario Bergantinos
The heat is ON! With less than a month before a new Miss USA is crowned, Missosology's panel of beauty experts, correspondents, and editors have come up with this years' first hot picks for Miss USA 2019.
Leading the list is none other than the blonde bombshell Katerina Rozmajzl from Georgia. This goddess of beauty appears to have descended from the heavens and ready to unleash her divine barbie-like beauty and curvaceous figure on stage. She's currently taking up accountancy and also manages her own cosmetic company.
Occupying the second spot is the stunning Alejandra Gonzalez from New Mexico. Her beauty is simply enchanting, casting a spell full of elegance and sophistication that keeps you mesmerized and captivated. She loves the outdoors and owns Knewdle tools, a non-profit organization that educates children on the importance of financial literacy.
In third place is the gorgeous Erica Dann from California. This statuesque lady has a smoking body, killer abs, and superb catwalk that can comfortably go side by side with Victoria's secret angels. She's also a people operations business partner at Google and volunteers for Glide, a nonprofit organization that aids the homeless.

Taking the fourth spot is the alluring Cat Stanley from Minnesota. Her fresh look and angelic beauty are a dream to behold. She radiates with confidence that gives you a sense of regalness and serenity. She's currently pursuing a career in dermatology and previously founded an organization that educates underprivileged children on the importance of healthy lifestyle.
Check out our complete list below.
1. Georgia – Katerina Rozmajzl
2. New Mexico – Alejandra Gonzalez
3. California – Erica Dann
4. Minnesota – Cat Stanley
5. West Virginia – Haley Holloway
6. Florida – Nicolette Jennings
7. Oklahoma – Triana Browne
8. Texas – Alayah Benavidez
9. Connecticut – Acacia Courtney
10. Alabama – Hannah McMurphy
11. Maryland – Mariela Pepin
12. New York – Florinda Kajtazi
13. Arizona – Savannah Wix
14. Pennsylvania – Kailyn Marie Perez
15. Idaho – Shelby Brown
Catch the Miss USA 2019 coronation night happening on May 2 at Reno Tahoe. Keep visiting our website and follow our social media accounts for more updates.