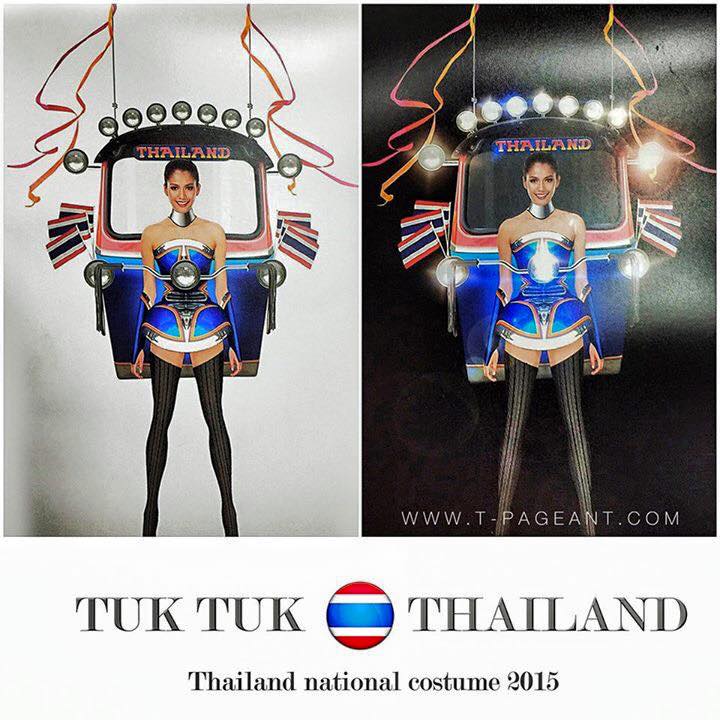 มันจบแล้วค่ะ ประกาศผลแล้วชุดนี้คือชุดประจำชาติไทย Miss Universe 2015
The iconic tuk-tuk, a common mode of transport in Bangkok, will take a centerstage in the upcoming Miss Universe 2015 pageant. Tuk-tuk is a 3-wheeler auto rickshaw that plies in the narrow streets of the Thai capital and it is not the first time that it will be showcased at Miss Universe Pageant. Back in 2005, when Bangkok hosted Miss Universe, Billy Bush made a grand entrance at the stage riding on a tuk-tuk.

Aniporn Chalermburanawong (อนิพรณ์ เฉลิมบูรณะวงศ์) will wear this costume which has a metallic feel and look. It will show the facade of the vehicle bedecked with the Thai flag. For years, the Thai national costume at Miss Universe has been the subject of attention and discussion among the pageant fans. It has showcased various aspects of Thai culture including the northern minorities, the art of muay thai  and modified costumes from various dynasties. With such diversity in designs and concepts, it is of little wonder that Thailand is second in the most number of Best in National Costume awards at Miss Universe. It has won the awards in 1969, 1988, 2005, 2008 and 2010.
With this unique costume, do you think that Aniporn Chalermburanawong (อนิพรณ์ เฉลิมบูรณะวงศ์) will bag the sixth Best in National Costume Award for Thailand at Miss Universe?
หนึ่งในแปดชุดนี้ จะเป็นชุดประจำชาติของไทย / The eight costumes that made it to the finals of the selection