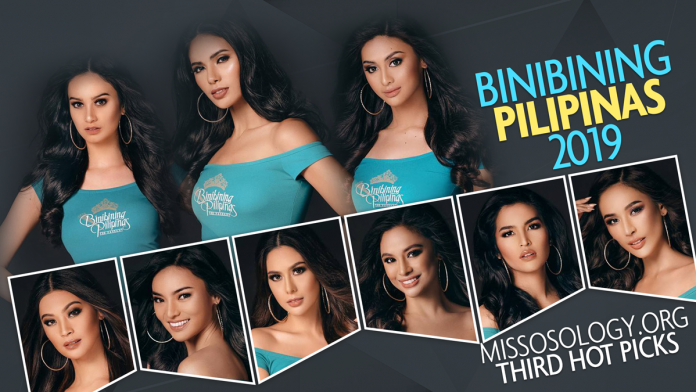 Text and graphics by Drew Francisco
The road to the Bb Pilipinas 2019 crowns is becoming more and more competitive with less than a month to go before the much anticipated finale.
The 40 candidates have been busy with pre-pageant activities, but what we like most this year is the rebranding of the Miss Universe Philippines franchise. In line with the "Confidently Beautiful" mantra of the Miss Universe competition, we now get to know more about the ladies. Aside from their walk and talent, we get to hear the ladies speak about their advocacies and the importance of winning the crown.
Leading Missosology.Org's third leader board it the beautiful Gazini Christiana Ganados of Talisay City, Cebu. This 23-year-old Binibini first-timer wants to highlight eldercare as her advocacy since she grew up with her grandparents. Gazini has improved a lot from her stints in Miss World Philippines and Miss Bikini Philippines in 2014. And with that stunning face, she is definitely a shoo in for any international pagant out there.
Not far behind is Bataan's Bea Patricia Magtanong. For many years, this 24-year-old lawyer has been in many pageant fans' wish lists. Now ready to conquer the pageant world, Patch wans to promote the rights of prisoners. Patch may be a newbie to the pageant industry, but she seems well-prepared. With on-point styling and a better pasarela, don't be surprised if she wins it all come June 9.
In third place is Hannah Arnold of Masbate. Another Binibini newbie, this 23-year-old Fil-Australian beauty is a perfect Binibini prototype: tall, beautiful, with an impressive academic background (she has a degree in forensic studies!). She's one of the most engaging speakers in the batch. All she needs to focus on is to find the right styling for the finals because we see her slaying any competition she gets sent to abroad.
We are also keeping a keen eye on Binibini returnees Maria Andrea Abesamis of Pasig City, Emma Mary Tiglao of Pampanga, and Vickie Marie Milagrosa Rushton of Negros Occidental. These three have all improved since their first stint and has shown great desire to finally win the crown. With their improved looks, interview skills and fresher styling, they could very well end up in the winners circle.
Check out the complete list below: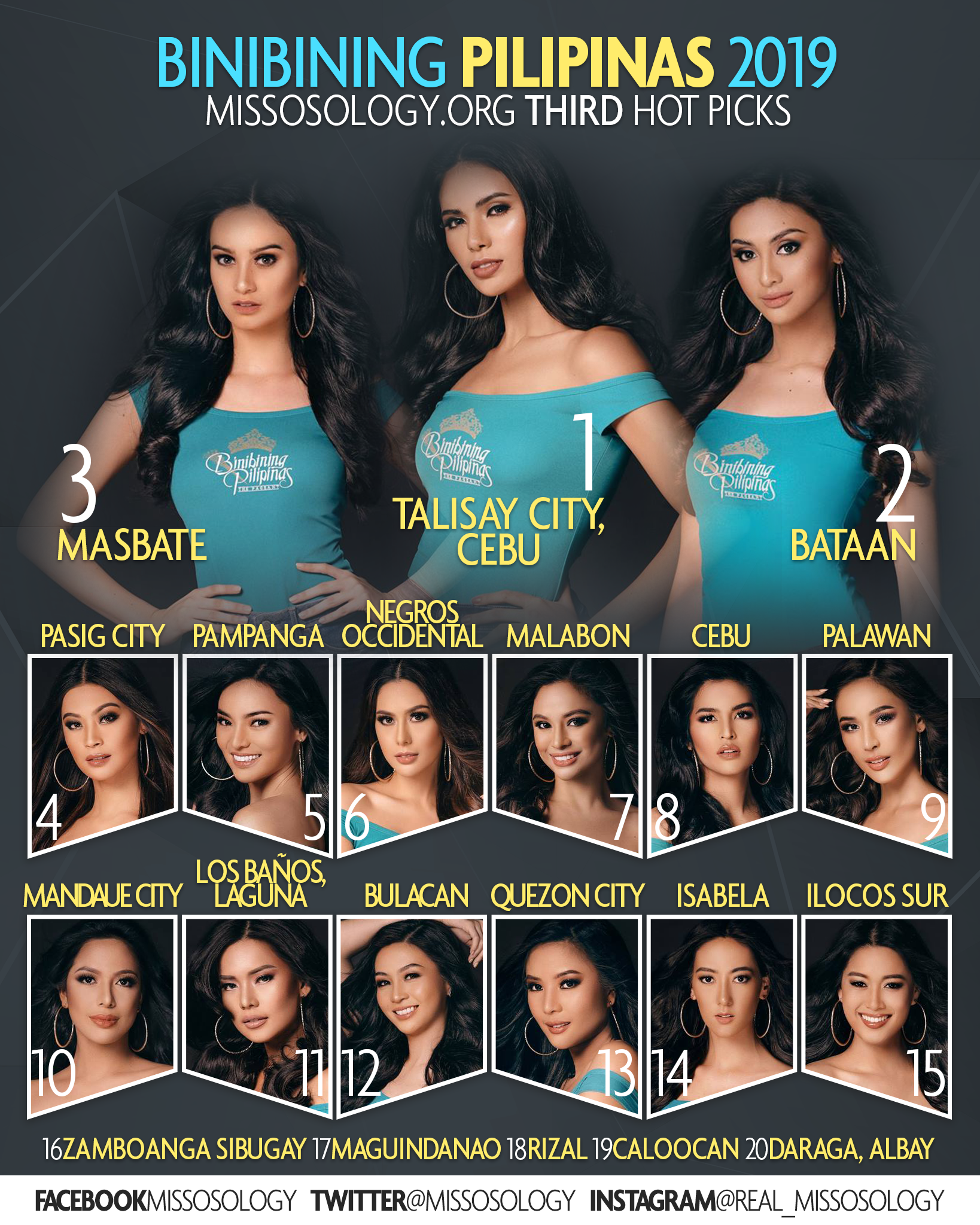 1 Talisay City, Cebu | Gazini Christiana Ganados
2 Bataan | Bea Patricia Magtanong
3 Masbate | Hannah Arnold
4 Pasig City | Maria Andrea Abesamis
5 Pampanga | Emma Mary Tiglao
6 Negros Occidental |Vickie Marie Milagrosa Rushton
7 Malabon | Jessica Marasigan
8 Cebu | Samantha Ashley Lo
9 Palawan | Samantha Mae Bernardo
10 Mandaue City | Ilene Astrid de Vera
11 Los Baños, Laguna | Leren Mae Bautista
12 Bulacan | Rubee Marie Faustino
13 Quezon City | Larah Grace Lacap
14 Isabela| Pauline Anne Cordero Barker
15 Ilocos Sur | Jean Nicole Guerrero
16 Zamboanga Sibugay | Malka Shaver
17 Maguindanao | Resham Ramirez Saeed
18 Rizal | Honey Grace Cartasano
19 Caloocan | Joanna Rose Tolledo
20 Daraga, Albay | Julia Eugenie Saubier
Missosology.Org