Now on its 5th year, Misters of Filipinas promises to continue its goal of uplifting the image of the Philippine male pageantry by honing candidates and titleholders that are not just pretty faces and hunky bodies, but positive role models to the society as well.
For 2017, 24 men from all over the country and the Filipino communities abroad are vying for the top titles at stake. They were officially presented last Sunday, September 17, where the media and pageant followers finally saw who among these men are capable of becoming ambassadors of the "Masculinity with Responsibility" slogan of Misters of Filipinas.
Leading Missosology's first hot picks is Ion Perez of Capas, Tarlac. He is a 26-year-old print ad model, who practices a "panata" or religious ritual every Holy Week. He has strong stage presence and distinct facial features that will definitely be a big hit in any international pageants.
Not far behind is Camarines Sur's Clint Karklins Peralta. This 26-year-old Filipino-Latvian nurse and model is a social media favorite. It is no surprise given his bankable looks and humble demeanor.
In third place is 24-year-old Yves Camos from the Filipino Community of Hawaii. A graduate of BS Nursing from Cebu City, he now works as a nurse in the US state. His boy-next-door looks and effortless charm are his advantages.
The hunky Carlo Pasion from Laoag City comes in fourth place. This 21-year-old fitness trainer has the best body among the candidates. No wonder he was voted the Media's Choice during the press presentation.
Rounding up the Top 5 for now is the hunky marino of Concepcion, Tarlac: Ryan Hernandez. This 22-year-old maritime transportation graduate exudes unassuming handsomeness that makes him noticeable on stage.
Check out the full list below: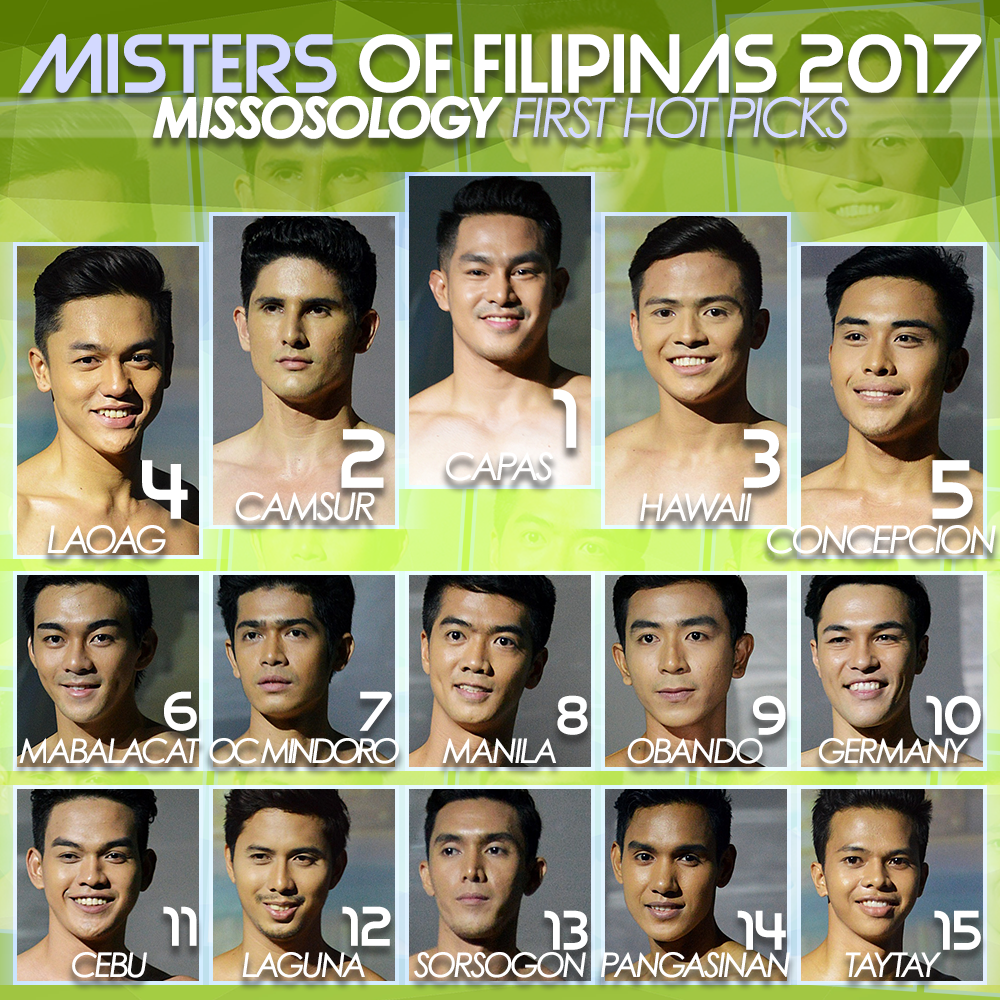 1 CAPAS, TARLAC | Ion Perez
2 CAMARINES SUR | Clint Karklins Peralta
3 FILIPINO COMMUNITY OF HAWAII, USA | Yves Campos
4 LAOAG CITY | Carlo Pasion
5 CONCEPCION, TARLAC | Ryan Guiao Hernandez
6 MABALACAT, PAMPANGA | Raven Renz Lansagan
7 OCCIDENTAL MINDORO | Renz Cutanda
8 CITY OF MANILA | Rosky Perez
9 OBANDO, BULACAN | Chris Capistrano
10 FILIPINO COMMUNITY OF GERMANY | Rubi Kust
11 CEBU CITY | Vann Ramos
12 LAGUNA | Jeffrey Camus
13 SORSOGON | Amir Don Abbo
14 PANGASINAN | Neil Erwin Regis
15 TAYTAY, RIZAL | John Marben Segui
Graphics and photos by Drew Francisco/Missosology.Org