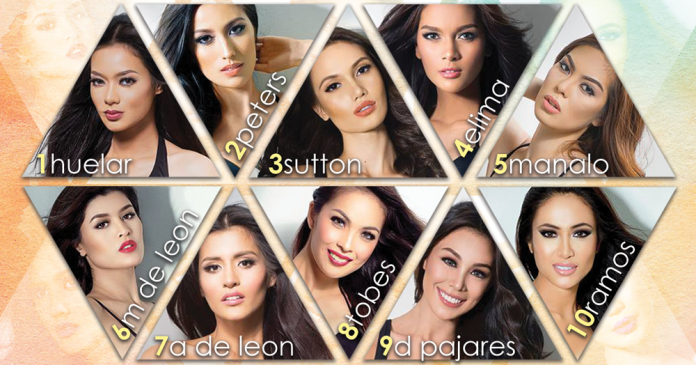 Leading our second hot picks is last year's Bb Pilipinas second runner-up Jehza Mae Huelar. This 22-year-old Dabawenya came out during the press presentation with her guns fully loaded. Her styling was on point, her body has improved, too. A year's worth of preparation seems to be paying off for Jehza and we might see her walk away with a crown.
In second place is the bombshell that is Rachel Peters. This Filipino-British model from Naga City was 4th Princess in Miss World Philippines 2014. It seems Rachel is in the right pageant and will definitely shine in any of the Big5 pageants under the BPCI franchise.
Sirene Sutton is down two notches in our list, but that doesn't mean she has lost her luster. In fact, this professional model remains one of the top favorites among pageant observers. And how could you ignore that angelic face? Definitely one of the major forces to reckon with in the competition.
BBP repeater Charmaine Elima occupies the fourth spot in our list. In terms of preparation, Maine is the most ready among all the girls in case an international pageant will be held today. She has a good body and polished walk, aside form that her improved communication skills. Watch out for this lady come finals night.
Completing our Top 5 for now is athlete Maria Camille Manalo. This is her first time to join a pageant since winning a gold medal at he 2011 SEA Games for taekwondo. She has a good frame and beautiful face and could be the biggest surprise come coronation night.
Check out the complete list here: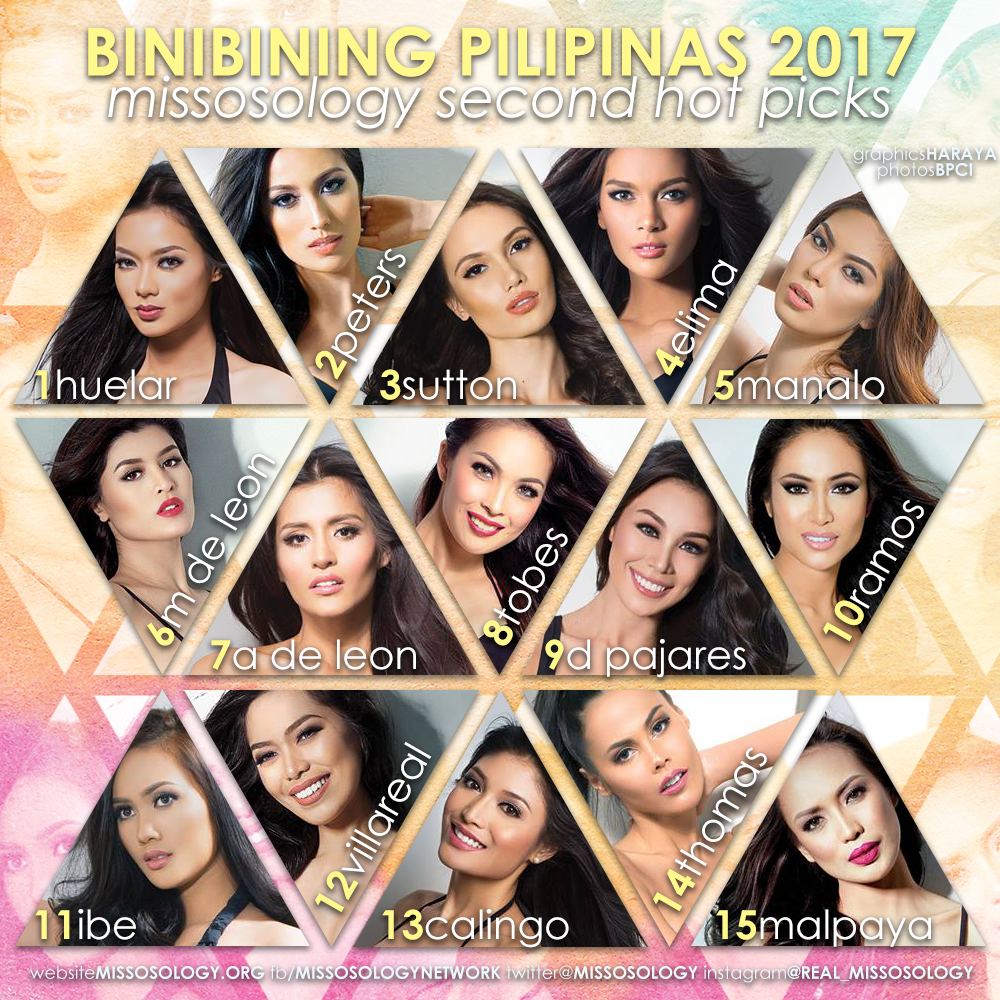 1 Binibini10 Jehza Mae Huelar
2 Binibini19 Rachel Peters
3 Binibini13 Sirene Sutton
4 Binibini32 Charmaine Elima
5 Binibini17 Maria Camille Manalo
6 Binibini15 Maria Angelica De Leon
7 Binibini12 Angelique Celine De Leon
8 Binibini3 Maria Gail Devora Tobes
9 Binibini24 Dindi Joy Pajares
10 Binibini30 Mae Liezel Ramos
11 Binibini18 Nelda Ibe
12 Binibini25 Clarice Marion Villareal
13 Binibini2 Arienne Louise Calingo
14 Binibini22 Chanel Olive Thomas
15 Binibini7 Jennyline Carla Malpaya