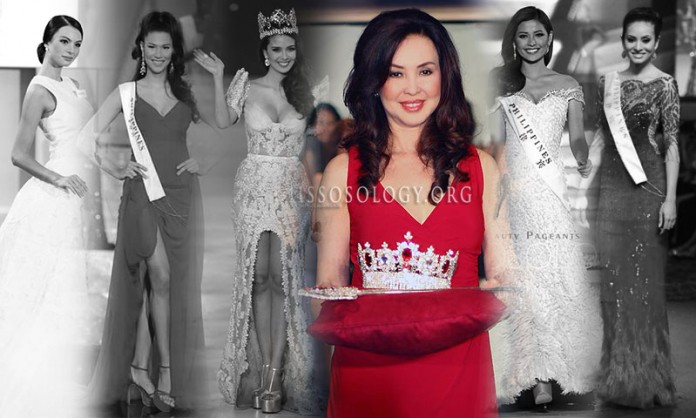 There are some few things you should know about the Philippine National Director for Miss World. First, she is the granddaughter of a former Philippine President Elpidio Quirino. Second, she is a strong believer of the Filipino First policy something that is an anti-thesis to her grandpa's liberal leanings (The strong advocate for such policy was actually her grandpa's political adversaries).
We are talking about Socorro Alicia "Cory" Rastrollo Quirino – author, beauty queen, TV and radio host and a wellness guru. If there is anyone in Philippine pageantry that should be given the highest distinction, that would be Cory Quirino. She single-handedly changed the landscape of the local beauty pageant scene and gave the Philippines something that was thought would never ever happen – a Miss World crown.
The guiding light of Cory Quirino seems to be a solid Filipino First policy. Of course, she is 100% Filipino whose roots were deeply rooted in the Philippine society so there is no question that she loves the Philippines with all her heart. No suspicion of any secret or hidden agenda or any hint that she might be in cahoots with other countries that could be detrimental to the Philippines.
Her love, loyalty and dedication to her country is very evident in the way that she runs the Miss World Philippines pageant. She commissions local designers to dress the country's Miss World contestants. She has full trust and deep admiration to local couturiers such as Francis Libiran and Oliver Tolentino. She firmly believes that when it comes to international pageantry, a Filipino or perhaps a Filipina designer should dress a Filipina contestant.
No wonder that there is nothing to talk about Miss World Philippines but success. When Cory took the helm, Miss World Philippines soared high as Gwendoline Ruais almost took the coveted crown by landing as first runner-up. In 2012, Queneerich Rehman still landed at Top 15 despite the being held in an unfriendly territory.
Of course, the biggest achievement that Cory has ever achieved is bestowing her beloved country that elusive Miss World crown. Megan Young won the crown in 2013 in a pageant held in Bali, Indonesia. In 2014, Megan's predecessor Valerie Weigmann was thought to have an impossible mission. Analysts predict that she will be wasted because Megan was the reigning queen. Still Cory worked hard make sure Valerie will not overshadowed. Her efforts paid off when she became one of the Top 25 quarterfinalist.
Last year, Hillarie Parungao was considered as a strong contestant. She became one of the Top 10 finalist and at one time actually topped the leaderboard. Cory Quirino's genuine love towards her homeland is perhaps the key to the success of her candidates at Miss World. Her faith towards the Filipino is unwavering. Driven by her passion, her nationalists leanings and her courage and faith, Cory Quirino will definitely bring more honor to her country. A second Miss World winner from the Philippines will surely make her the undisputed doyen of the Philippine pageantry.