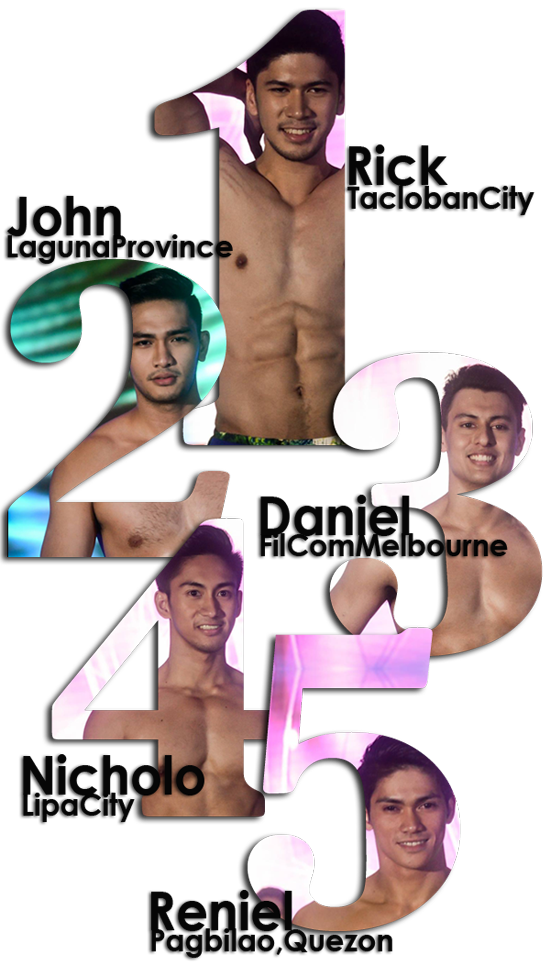 15 standouts in the Press Preview
Missosology's Misters 2015 1st Hot Picks
The candidates of Misters 2015 (formerly Misters of the Philippines 2015) were officially presented to the press last Sunday, August 30. Out of the 29 candidates who walked the ramp, here are the 15 men who made a good 'first impression'.
1 Tacloban City – Rick Kristoffer Palencia
He worked as a seaman so he could save money to rebuild their home devastated by Typhoon Yolanda. But last Sunday, the Yolanda survivor of Tacloban is a picture of confidence. As the first guy to come up the stage, 22-year-old Rick has set the bar high. His good looks and chiseled body make him standout. He is very comfortable on stage, which could be attributed to his experience in joining local pageants (he was Ginoong Leyte 2015 first runner-up). Aside from that, healready has a lot of supporters since after placing second in the pre-arrival online poll.
2 Laguna Province – John Edgar Adajar
He looks "maangas" but this guy is actually a very accomodating and soft-spoken. This 24-year-old mixed martial arts fighter and a pre-law student is the reigning Ginoong Laguna. He has a strong stage presence, but needs to work on improving his physique.
3 Filipino Community of Melbourne – Daniel Anthony Polbrat
One of the best faces in the competition, this architect from Melbourne is definitely someone to keep an eye out as the pageant progresses. He was born in Australia to a Filipino mom and Polish dad.
4 Lipa City – John Nicholo Zacarias
It is no surprise that this 22-year-old Jolo, Sulu-born guy won the Darling of the Press award. He knows how to mingle with people. John is also proud of working as a fishmonger, but aside from that he's also a registered nurse.
5 Pagbilao, Quezon – Reniel Villareal
As a pre-arrival favorite on social media, Reniel is living up to being one. This former overseas Filipino worker got the looks, the body and the attitude that makes a potential winner. His best asset is his well-proportioned body very strong stage presence. Watch out because this guy could win it all.
6 Santa Rosa City – Karan Singhdole
It's not hard to take notice of Karan. His Indian looks and 6'2″ height, he literally stands out. He is pure Indian but was raised in the Philippines and considers himself a Filipino. The combination of his stunning face, towering height, good physique and humble demeanor will surely bring him to the top.
7 Filipino Community of Germany – Siegried Schmidt Bauer
It's not surprising that this Fil-German guy topped the pre-arrival poll. Sieg is very friendly and exudes so much positivism especially when he flashes his winsome smile. He seems very competitive, too. One can't deny that he is in the game to win the game.
8 City of Manila – Don Mcgyver Cochico
Don is looking at duplicating his fellow police officer Neil Perez' historic feat last year. And he's not taking matters sitting down. He worked on improving his physique. He could be the one, with his gorgeous face and marketable looks.
9 Filipino Community of Great Britain – Jules Chan
At first, he just looks ordinary, but Jules exceeds expectations. He was a standout the first time he hit the stage with his dance moves. But he made a good impression during the swimwear portion where he showed off his chiseled body. It looks like another sure placement for the Fil Com of Great Britain.
10 Butuan City – Marcel Stulir
The Jon Snow deadringer has made quite an impact in social media and pageant forums for his very manly look. In person, he is a man of few words. He got the looks and the body, although a cleaner look would be more suitable for a pageant. He also needs to improve the way he deals with people.
11 Filipino Community of Australia – Robert Mcnamara
Drop-dead gorgeous is the best phrase to describe Rob. He has all the goods and could easily make the cut. He excudes so much charisma and natural sexiness that are just hard to ignore.
12 Floridablanca, Pampanga – Patrick Magtanong
A familiar face in the modeling scene, Patrick has walked the ramp of the Philippine Fashion Week and has done a few photoshoots for designers and clothing brands. He is tall and has a charming face but at the moment, he is being overshadowed by stronger candidates.
13 Bacolor, Pampanga – Arcel Yambing
Tall (6'1″) with a nice body frame and a winsome smile, one would easily get smitten by Arcel's charm. This 25-year old model has also graced the runways for the country's top designers, no wonder he is very comfortable on stage.
14 Filipino Community of Italy – Kevin Fichera
This soccer player was born and raised in Italy and is studying business at Roma Tre University. His face looks very young but he got a good body and a very manly appeal.
15 Bohol Province – AR dela Serna
This baby-faced young man got the height and the winsome smile. However, he needs to improve his physique.