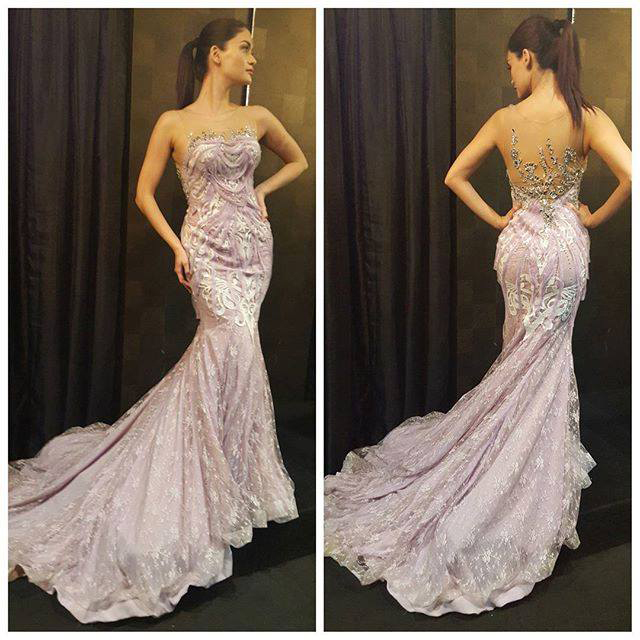 It seems the issue regarding the gown used by our candidates at Miss Universe will never die down. More so when Pia Wurtzbach was seen recently posing wearing a gown designed by Albert Andrada. Will a Filipino designer finally design the gown of Miss Universe Philippines?
Pia Wurtzbach wearing an Andrada gown
Perhaps it is indeed the right time for Filipino designers to design the gowns for our contestants at Miss Universe. The claim that the designs of local designers are "no good" could easily be debunked by what the rival pageant of Bb. Pilipinas, the Miss World Philippines pageant, has experienced. Megan Young won the country's first ever Miss World crown wearing a Libiran gown. Gwendoline Ruais became first princess using the creations of Francis Libiran. So why is Bb. Pilipinas still stuck with Barazza year after year?
Megan Young used a Libiran gown 
Bb. Pilipinas should have learned their lessons and should dump Barraza. MJ Lastimosa was the odd one during the Miss Universe 2014 gown competition. Everyone else at the Top 10 came for the red carpet. She, in her Barraza, came for the wedding. Had MJ used the Leo Almodal pink gown, she could have fared better.
Pia posing in an Andrade gown should be a sign that Bb. Pilipinas has finally came to their senses. A Bb. Pilipinas-Universe is representing the Philippines in the world stage. As such, common sense dictates that she should wear a gown designed by Filipinos. After all, with so many Filipino world-class designers, how could anyone declare that local designers are "no good"?
The controversial gown designed by Alfredo Barraza