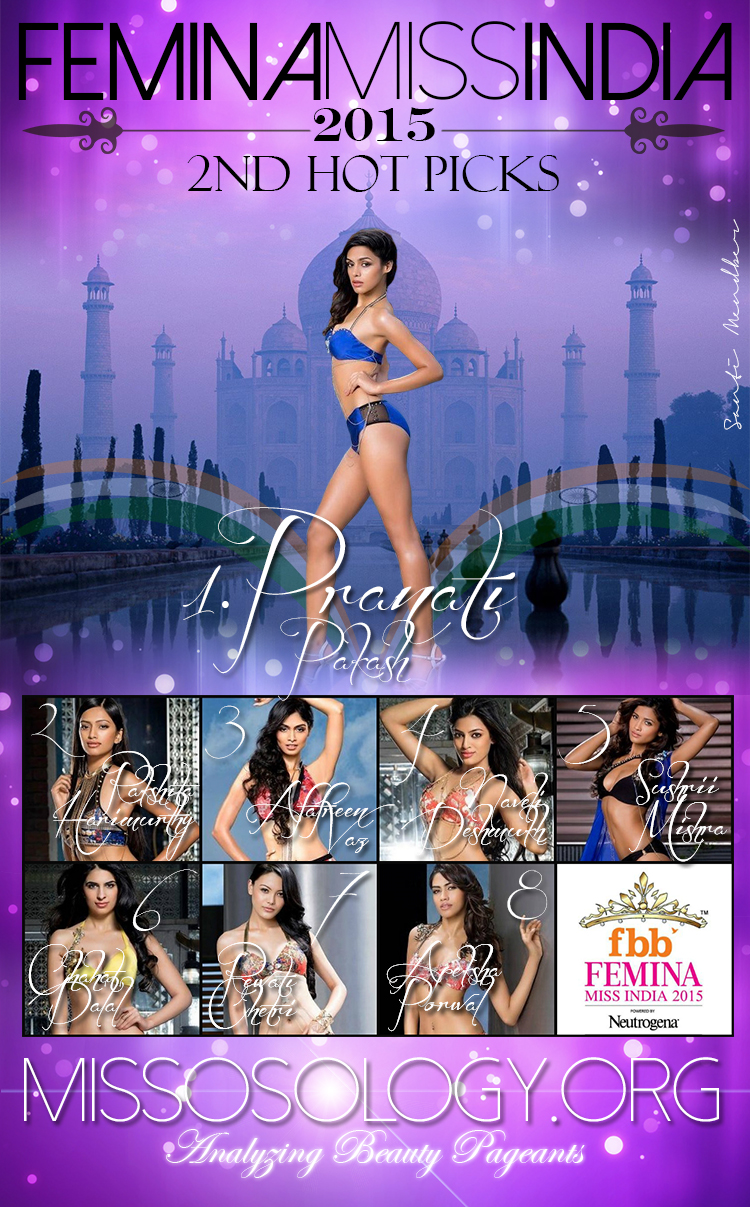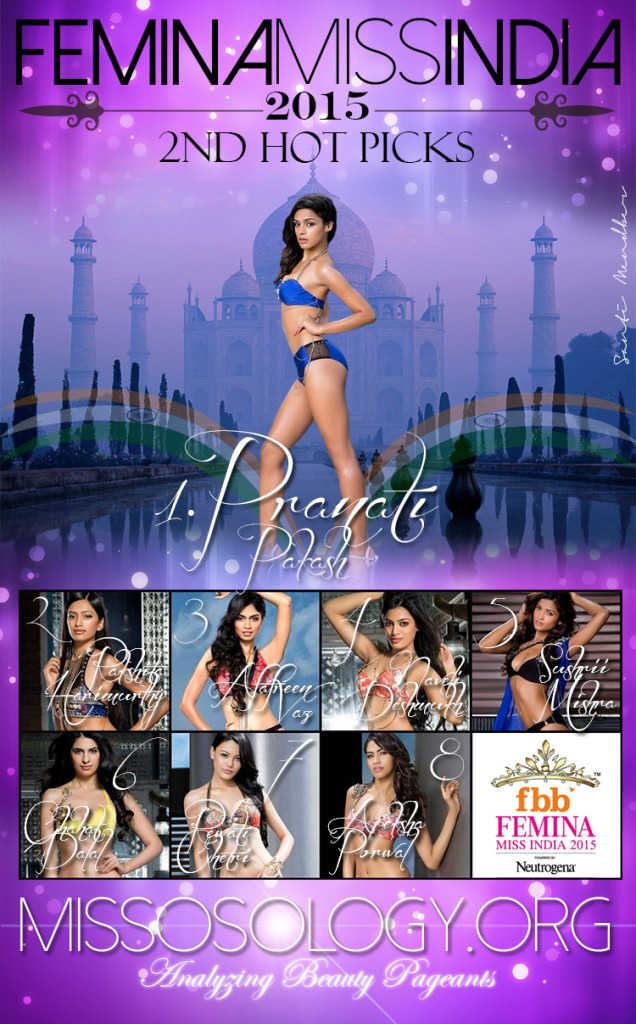 written by Titan Missosology
As the contest progresses and having seen the girls in their sizzling bikini shots, various events and training sessions, Missosology's Second Hot Picks represents girls who managed to get ahead in the build up stage of Miss India 2015 contest.
Pranati Prakash is one of the most watchful candidates in this year's competition. she has not only held herself among the heavy-weights but has also out-shown them in most part of the competition. She has grown in confidence and has worked on her overall composure. Going by the past weeks turnout of activities, she is sailing fast than others and if she keeps the momentum going for her, she is a sure shot in the winner's circle. Good job Pranati, girls like you is what we need at Miss India, who have the will, courage and self-determination to constantly better yourself and take the competition as a chance of your lifetime. I am sure, if she creates an upset, she will pave in a way for a newer wave of girls like her who are beautiful, talented and have a great personality who can be ambassadors of their country and the causes that concern the world. She would be liked a lot by Ms. Julia Morley at Miss World.
Rakshita is another girl who's killed the competition with her calm-yet-confidence-exuberating-sexy-demeanor. I am just stunned with her swimsuit pic and svelte sylphlike body is one of the best in the competition. During the first week, I noticed her beauty but did not find her came in to kill it kind of attitude. But, she is putting her best whenever it counts and I can vouch for her great performance come finale on March 28. Keep the momentum going, such freshness is what India needs to showcase at Miss International competition. I see a refined Neha Hinge in her who missed the Top 5 by a whisker.
Aafreen Vaz is such a raw yet scintillating beauty that she could bring back one of the minor crowns back home, given that she can not compete at Miss World due to her dual citizenship. Nevertheless, she could be perfect for both – Miss United Continents and Miss Intercontinental where ethnic beauty with a modern touch are very well appreciated. They also tend to appreciate younger girls, who are tall and have a great body. Alfred Vaz is all of that! Don't be surprise if she snatches one of the Top 5 placements from the hot-favorites of the competition.
Naveli is such a breadth of fresh air and with her talent and representation of India at a global scale, she can indeed be a perfect candidate to Miss Asia-Pacific Talent or Miss Heritage. In the end, what matters is you represent India and get the crown. And if trained well, she does have capability of making India proud on an International scale.
Sushrri Shreya Mishra, dare I ignore you again in my hot picks. A complete 360 degrees of transformation from her past stint. She has groomed herself very well for the competition and has brought her A game. And although, she is an underdog right now, tables can turn overnight with her and she can end up getting the top plum. Given that she is very articulate, Femina will surely not let go this beauty with brains.
Chahat, Rewati, and Apeksha are really working hard and giving their best at the contest. And overall, they have got themselves a very positive reviews not only by the national critics but International experts as well. These three have such unusual beauties but still is refreshing. Keep it going, the batch wouldn't have been so competitive without you.
Overall, the dark horses and under dogs are not going to let the crowns slide easily to the front-runners. Things have started to change and with only one week left to the finale, the competition is finally shaping up and we would know who has finally able to hold them selves off in pressure and bring out the best in them. Next up are the interview rounds, sub-contests, and the big finale itself. Don't forget to check the website on March 26th, for a panoramic review of all Miss India contestants and see Missosology's favorite to take the top plum!