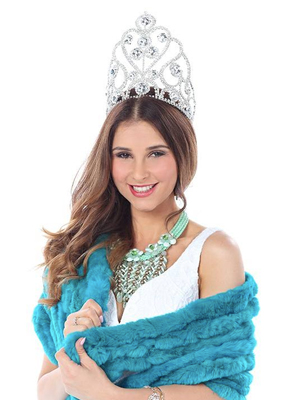 Larissa Hlinovsky completes the roster of Aussie beauties that will soon vie for the major international crowns. The Brisbane native is unfazed with the list of stunning beauties from all over the world that will soon fly to Tokyo, Japan to compete at the Miss International 2015 title. The finals night of the pageant will be on November 5.
At 26, Larissa exudes this girl-next-door vibe. Will she bring back the glory Down Under? Australia has 3 Miss International crowns – Tania Verstak (1962), Jenny Annette Derek (1981) and  Kirsten Marise Davison (1992) – however, since 1997, no Aussie beauty has made it to the semis of the pageant.
Meanwhile, when Miss World 2015 finally kicks off in Sanya, China, Tess Alexander also of Brisbane, will carry the Aussie banner. Australia have already captured two Miss World crowns, one in 1968 by Penelope Plummer and the other was won in 1972 by Belinda Green.
At Miss Universe, Australia also has two titleholders. The first one is Kerry Ann Wells who won it back in 1972. Yes, the very same year when Australia also won the Miss World crown! The second one was by Jennifer Hawkins in 2004. Since 2008, Aussie beauties always land at the semis of Miss Universe except in 2013 when Olivia Wells was inexplicably left out during the finals held in Moscow, Russia. On the next edition of Miss Universe, Monika Radulovic of Sydney will carry the hopes and aspiration of the Aussies.
Meanwhile, Australia continues to struggle at Miss Earth. The franchise has been held by various owners and this year, Dayanna Grageda of Mascot, NSW will compete for title. She was actually the winner last year but was dethroned. With the new owners at the helm, she tried again and easily prevailed. Australia managed to make the cut at Miss Earth only once – in 2004 – when Shenevelle Dawn Dickson charmed the judges and worked her way to the top 8.