Welcoming the new decade with a bang is the Philippines' pageant scene with the birth of the pageant-crazy country's new competition: Miss Universe Philippines (MUPh).
For the first time in over 50 years, a separate pageant will be choosing the country's representative to the Miss Universe contest. The new organization, led by national director Shamcey Supsup and creative director Jonas Gaffud, is leaving no stones unturned in the search for the country's next ""phenomena woman".
For MUPh 2020, 52 "inspiring women with action" are vying for the coveted title. But who among these ladies have what it takes to wear the crown? After the red-carpet press presentation last February 14, our panel of experts and correspondents sat down to discuss who among the contestants are most likely to emerge on top come the finale.
Leading our First Hot Picks is Davao City's Alaiza Malinao. She model is back in the pageant world five years after her Top 15 finish in Bb Pilipinas. She experimented with her looks and styling and so far, so good! Her professional modeling experience will also be of great advantage. With her renewed confidence, Alaiza is looking really deadly. That face deserves to be seen in the international stage.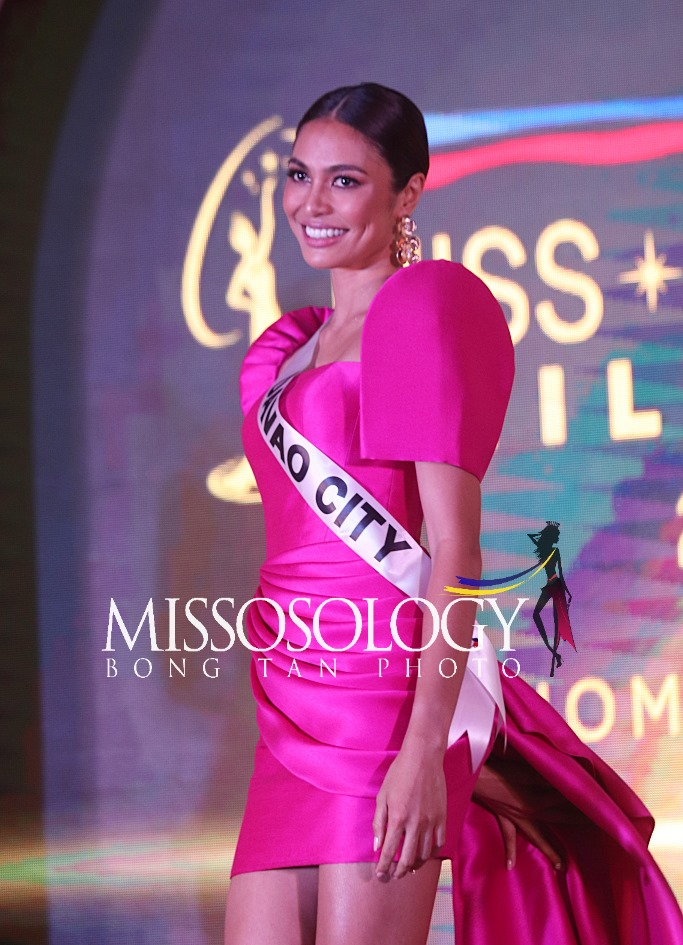 Not far behind is Michele Theresa Gumabao of Quezon City. This tall volleyball star has improved a lot since the Bb Pilipinas and Miss Globe stints. She's one of the most engaging speakers in the batch. Add to that her sportswoman-to-pageant-girl background story and we might see another contender for the Miss Universe crown.
In third place is another Binibini alumna Sandra Lemonon of Taguig City. The former Miss World Philippines runner-up and Bb Pilipinas semifinalist returns to the pageant scene with her guns fully loaded. She has the face, the body, and the stage presence.
Yet another Binibini alumna, Apriel Smith of Cebu Province occupies the fourth spot. After her Binibining Cebu 2017 reign, a lot have been waiting for her to try it once more in national pageants. Since then, Apriel has been slowly building momentum. Is the Philippines ready for an ebony Miss Universe Philippines? We believe so!
Rounding out our Top 5 for now is Parañaque's Maira Ysabella Ysmael. She is fast becoming one of the front-runners in the competition. It is no surprise given her naturally beautiful and fresh face. We see a lot of potential in her.
Check out the complete list below:
1 Davao City | Alaiza Malinao
2 Quezon City | Michele Theresa Gumabao
3 Taguig City | Sandra Lemonon
4 Cebu Province | Apriel Smith
5 Parañaque | Maira Ysabella Ysmael
6 Albay | Paula Madarieta Ortega
7 Iloilo City | Rabiya Mateo
8 Iloilo Province | Kim Chi Crizaldo
9 Bohol | Pauline Amelinckx
10 Sorsogon | Maria Isabela Galeria
11 Leyte | Chiara Lyn Markwalder
12 Makati City | Ivanna Kamil Pacis
13 Bulacan | Dianella Louise Loya
14 Davao del Norte | We'am Ahmed
15 Aklan | Christelle Abello
16 Camarines Sur | Krizzia Lynn Moreno
17 Cavite | Kimberly Hakenson
18 Catanduanes | Sigrid Grace Flores
19 Cebu City | Tracy Maureen Perez
20 Batangas | Nathalia Urcia