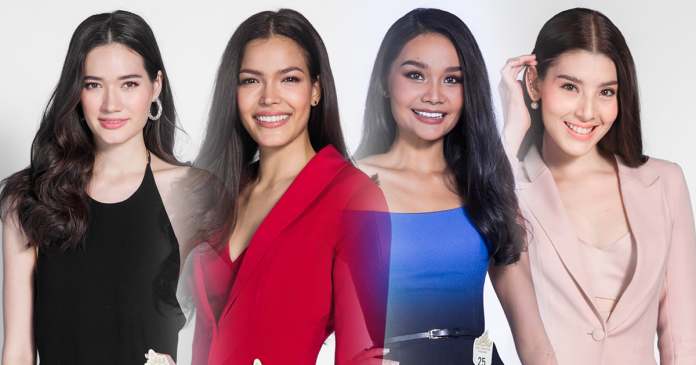 Graphics by Mario Bergantiños; Text by Drew Francisco
A new Miss Universe Thailand will be crowned on June 29 at the Thunder Dome in Muang Thong Thani, and Missosology will be there to cover the event for the third consecutive year!
The 2019 edition, however, is the first edition under the TPN 2018 Co, Ltd group, which organized the Miss Universe competition held in Bangkok last year. And they did not disappoint.
Aside from the impressive pre-pageant activities and topnotch preliminary production, the quality of this year's candidates is very high. The competition is so tight that it is no easy task narrowing down the field from 57 to 15.
It has to be done, and leading our leaderboard is former Miss Earth Thailand Paweensuda Drouin.
Read: Paweensuda Drouin and the results of Miss Earth 2017
This is a no brainer, as we believe in her capabilities since Day 1. She was predicted by Missosology to win Miss Earth 2017 and even named as Missosology's People's Choice Winner for Miss Earth back then.
Now back with vengeance, there is no stopping Fahsai from getting another shot at a Big5 crown. She has great rapport with people and it is undeniable that the general public simply loves her. She is one of the best speakers in the batch of MUT hopefuls. She has great stage presence, too. She perfectly fits the template of an IMG-era Miss Universe winner. Crown her now!
Check out the full list below:
1 Paweensuda Drouin
2 Patraporn Wang
3 Thanatchaphon Boonsang
4 Kim Docekalova
5 Miriam Sornprommas
6 Natthasinee Wichaidit
7 Naruemon Sittiwang
8 Praewatchara Schmid
9 Orawan Seepanamwan
10 Nuttha Thongkaew
11 Areeya Ploypikul
12 Naruemon Sittiwang
13 Weerada Yodjai
14 Tanja Mali Schmidt
15 Phannicha Kongsuk
Follow Missosology's social media pages for tomorrow's Miss Universe Thailand updates. Missosology.Org