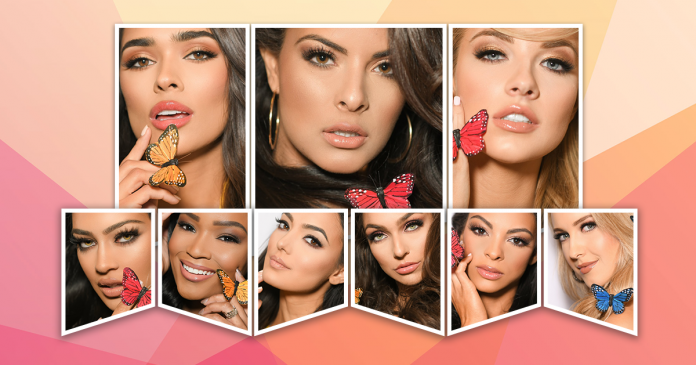 The dizzying diversity of beauties that are competing for Miss USA 2019 crown made the task of our experts and watchers quite difficult. Predicting the Miss USA pageant is a bit of a hazardous job. Experts are putting their integrity on the line by postulating on something that is becoming more and more unpredictable. Back in 2017 for example, our predicted winner, Miss Nevada USA Lauren York failed to even land in the semis. Still, predicting is fun and while some think that the whole affair is a guessing game, it is in fact backed by experience and years of intelligent observation.
This year, beauty experts and pageant watchers were impressed by the overall performance of Miss Maryland USA Mariela Pepin. It can be attributed through her confidence and that hard-to-miss stage presence. She's of Puerto Rican descent which probably explains why there's so much finesse in her beauty. Many experts pointed out that since she missed the semis during the Miss Teen USA 2014, she has improved dramatically.
Maryland in the world of pageantry is best associated with Nana Meriwether who finished as first runner to Olivia Culpo during the 2012 edition of Miss USA. Since Olivia won the Miss Universe crown, Nana took over the title. A little trivia, Maryland won its first Miss USA crown back in 1957 but Mary Leona Gage was later found to be married with two kids so she was dethroned! Will this year be the year when Maryland finally win the crown at finals night and keep the title till it's time to crown a new Miss USA?
Coming at close second is Miss Minnesota USA Catherine Stanley. With her great personality, a picture perfect smile and a truly divine beauty, Catherine is a serious contender for the Miss USA 2019 title. Like Mariela, Catherine did try her luck at Miss Teen USA but she was unplaced. Her prelim performance was divisive at best but experts do agree that she could easily ace the interviews with such a bubbly personality.
Sporty and gorgeous, Miss Florida USA Nicolette Jennings could the Miss USA of our dreams. There's a lot of confidence in her personality and she comes across as an independent woman who is bound to break glass ceilings. She is full of class and poise and she did put a strong showing during the preliminaries.
Miss New Jersey USA Manya Saaraswat ticks all the Miss USA boxes – beautiful and intelligent. Here's the caveat though, she belongs to a fast growing ethnic minority in the United States that is yet to win a Miss USA crown. She is also representing a state that is crown-less to date. Manya's exotic looks – fierce eyes and full lips – reflect the changing demographics of her country and this could be her ticket to the crown!
Rounding up our Top 5 is Miss West Virginia USA Haley Holloway. With her sassy personality, it seems she is on every pageant analyst's Miss USA Top 5 list. She's got some serious Hollywood-like glamor in her. In 2013, she was 2nd runner-up at the Miss Teen USA pageants and this speaks a lot about her strength as a beauty queen.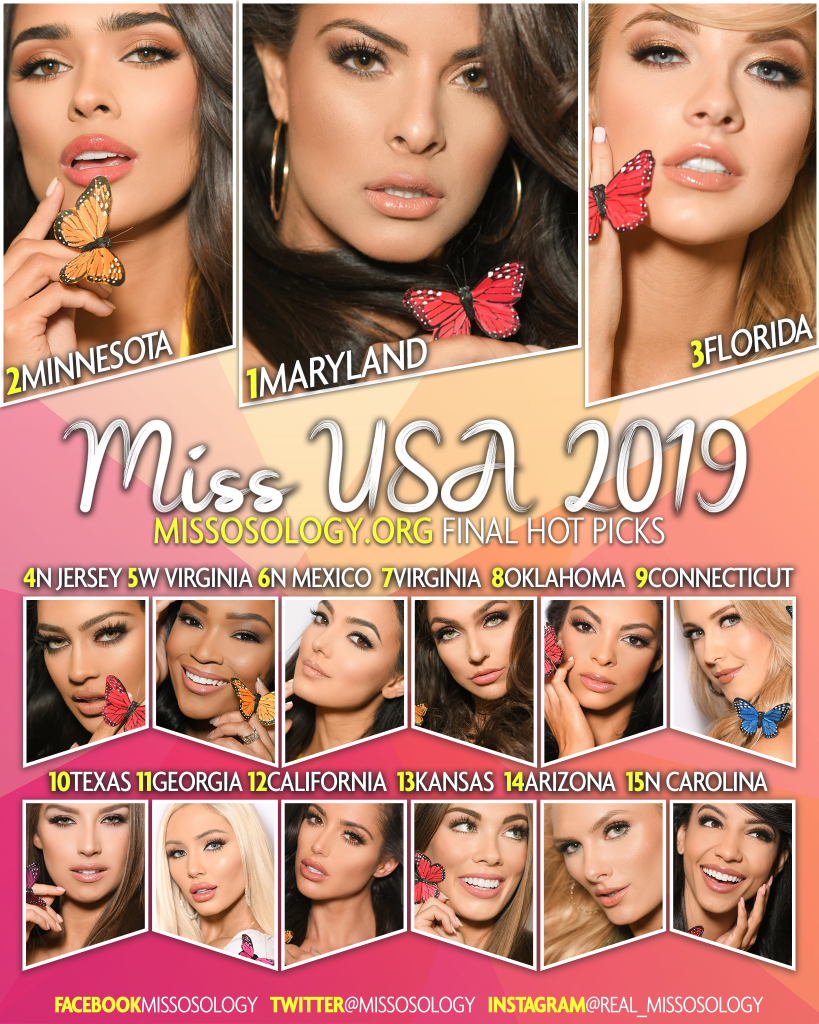 Completing our list are as follows:
6. New Mexico – Alejandra Gonzalez
7. Virginia – Courtney Lynne Smits
8. Oklahoma – Triana Browne
9. Connecticut – Acacia Courtney
10. Texas – Alayah Benavidez
11. Georgia – Katerina Rozmajzl
12. California – Erica Dann
13. Kansas – Alyssa Klinzing
14. Arizona – Savannah Wix
15. North Carolina – Cheslie Kryst