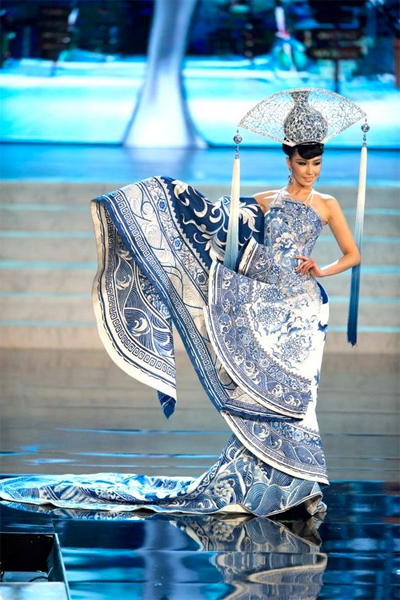 If you have seen the costume of Rihanna recently at the Met Awards and you are just wondering on who could possibly have designed such a jaw dropping gown, think of Miss Universe. That's because the designer of this haute couture is no less than Guo Pei – a name that is already making waves in the world of fashion and pageantry. Not since Luis Fernandez – the designer of the gargantuan costume of Pamela Zarza in 1992 – have we seen a designer of national costumes at Miss Universe that garnered a lot of attention.
Guo Pei, a Beijing based designer, entered the pageantry scene with a bang in 2011 after crafting a red Chinese Opera inspired costume for Zilin Luo.
2011中国环球小姐罗紫琳展示民族服装
Guo Pei's Chinese Opera inspired national costume for Zilin Luo in 2011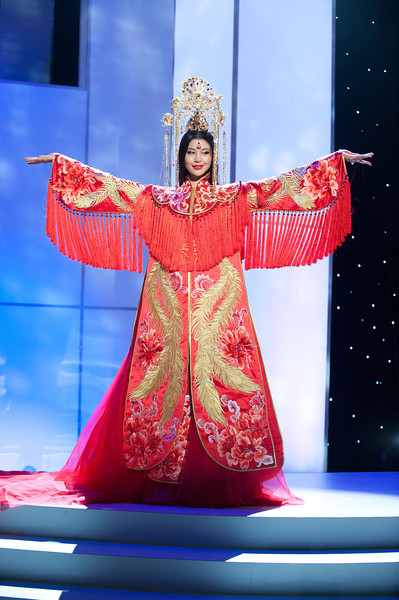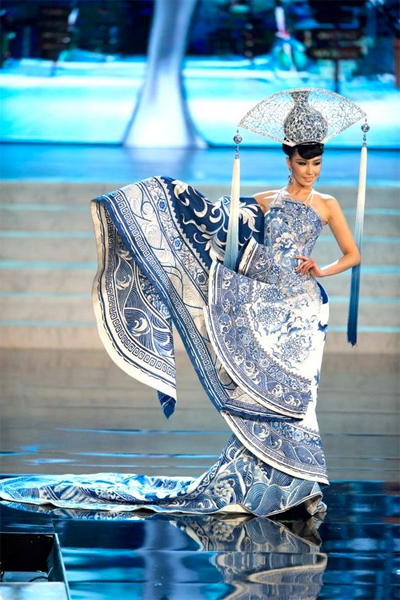 许继丹,出生于吉林辽源。毕业于上海东华大学以及北京大学光华管理学院。2012年获得环球小姐中国区总决赛冠军。并代表中国在美国拉斯维加斯与来自90多个国家得佳丽进行角逐,并最终夺得最佳民族服装奖,这也是中国加参加环球小姐选美组织以来第一次获得此奖项。
Xu Jidan became the first ever Chinese representative to have won the Best in National Costume Award. She prevailed over 90 other contestants in Las Vegas during the Miss Universe 2012 National Costume contest. This is the highest achievement that the designer Guo Pei has ever received in the world of pageantry and the designer will indeed etch forever in the world of beauty pageants for such an amazing feat.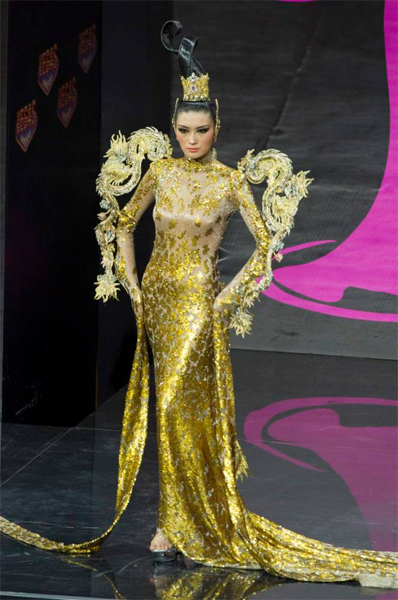 立龙这件作品运用龙这一传奇的形象,表达了女性的情感以及内心。在设计中,充分运用了建筑的廓型。用具有透雕手法的龙,做为整件作品最精妙的表现手法。肩上的双龙设计灵感来源于中式建筑屋脊上的龙纹装饰,而独特的面料则具有龙鳞的效果。加以手工金片的装饰,将龙的神韵与气势表达的淋漓尽致。
The "Standing Dragon" is the title of the costume worn by Miss Universe China 2013 Jin Ye. The costume required more than 5,000 hours of hand embroidery and represents the height of Chinese designer Guo Pei's work. A tribute to the legendary symbol of power, strength and good luck (for those who are worthy of it), the Standing Dragon pairs two dragons inspired by the roof ridges of imperial Chinese architecture.
Guo Pei is indeed the Queen of Haute Couture in the world of pageantry!
郭培 :: 高级时装女王